Wisconsinites take part in Tuesday's primaries; virus precautions in place for voters, poll workers
MILWAUKEE - Those who voted in-person during Tuesday's partisan primaries were met with lots of hand sanitizer, masks and plexiglass -- the coronavirus safety precautions starting right at the doors.
In Milwaukee, masks are required indoors. Those without a mask and without a permitted exemption from wearing one were allowed to vote at the polling location's entrance. In other parts of Wisconsin, the statewide mask mandate does not apply to voters.
"Everything was very distanced, they had sanitizer everywhere. Everybody working by the volunteers was masked up and behind plexiglass," said Milwaukee voter Nathan Heck. "We got to keep our own pen, so didn't have to return that."
Tuesday's turnout was no repeat of April's election when voters stood in line for hours at five Milwaukee polling places. This time, they zipped through 168 polling places.
"This is one of those sort of mid-term elections that most people may not think is important, but it's good to see all of the people out here today," said Milwaukee voter Deshea Agee. "This is a sign that voting on all elections is important."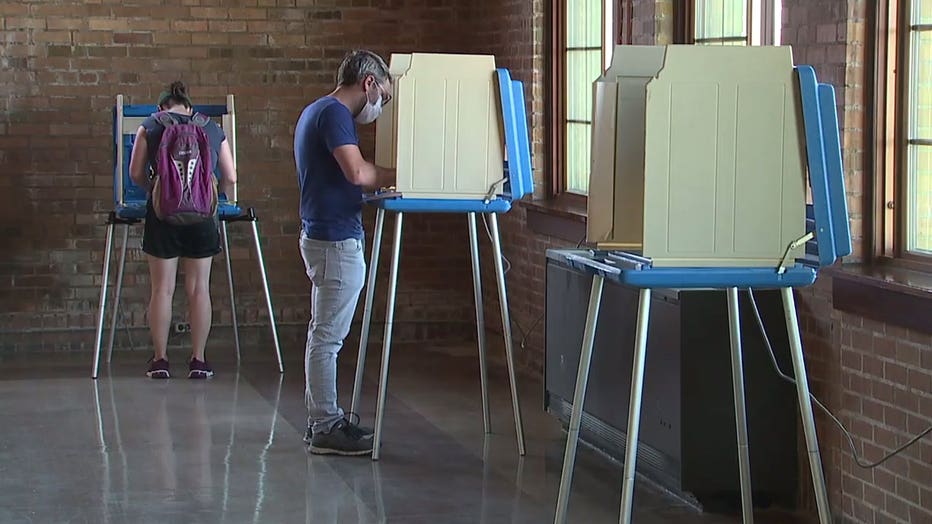 People vote in August primaries in Milwaukee
"It's important to let the people we are voting for hear that we are still voting, even (if) it's non-contested," said Milwaukee voter Ann Burbach.
Tuesday's primary did not have a lot of options, and many of the partisan races were uncontested as people fight to get on the November ballot for a chance to serve in Congress, the state legislature and some county positions.
Among the notable races on the ballot, though, was the Republican primary for Rep. Jim Sensenbrenner's seat; he is not running for re-election. The old Wisconsin Assembly seat of David Crowley, who is now the Milwaukee County executive, was also on Tuesday's ballot.
CLICK HERE to view election results as votes are reported
Statewide, absentee ballots topped 905,000. Some voters, like Nicole Armendariz of Milwaukee, requested absentee ballots in April and again opted for that option this time around. She ended up dropping her ballot off at the Milwaukee Election Commission warehouse, one of the few drop off sites for Milwaukee voters who didn't mail back their absentee ballots
"My family just wants to stay safe and to (be as) socially distant as possible right now with the COVID-19 pandemic," said Armendariz. "We're also aware of some of the problems with the post office that occurred last time. Last time we didn't even get out ballots."
The COVID-19 precautions at polling places are a test run of what's to come in November when the world will be watching Wisconsin with the White House up for grabs.