Wisconsin State of the State: Gov. Evers' plans on tax cut
MADISON, Wis. - Democratic Gov. Tony Evers announced Tuesday he wants to work with Republicans to divert as much as 20% of the state's sales tax revenue to help fund local communities, including police and emergency services, while he also promised to cut taxes for the middle class and fight a GOP effort to impose a flat income tax rate.
Evers, in his fifth State of the State speech and the first of his second term, pledged to compromise with Republicans who control the Wisconsin Legislature in order to increase funding for schools and local governments. All of the spending proposals Evers announced, which totaled more than $1 billion, will be in competition for a state budget surplus that is projected to be near $7 billion.
Republicans discounted much of what Evers proposed as being too expensive.
"All of Governor Evers' ideas will probably be tossed aside like we always do, and we'll start over," Republican Assembly Speaker Robin Vos said. "If he has creative ideas he should probably reach out and talk to us about it."
SIGN UP TODAY: Get daily headlines, breaking news emails from FOX6 News
The Legislature will spend the next five months dissecting Evers' proposals before passing their own version of the state budget. Evers releases his full spending plan in three weeks, but he highlighted priority areas in his State of the State speech delivered at a joint meeting of the Senate and Assembly.
"Let's find common ground," Evers said in announcing his willingness to get behind diverting sales tax revenue for counties, cities, towns and villages. It marked the first time Evers had publicly gotten behind the idea that Republican legislative leaders have been talking about publicly for weeks.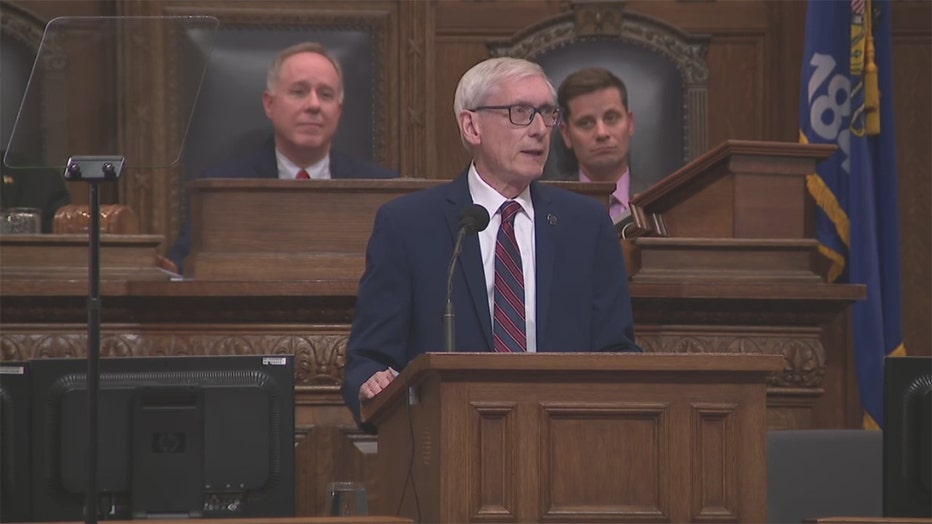 Wisconsin Gov. Tony Evers delivers his 2023 State of the State address.
Evers said changing how local governments are funded by tying so-called shared revenue to sales tax revenue will ensure payments increase after decades of little growth or cuts. Evers said his plan would direct more than $500 million per year to local governments.
Evers previously called for a 4% increase in shared revenue funding for each of the next two years, a total of about $91 million. Evers appeared to be supportive of a plan Republican legislative leaders have discussed that would use 1 percentage point, or 20%, of the state's 5% sales tax for shared revenue.
"The bottom line for me has always been making sure our communities have the resources they need to meet basic and unique needs alike," Evers said. "But there are a lot of different ways we can find compromise to achieve that goal, and together we will."
Evers has met with Vos and Senate Majority Leader Devin LeMahieu privately since his reelection win in November, a noticeable thawing of their icy relationship from his first term when they rarely spoke. Both sides have shown some signs of being willing to compromise on some issues, like local government funding.
They've been farther apart on others, like abortion and tax cuts.
FREE DOWNLOAD: Get breaking news alerts in the FOX6 News app for iOS or Android.
LeMahieu said Evers' shared revenue plan was similar to his own.
"It's good to see that he may be supportive of a plan that we put in front of him," LeMahieu said.
Evers, in his speech, reiterated his support for targeting tax cuts to the middle class. Republicans are backing a flat tax plan that would reduce rates for the state's wealthiest filers and move to a flat 3.25% rate in four years. Evers called that plan "reckless."
Evers also declared 2023 the "Year of Mental Health" and proposed spending about $500 million to expand access to mental and behavioral health services across the state, including efforts to reduce suicides and other mental health-related issues.
"Almost the entire speech was about spending increases for one government program or another," Vos said. He added that anything that expands the size of government is likely dead on arrival in the Legislature.
Evers also called for spending $100 million to combat pollution from so-called forever chemicals known as PFAS. He said the money will be used to increase PFAS testing, sampling, and monitoring statewide. The pollutants are man-made chemicals that don't easily break down in nature and have been tied to a wide range of illnesses.
Evers also announced an array of grant programs and other initiatives targeting small businesses; workforce development, with a focus on healthcare workers; child care tax credits; and clean energy.
Vos accused Evers of "just throwing money" at problems.
"We can't just do everything the governor wanted, which is going to break the bank," Vos said.
The governor's full remarks, as prepared, are available on his website.
Reaction from SE Wisconsin lawmakers
State Sen. Chris Larson (D-Milwaukee):
"'What's best for our kids is what's best for our state.' It's been Governor Evers' mantra since he first ran for Governor over 5 years ago. In tonight's State of the State Address, Evers recommitted to that mantra, and my Republican colleagues would do well to follow his lead as we debate our next state budget.
 
By most measures, Wisconsin's economy is in very good shape. Wages are up, unemployment is low, and the global inflation that affected so many families over the past year is finally beginning to ease. But as Evers points out, we are facing tremendous workforce challenges in several industries - particularly healthcare, childcare, education, and hospitality.
 
Part of the problem is that bargaining power has shifted more toward workers for the first time in a generation, and many employers have been too slow to adjust. 
 
Part of the problem is demographic. Our population is aging, young people are leaving the state faster than they're arriving, and regressive policies like the 1849 abortion ban, cannabis prohibition, and insufficient investment in green energy and mass transit is making Wisconsin a less attractive place to live and raise a family. Those young families who do have kids are having a difficult time building their careers due to insufficient and expensive childcare.
 
Governor Evers has a plan to address all of these problems head-on. He's promised historic investment in public education to help train the leaders and workers of tomorrow. He'll continue to fight for popular, progressive policies adopted by most of our Midwest neighbors, and he remains committed to enacting Wisconsin's Clean Energy Plan, bolstered by huge investments from the Biden Administration's Inflation Reduction Act. And finally, he's pledged to invest heavily in childcare, so that if anybody turns down work to care for their children, it will be by choice, not necessity.
 
By doing all of these things, and by avoiding the divisive culture war politics and reckless "flat tax" pushed by Wisconsin Republicans, Governor Evers is ensuring Wisconsin is well-positioned to take on our 21st-century challenges and pass with flying colors."
State Rep. Lisa Subeck (D-Madison):
"Tonight, Governor Evers shared his plan to lead Wisconsin with the empathy and wisdom that Wisconsinites have come to expect from him. He demonstrated that he is listening to the people of our state and will work hard to support and grow vibrant, healthy, and safe communities.
We are proud of the work we have done to get much needed resources to our schools and our children after a decade of disinvestment. By investing part of the state's historic budget surplus in our public schools and permanently funding Governor Evers's "Get Kids Ahead" initiative, we can ensure every child gets a quality education in a safe learning environment.
We will continue to support our small businesses with new investments in workforce, infrastructure, and the governor's signature Main Street Bounceback Grants. Already, we have achieved record low unemployment, and thousands of new businesses have opened in our state. The governor's plan builds on these successes.
To continue building an even stronger economy, we must ensure that every family has access to affordable, quality childcare. Governor Evers's plan will do just that through child and dependent care tax credits, investments in the childcare workforce, and support for partnerships with employers and childcare providers.
Governor Evers has been a champion for working families since he first took office. I look forward to working together with him toward a stronger Wisconsin for all."
State Sen. Dan. Freyen (R-Fond du Lac):
"As we enter into 2023, Wisconsin sits with an historic $6.6 billion projected surplus. Republicans in the legislature have been making sound fiscal decisions for more than a decade to put our state in this position and are ready to continue this work, funding our priorities and delivering tax relief to all Wisconsinites.
"I agree with Governor Evers that we need to be prudent with the taxpayers' money. I am looking forward to the release of his biennial budget to make sure there are smart investments going back into our communities with no wasteful spending.
"There are a lot of positives to look forward to in 2023, but also plenty to improve on. Many industries are facing labor shortages, licensing delays are keeping people from entering or staying in the workforce, and a lack of housing is keeping Wisconsin from bringing in talent to fill our open positions.
"I'm ready and excited to get to work for the people of the 18th Senate District to begin solving these issues."
State Rep. LaKeshia Myers (D-Milwaukee):
"Governor Evers came armed with receipts tonight; receipts that show he has made good on many of the promises he made during his first term in office. By investing in Wisconsin's roads and infrastructure, 5,800 miles of thoroughfare and nearly 1,600 bridges are safer for Wisconsinites' daily passage. He also provided receipts of investment in state-wide broadband expansion; effectively connecting the state and eroding an essential barrier between the "digital haves and have nots". Broadband access is an essential function of American life. It is one of the great equalizers for employment, workforce development, and education. I applaud Governor Evers' goal of doubling broadband expansion by the end of his term.
"I was very pleased with the Governor's commentary regarding education. Expressly, the call for a greater commitment to Wisconsin's public schools. Using some of the state's surplus dollars to improve literacy and reading related outcomes. Utilizing evidence-based reading practices to instruct children and identify reading deficiencies early can help teachers provide interventions and strategies to help students succeed.
"I hope each of my colleagues listened intently and are prepared to legislate accordingly; for it does not matter if we disagree, but whether we act in a way that creates a positive change for the people of our state. By investing in education, expanding access and opportunity, only then can we truly move forward."
State Senate Minority Leader Melissa Agard (D-Madison):
"As Governor Evers emphasized tonight, investing in Wisconsin's families, workers, and retirees is a critical step in strengthening our workforce, supporting small businesses, and creating stronger communities. Under Governor Evers' leadership, Wisconsin led the nation in share of federal American Rescue Plan Act (ARPA) dollars allocated to businesses and economic development. Unemployment rates in Wisconsin reached record lows recently, while our state's labor participation rate trends above the national average. The Governor's State of the State Address made it clear that he remains committed to bolstering our economy and increasing opportunities for workers during his next four years.
"Governor Evers understands that to have a prosperous economy in our state, we must ensure that businesses and families have access to broadband and high speed internet, that parents can afford quality childcare when they are at work, that are public schools are well equipped to prepare the next generation of Wisconsin adults, and so much more. The strength of our state's economy is dependent on the strength of the working folks in Wisconsin. We all do better, when we all do better.
"We must continue to lift up our working and middle class by enacting sustainable, targeted tax relief, investing in good-paying quality jobs, and ensuring that our communities have the necessary resources to lift up ordinary Wisconsinites, and that is exactly what Wisconsin Democrats intend to do over the next four years. It's time to put the economic needs of ordinary Wisconsinites first, from birth through retirement. My colleagues and I are more than ready to build upon the successes of the last four years and ensure that our economy, our communities, and our government works for everyone."
State Sen. LaTonya Johnson (D-Milwaukee):
"As a former small business owner and former childcare provider, I was extremely encouraged to hear Governor Evers' commitment to hardworking Wisconsinites who wake up every day to provide for their families and keep our state running. With a historic revenue surplus, we owe it to communities across our state to invest in Wisconsin's economic wellbeing through supporting current and aspiring business owners and ensuring affordable childcare access."
State Sen. Lena Taylor (D-Milwaukee):
"Bottom line, Governor Evers' policies and vetoes have been a stop gap in the effort to stave off divisive proposals and legislation that would harm Wisconsin. While we have had an arm of the legislature, hell-bent on dragging us backwards into a repressive history of our nation, Evers has helped to hold the line. He has held the door open and given us a fighting chance at a Wisconsin that works for all of us. Yet he can't do it alone.
"Our state will either live up to our motto of FORWARD or we will return to a period of unsafe reproductive decisions for Wisconsin's women and girls. We can foster a racial climate that encourages mutual respect and truth or we can silence what makes us uncomfortable. We can invest fully in the education of our youth or siphon funds that reallocate resources along partisan or ideological beliefs. We can ensure that we adequately address public safety without scapegoating challenged communities.
"The State of our State is tied up in more than just our balance sheet, how we allocate dollars or pay for our services. When we have a legislature that is imbalanced in terms of power and not truly reflective of the citizens we serve, we have issues in our state. When redistricting is used as a weapon to disenfranchise voters, we have issues in our state. When wealth gaps persist along racial lines, we have issues in our state. When the state's largest city is facing a fiscal cliff and surrounding municipalities are asking for help, as well, we have issues in our state.
"However, even facing all those challenges, Governor Evers has worked earnestly to help Wisconsin families. He has sought to invest in initiatives that would benefit everyone across the board: roads, infrastructure, clean energy, education, employment and business growth. We've got work to do and if we figure out how to do it together, without creating false narratives that someone has to lose for all of us to win, we will truly be in a great state." 
State Rep. Darrin Madison (D-Milwaukee):
"I applaud the steps that Governor Evers has taken to advance equity initiatives across the state, such as creating the Council on Health Equity, creating the "Get Kids Ahead" initiative and making it a permanent state program, establishing the Office of Environmental Justice, and developing Wisconsin's Clean Energy Plan. I commend Gov. Evers' commitment to building a robust green economy that prioritizes creating pathways for working-class Wisconsinites to access the new jobs that we create." 
"I look forward to authoring legislation that builds upon Gov. Evers priorities, especially as it relates to opportunity youth in Wisconsin - young adults aged 16-24 who are out of school, out of work, and commonly interface with the justice system and foster care system. By using Wisconsin's projected $6.5 billion surplus to invest in children and young adults we can: reduce the long-term impact of adverse childhood experiences, reduce interactions with the criminal justice system, and build a Wisconsin where every child and adult can thrive." 
"Finally, I want to thank Gov. Evers for prioritizing shared revenue as it is a critical issue in our state since municipalities and counties are on the brink of bankruptcy. I look forward to working with the Governor and my colleagues across the aisle to advance these important issues."
State Rep. Robyn Vining (D-Wauwatosa):
"I am proud to work alongside Governor Evers this session as we continue improving mental health support resources for Wisconsinites everywhere. Included in Gov. Evers Executive Budget is $500 million to expand access to mental and behavioral health, including veteran and school-based mental health services, suicide and crisis lifeline support, and efforts to bolster mental and behavioral health in the workforce.  
"It is refreshing to have a governor that listens to the will of the people of Wisconsin, crafting a budget to reflect the priorities that my constituents care about. I am committed to continue championing these issues, and I stand ready to work with Gov. Evers and my colleagues to make the biggest investment in mental healthcare in recent memory.  
"I want to highlight the words that Governor Evers said during his speech today, 'The state of mental health in Wisconsin is a quiet, burgeoning crisis that I believe will have catastrophic consequences for generations if we don't treat it with the urgency it requires. Mental and behavioral health is as much a health issue as it is an economic one: it affects kids in the classroom; it affects workers being able to join and stay in our workforce; it affects whether folks are able to stay in safe housing or have economic security; it affects folks' ability to take care of and provide for their family and loved ones.' 
"Governor Tony Evers has led Wisconsin forward, with careful consideration to the needs of Wisconsinites statewide, and with his unique brand of kind and steady leadership. We must work as a legislature to invest in the mental health of our neighbors, so that when we move forward as a state, we move forward together."
State Sen. Duey Stroebel (R – Cedarburg):
"At the beginning of his speech, Governor Evers said no one wants to make government bigger. Shortly thereafter, he must have forgotten that statement because for nearly an hour after, Evers rattled off a litany of ways he would grow government. At every turn, he finds new ways to spend the hard earned resources of Wisconsin taxpayers. It is the 'Madison knows best' mentality on steroids." 
"Since Evers is short on accomplishments of his own to tout, he unsurprisingly resorted to claiming credit for the last two state budgets crafted by legislative Republicans. Had the legislature agreed to the litany of spending items proposed by the Governor over the past four years, there would be no historic budget surplus and rainy day fund balance to speak of." 
"It is worth noting that Evers failed to mention that the Legislature was able to craft a budget that significantly increased local road funding without raising the state's gas tax, a provision which Evers included in his last budget proposal. In response to Evers comments on K-12 education, it is unfortunate that a large proportion of our schools are not performing at the levels they should be with the drastic investments in K-12 education. Instead of the left pushing their 'woke' agenda, students should be focusing on academic achievement." 
"While Evers repeatedly attempted to build himself up by knocking down his predecessor for so-called 'disinvestments,' it bears mentioning that many of the 'investments' Evers cited throughout his Address were only made possible by billions of dollars in one-time federal funds that he was able to dole out as he saw fit. Of course, the unprecedented deficit spending behind these federal funds has only served to exacerbate the rising costs that are straining the budgets of hard-working Wisconsin families and taxpayers."
State Rep. Shelia Stubbs (D-Madison): 
 
"Governor Tony Evers steered Wisconsin into a strong position with his steadfast leadership, and tonight he shared with us his plans to continue to elevate Wisconsinites and bolster our economy. Smart investment in our workforce, public education, childcare, infrastructure, and more will yield continued returns.
 
"Evers reaffirmed Wisconsinites are his priority. Over the last four years, his efforts in repairing and updating our roadways, expanding reliable access to the Internet, and his Clean Energy Plan have led Wisconsin to record-low unemployment. His policies have exemplified his commitment to small, local businesses and uplifted homegrown entrepreneurs and innovators. With the successful Main Street Bounceback Grant Program, more than 8,500 Wisconsin small businesses were able to expand and move into vacant storefronts in communities across all 72 counties. Evers' dedication to creating and implementing data-driven policies and programs improved the quality of life in Wisconsin while building up the state's general and "rainy day" funds so that investments in our future can continue.
 
"Governor Evers will maintain the momentum he helped create in our economy while facing down pervasive kitchen table issues like affordable childcare access for working families. He will support our next generation of workers through investment in our state's K-12 schools, technical colleges, and the University of Wisconsin System. The critical work Evers did for the environment will continue with expanded programs to address our concerns, like PFAS in our state's water. And his focus on Wisconsinite health, through efforts such as the creation of the Council on Health Equity, will continue. Tonight, he detailed plans to improve access to and expand access to mental and behavioral health services across the state and declared 2023 the Year of Mental Health.
 
"In his first term serving our state, Governor Tony Evers consistently made decisions that bettered our state in real and tangible ways. I am confident Wisconsin's winning streak will continue through his leadership."  
State Sen. Van Wanggaard (R-Racine):
"Not one word of Governor Evers' State of the State address was spent on the top issue facing Wisconsin families – inflation. Not a single, solitary word. And, although he used the words "public safety," he had absolutely no game plan addressing the people too scared of crime to leave their homes. None. 
"I do appreciate Evers' newfound interest in mental health however, and his recognition that his mandatory school closings caused a literacy and mental health crisis. Unfortunately, it took him two years to notice the damage he inflicted on our school children. 
In the end, his speech took credit for ideas he had nothing to do with, and contained nothing more than spending $1.2 billion in liberal spending ideas, bigger government, and little in the way of details. Just like every other speech he's given."
State Senate Majority Leader Devin LeMahieu (R-Oostburg):
"We are pleased to see the Governor recognized the fact that Wisconsin is in a great fiscal position, due to the responsible budgets the Legislature has put forward. We also like the statement that we need to stay prudent and invest taxpayer dollars reasonably."
"In spite of his claim to remain prudent with our expenditures, the Governor seems intent to spend people's money to massively expand government. The projected surplus is not a slush fund, we need to work together to return these funds to provide tax relief to all of Wisconsin's hard working families!"
State Rep. Ryan Clancy (D-Milwaukee):
"I am appreciative and optimistic about the prospective budget which increases the shared revenue for Milwaukee and prioritizes the needs of the working class. The Governor's proposals for increased investments in public education, infrastructure, and mental health are much needed and will serve Wisconsinites well. I am hopeful that funds added to public education will be sufficient to close opportunity gaps until we can decouple the education funding formula from property tax. It is important that these all investments are allocated with the understanding that localities know what they need best. Each municipality and county needs to retain autonomy to uplift and support their unique needs. 
Investing our budget surplus into public education and programs like the Right to Counsel will ensure that this budget becomes a source of relentless advocacy for working class. As so many households across the state are struggling to make ends meet, it's more vital than ever to embrace solutions based in equity and compassion for the working families."
Democratic Party of Wisconsin Chair Ben Wikler:

"Tonight, in his fifth State of the State address—the first of his second term—Governor Evers spoke to the remarkable progress our state has made over the past four years under his leadership, and shared his plans to continue growing our economy, bolster our workforce and expand access to quality, affordable child care. As Gov. Evers said, the state of our state is much different than it was just four years ago—we're much better off.

"From repairing over 5,800 miles of roads and expanding broadband access to more than 387,000 houses and businesses, to vetoing harmful GOP legislation attacking our health care and our freedoms, Gov. Evers has followed through on his promises and delivered for Wisconsin. It's critical we move forward as a state with Governor Evers' plans to do the right thing for Wisconsin and put our historic budget surplus to work delivering more middle class tax relief and investing more in our public schools, affordable health care, and our workforce. Governor Evers also laid out a critical commitment to increase shared revenue, the state dollars that help local governments fund EMS, fire, and law enforcement services, transportation, and local health and human services. 

"Finally, as Wisconsin Democrats, we applaud Governor Evers's declaration of 2023 as the Year of Mental Health. As the Governor spoke to tonight, mental health in Wisconsin is a growing, quiet crisis, especially for young people, that we must address. Every family with children who have experienced mental health challenges can be grateful that Governor Evers has committed to making the Get Kids Ahead initiative a permanent, well-funded state program.

"As Governor Evers reminded us, there is much work ahead of us—and also much opportunity. For a governor committed to doing the right thing for Wisconsin, it's time to get things done."
WisGOP Chairman Brian Schimming:
"Governor Evers failed to propose any significant solutions to Wisconsin's most pressing issues like inflation, rampant crime, workforce shortages, and struggling schools.  Evers' speech was about throwing money at problems when most Wisconsinites are hoping for real solutions and tired of excessive spending."