"Wild winds whipping all over the place:" Storm causes damage at Whistling Straits in Sheboygan County


SHEBOYGAN COUNTY -- Storms racing through Sheboygan County on Friday evening, August 14th caused some damage at Whistling Straits, the host of the 2015 PGA Championship.

Onlookers on in awe at the damage Friday night at the golf course -- tangled tents, missing flags, and a toppled scoreboard.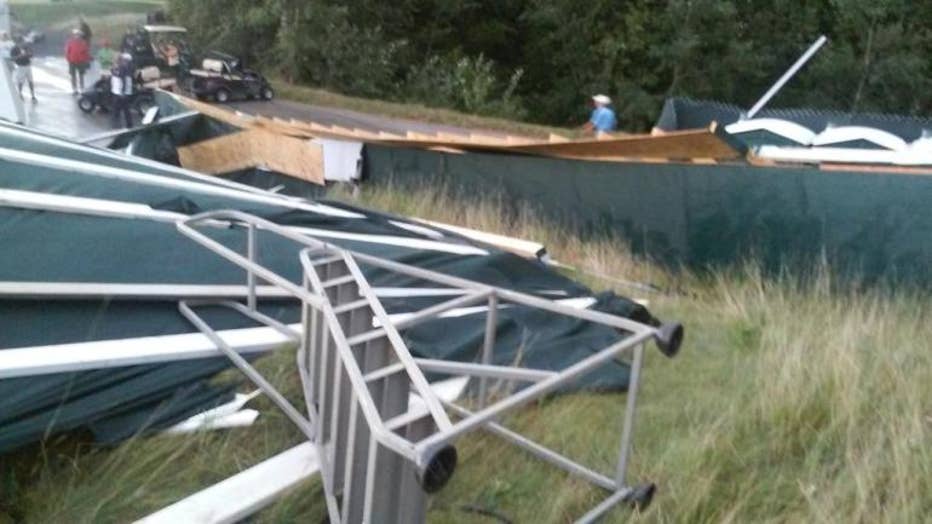 Scoreboard at PGA Championship blown over by storms


 

"We came in here and pulled under one of the hospitality tents and it was just wild winds whipping all over the place and all of a sudden, things started flying around and the leaderboard, the top flew off. The whole thing then flipped over and literally turned upside down," said Call Tillisch, witnessed storms.

Feeding the storm, hot, humid air that, for some fans, made the early afternoon as challenging as some of the holes on the course.

"There was so much heat, a lot of people were falling. They ran out of water at some point, which was probably a good thing since most people left the course before the storm came," said Tom Groom, witnessed storms.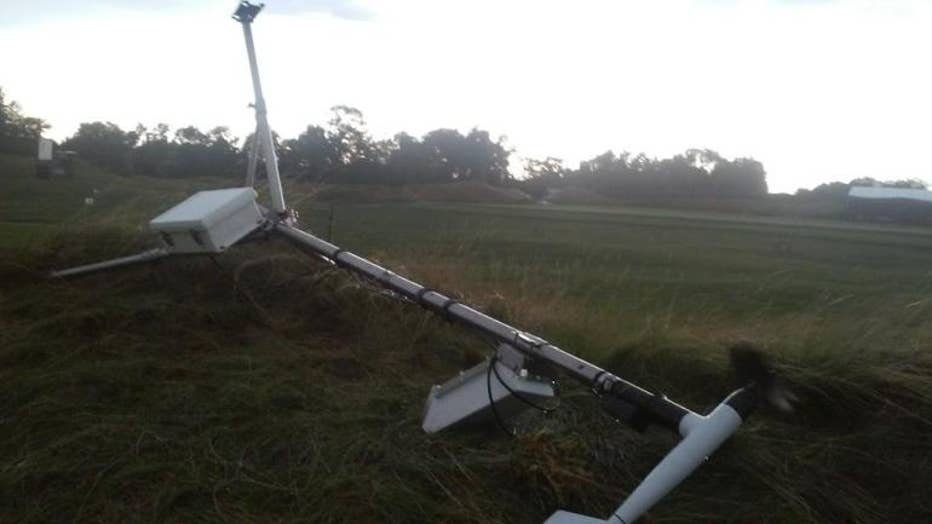 Storm-tracking device blown over at Whistling Straits


Multiple fans tell FOX6 News, multiple stands ran out of water early, and a few hours later...there was water and even more wind -- enough to blow over a tree on the 18th hole.

"It was a loud snap too, it was just the tree, there were chairs flying. The ice cream/lemonade stand off 17 was in the bunker," said Phil Oskilanec, witnessed storms.

As of Friday evening, reports of any injuries remain unconfirmed.

It can be said with certainty, the public scoreboard is indeed broken. This is particularly unfortunate for the woman who help with it -- she writes in calligraphy the name of every single player in the tournament.

A PGA official says it takes 2-3 nights to make the sign which now, is completely toppled over.

The main shopping tent at Whistling Straits also took a hit from the strong winds. The winds ripped through the outer lining of the tent -- and blew over displays.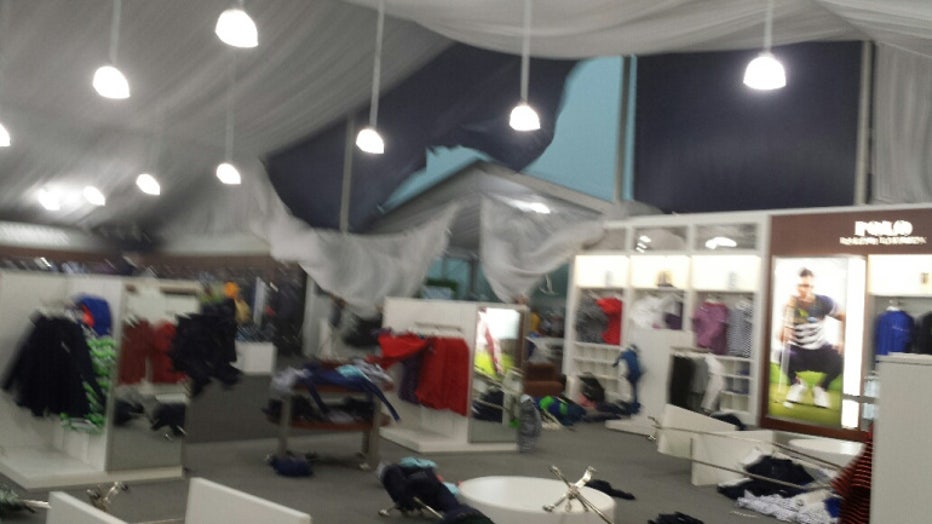 Even the tent where the media can tell the story of what's happening at the PGA suffered some damage on Friday. The roof must have leaked a bit -- because FOX6's Brandon Cruz was sheltering Photojournalist Mickie Leach as they worked on their Friday evening story.




PGA officials say, regardless of how the scoreboard looks, the plan is to resume play at 7 a.m. Saturday.

Monitor FOX6 News and FOX6Now.com for updates on this developing story.