Why are there SO MANY mattress stores -- and how do they stay in business?
Everywhere you look -- you can't escape them. The stores appear to be deserted yet there is a new one opening almost every week.

Mattress stores have taken over your city.

It's the nationwide phenomenon that has stumped all of us: Why are there so many mattress stores? The showrooms appear to always be empty -- how do they stay open? And why do we need a mattress store on every corner?

According to data from IBISWorld, there were less than 8,000 mattress stores in 2011. This year, there are over 9,200 mattress stores open across the U.S. with close to 10,000 stores projected by 2018 (Note: This figure is an estimate and may not include smaller companies that are not part of larger retail companies).

Dave Perry, bedding editor for the trade magazine Furniture Today, told WBEZ the customers who once purchased mattresses in department stores now purchase at specialty mattress chains.

Mattress Firm, Sleepy's, and other mattress chains have 50 percent of the market, compared to just 19 percent in 1993, Perry said. Earlier this year, Mattress Firm completed its acquisition of Sleepy's and related entities for $780 million. The combined companies now have 3,500 stores in 48 states.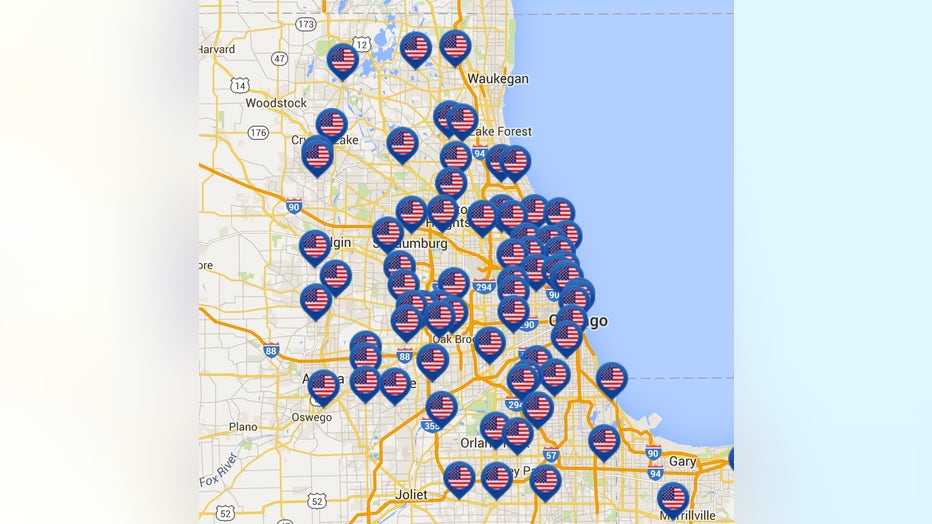 This map shows ONLY the American Mattress locations in the Chicago area (Credit: American Mattress)


A hilarious example: Mattress Firm has five stores less than a mile apart in Schererville, Indiana, according to a report from The Times of Northwest Indiana.

It's also important to note that smaller companies, like American Mattress, may not sound as familiar as Mattress Firm. The company only has stores in three states (Chicago, Indiana, Wisconsin), but they have over 80 locations. Similar mattress companies with less than 100 locations operate in nearly every state.

But the real question is -- why do we need so many stores? And how can they possibly stay in business?

High-margin and low overhead

Mattresses offer one of the best profit margins in retail. While some grocery store chains might earn a 5 percent profit margin, mattresses have a markup in the 40 to 50 percent range, according to Consumer Reports. According to one study, a $3,000 mattress might only cost $300 to manufacture -- a 900 percent markup.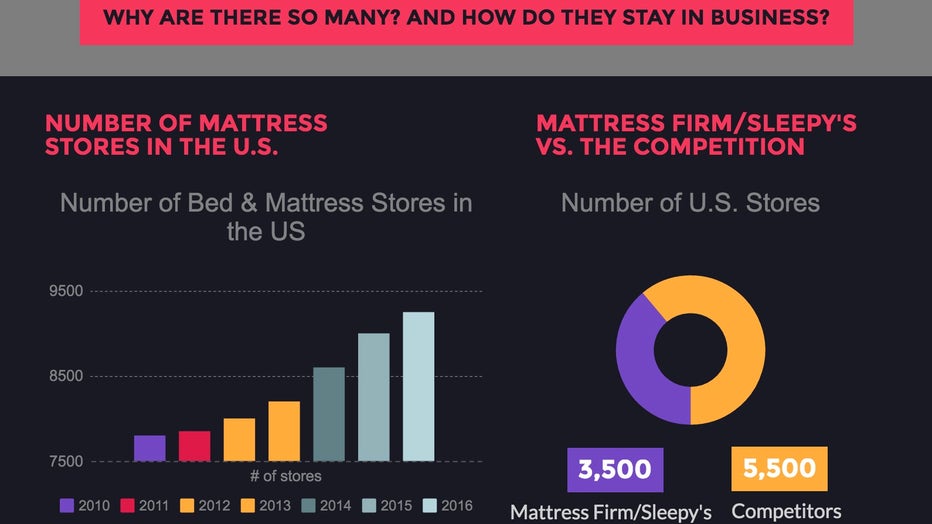 Credit: Tribune Broadcasting via Piktochart


Mattress stores often have low overhead, often dealing with factory-direct products and paying employees a commission-based salary. This might explain how mattress stores can support those seemingly empty showrooms with only one employee sitting behind a desk.

"If you sold three or four beds a day and your average ticket is $1,000, that's a $4,000-dollar day, times 365. All of a sudden you've got more than a million-dollar business there," Sam Woods, Senior Vice President of Sales for Mattress Firm, told WBEZ.

According to a report from PsychologyToday, a mall location may only need to sell 20 mattresses a month to cover its

Stores often cluster in groups and intentionally open across the street from a competitor

Why does Walgreens always open on the same corner as a CVS? And why is Lowes always across the street from a Home Depot?

The approach, often called "agglomeration," makes the number of mattress stores appear even more numerous. Direct competition is important for branding and sales.

According to a report from PsychologyToday, a mall location may only need to sell 20 mattresses a month to cover its rent.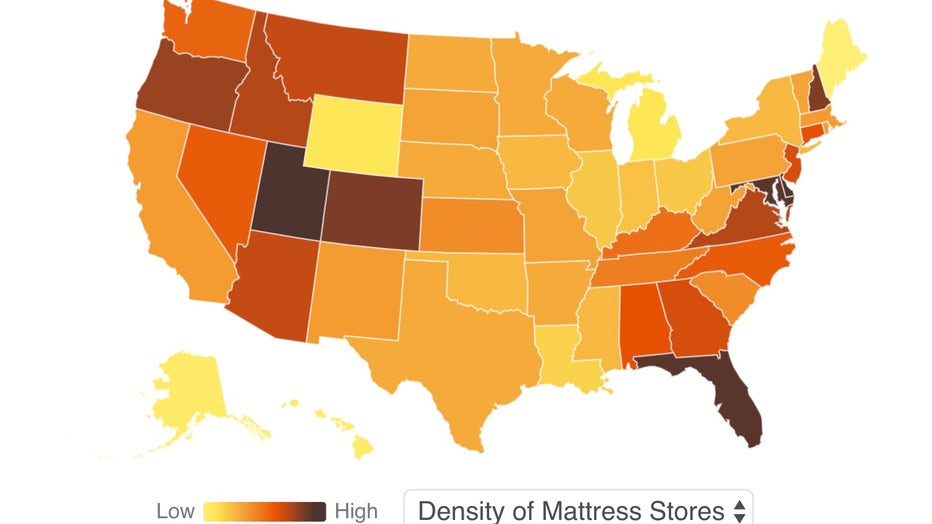 Map shows the states with the highest density of mattress stores (darker color represents high density). Map may not take into account smaller mattress stores not affiliated with larger retail companies. Note: Interactive map available at bottom of t


According to Center for Business Research and Development:

"Clustering or agglomeration is found common in the retail industry, particularly in areas where high foot traffic is encountered. The attraction of firms towards enclaves of commercial spaces or in the malls or wet markets as well as along shopping streets is usually guided by the capability of such areas to attract consumers intending to do one-stop-shopping and benefit from the wide array of items made available for their selection."

Aaron McDermott, president of Latitude Commercial, told The Times of Northwest Indiana branding is really important when placing mattress showrooms close to where the consumer is already shopping.

"Since the consumer is probably already going to shop at an anchor tenant like Walmart, Home Depot, Kohl's, they just want to have their brand seen like a billboard near there so they know when they go to shop for a mattress they will remember where they are located," McDermott said.

Cheap real-estate

Commercial real estate prices remain relatively low across the country and the mattress business has never been more profitable.

One of few businesses where people to prefer to buy in store versus online

Most customers purchase a new mattress about once a decade. Because this is considered a big purchase (both in price and importance), customers prefer to buy mattresses in person instead of online -- similar to when purchasing furniture or a vehicle.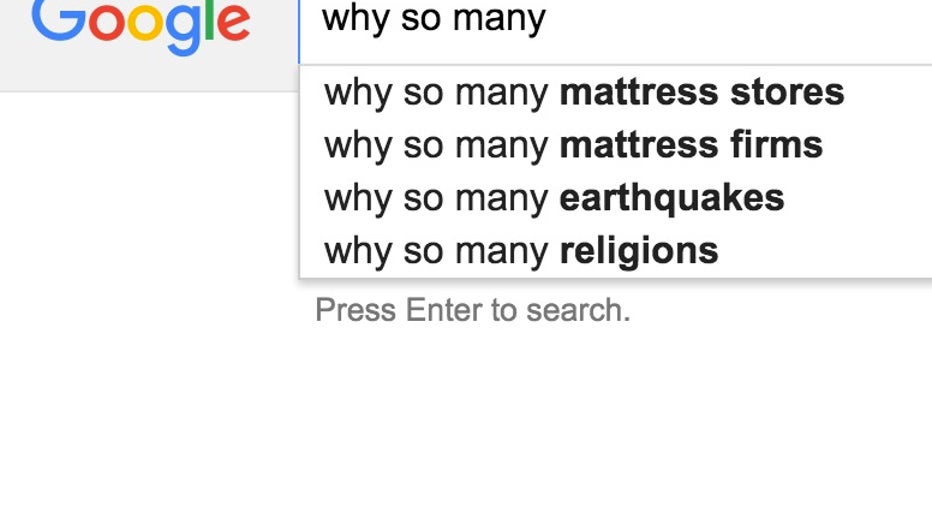 Even Google knows what's up.


Even the customers who intend to buy a mattress online will often visit a retail store before making their purchase. It's called "showrooming," which means a customer examines merchandise in a traditional brick and mortar retail store before buying online. This means additional foot traffic in stores and a chance for companies to offer deals to customers who were only looking to browse.

Post-recession mattress "boom"

Between 2008 and 2012, a lot of Americans were not spending money on big purchases. The mattress industry is seeing an influx of people who delayed buying a new mattress and are now looking to purchase.

According to Sleep Retailer, the global mattress market saw a decrease in sales around 2008. However, the rebounding economy has caused "remarkable" growth in the industry with the global market expected to reach $25 billion over the next two years, according to the report.

How long will the "boom" last?

According to IBISWorld, the number of units peaked a few years ago, but the industry's total revenue has never been higher. As long as profit margins remain high, it's likely stores will continue to open. The only real threat to mattress retail locations would be a large retail company offering mattresses at lower costs to the consumer and accepting a smaller profit margin.

Time to wake up!

So the next time you see new construction down the street and you think, "Oh... maybe it's a Chipotle? Or Chick-fil-A?!"

Wake up. It's a mattress store -- and you know it.