Watch: Boy has pre-surgery dance party with his grandpa at Green Bay grocery store
GREEN BAY -- William Shakespeare once said, "all the world's a stage" and a young boy from Green Bay is proving your stage can be a grocery store frozen food aisle.

According to a Facebook fundraiser page, Kyu was born with a "cerebral arteriovenous malformation (AVM) -- a tangle of abnormal blood vessels connecting arteries and veins in the brain."

Before going in for a scheduled surgery on Wednesday, June 5, Kyu recruited his grandfather for an impromptu dance session at a Green Bay grocery store.

With his red pajamas and matching light-up shoes on, Kyu and his grandpa -- who dressed a bit more formal for the occasion -- busted a move all the way up and down the store aisle.

Watch the video here:




Here's how the whole ordeal went down, according to Kyu's mom:

Kyu: Grandpa, let's go dancing!
Grandpa: Now?
Kyu: Yeah, it'll be fun!
Grandpa: Okay.
*Grandpa changed out of his PJ*
*Kyu stayed in his PJ*
*DRIVES TO LOCATION*
*Pulls up to Festival Foods*
Grandpa: Do you guys need to buy something?
Kyu: No grandpa, we dance here in the groceries store.
Grandpa: Here? People are going to think we're crazy!
Kyu: People? What people?
Grandpa: I thought we were going to a party or a club.
Kyu: Grandpa, Use your imagination. You can dance anywhere!

A statement we should all live by: "You can dance anywhere!"

Kyu's mom said in the Facebook post: "Thanks dad for being such a good sport for Kyu and giving him all of your time before his surgery tomorrow. It was pretty fun!"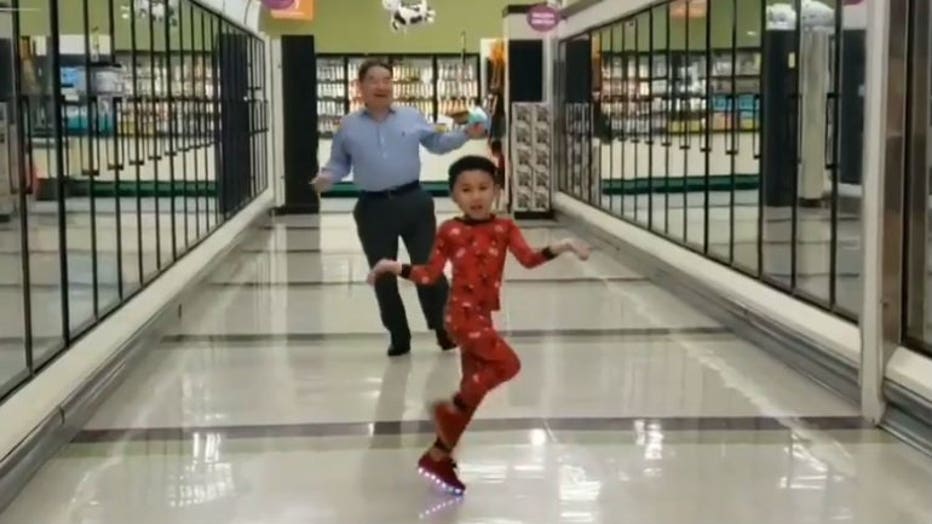 Kyu dances with grandpa credit: Rasami Moua Facebook


Kyu's mom said his surgery went "better than doctors had anticipated," and he's now recovering.

If you'd like to donate to Kyu's fundraiser, CLICK HERE.