Voucher school leader indicted for stealing taxpayer money spotted at new Choice school


MILWAUKEE— More than 50 schools have shut down since the Milwaukee Parental Choice Program started, leaving students in chaos and taxpayer money unaccounted for.  There's been a push to make sure voucher schools, especially the ones in Milwaukee, are being good stewards of taxpayer money.

But some state lawmakers say a loophole in the state's voucher law is worrisome, especially when they're trying to ramp up school accountability.

In 2012 a grand jury indicted Bishop Gregory L. Goner for allegedly stealing money from Excel Academy,  a Choice school he opened in 2004.

According to court documents, he allegedly used money he got for the school — about $100,000 a year— to lease Cadillacs for himself and his family. He was also accused of purchasing apartment buildings with taxpayer money, and keeping his friends, who were rarely at the school, on the payroll.

"There's government money available for people who want to open up a building and call it a school. All you have to do is get the children and all you have to do is come up with a catchy slogan," Rep. Mandela Barnes (D-Milwaukee) said.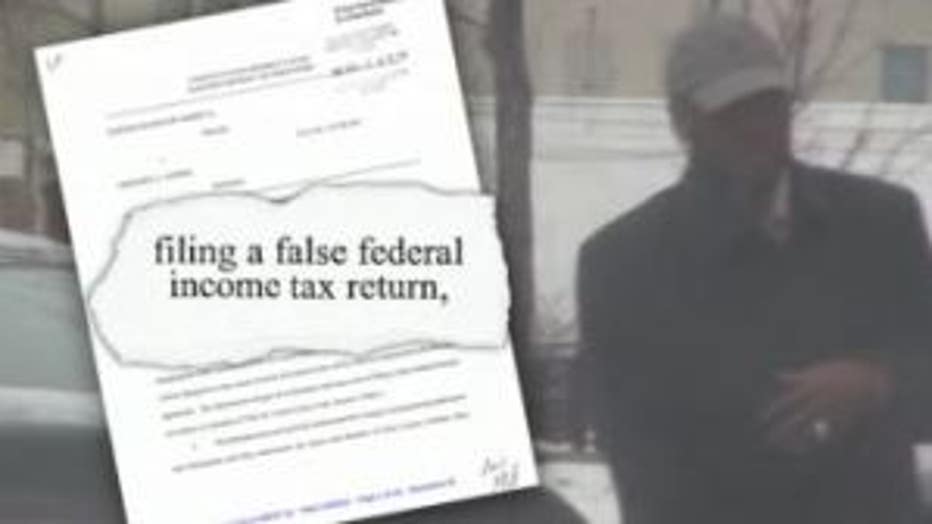 Goner pleaded guilty to filing false federal income tax return -- a felony.


Eventually, Excel Academy was kicked out of the Choice program, according to the Department of Public Instruction, due to the school's lack of sound fiscal practices, lack of financial ability to continue, and failure to submit a surety bond.

In the end, the theft charges against Goner were dropped.  He pleaded guilty to filing a false tax return — a felony. He got two years probation and had to pay the IRS back. See the court documents here.

So the FOX6 Investigators thought it was interesting that just a few years later he would be talking about a new Choice school on social media -- one called United to Serve Academy.

His Facebook posts include the following:

In July he posted that he was looking forward to the upcoming school year -- and even offered to provide free uniforms for students.

In August, he was recruiting bus drivers.

In December, he had a great day at the Academy.

In January, he posted a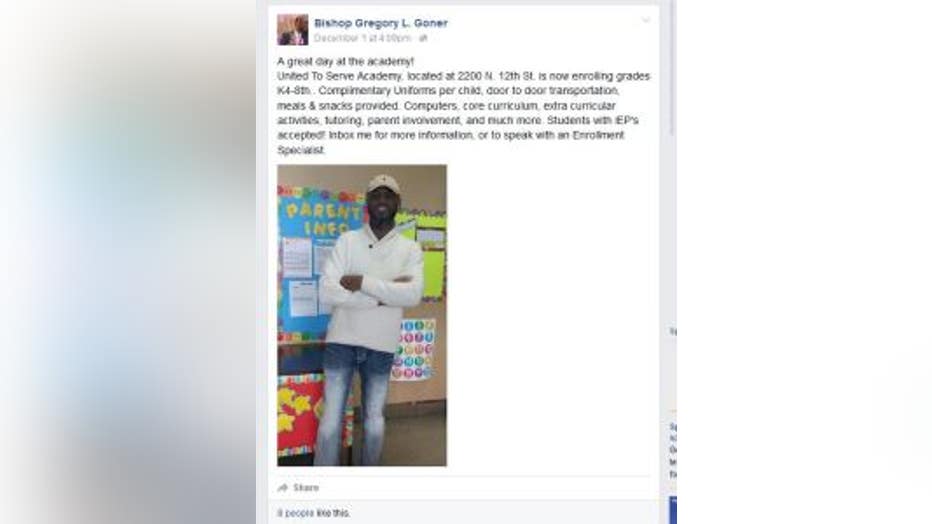 selfie on his way to school.

FOX6's undercover cameras even caught him at the school on multiple occasions. So we wanted to know — after everything that happened with his old school — are taxpayers paying his salary again?

When FOX6 News finally caught up to him, he didn't feel much like talking. He told us he doesn't work for United to Serve, but he wouldn't tell us why we saw him at the school. He promised to call us later, but never did.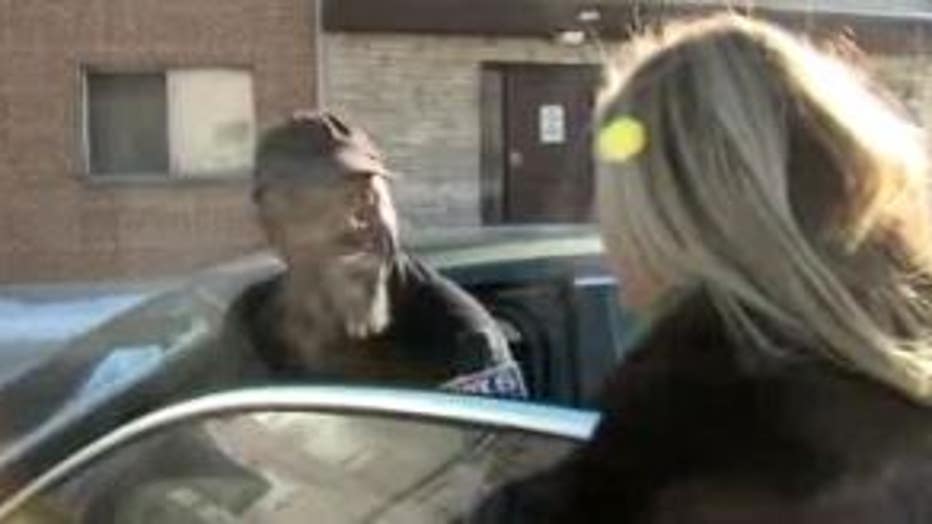 Bishop Goner refuses to answer questions about his relationship with United to Serve Academy.


Franklyn Gimbel, a defense attorney who represents Pam Kaleka, the owner of United to Serve Academy, says Goner doesn't work for the school directly.

"There is no formal relationship whatsoever. United To Serve has a personal relationship with Greg Goner. He has, from time to time, volunteered at that school. He had some prior experience with Choice schools, with troubled children, and he had information that was useful, and has offered services that were useful to United To Serve Academy," Gimbel said.

While it's unclear what those services were, at one point Goner drove vans for the school, but he was paid by USA Transportation -- not the school itself. Gimbel says USA Transportation is owned by one of Kaleka's relatives, and it's a completely separate entity from the voucher school.

And that's completely legal.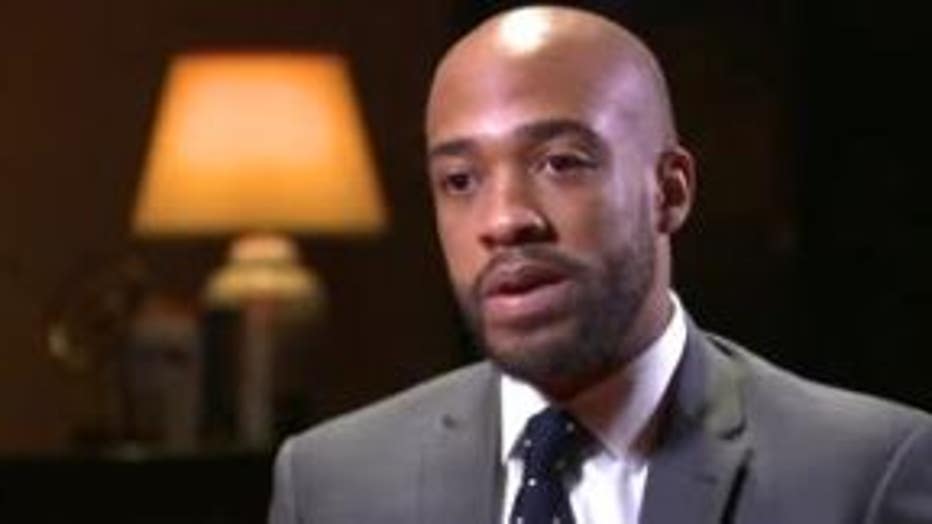 State Representative Mandela Barnes is working to tighten loopholes in the state's voucher school law.


"People who would have never imagined getting into education are doing so because there is a profit margin that exists. There is an ability to get over on the backs of children in the city of Milwaukee," Rep. Barnes said.

A spokesperson for the Department of Public Instruction says over the course of the last two years, DPI has received calls indicating Goner was working at United to Serve.   But DPI couldn't stop him.  Goner's school was shut down in 2010 —a year before a new law was written to keep guys like him from getting even more money from the state's voucher program.

"The disqualified persons law was enacted in 2011 as Wisconsin Act 47, effective November 19, 2011," according to DPI spokesperson Tom McCarthy. "The disqualified persons provisions only apply when a school has been barred or terminated from the program. Excel Academy was barred prior to the enactment of the law and the law does not include language allowing the department to retroactively apply the provisions. Therefore, Mr. Goner is not a disqualified person."

"It is bigger than him as an individual. It speaks to the flaws that exist," Rep. Barnes said.

Currently the state keeps a list of everyone who is disqualified from participating in the Choice program because of previous bad acts. Nearly 30 people are on that list. Goner is not.

Neither is Bishop Doris Pinkney — a good friend of Goner's — and the woman who ran Daughters Of The Father Christian Academy.  Pinkney lied to us in September about her school being closed.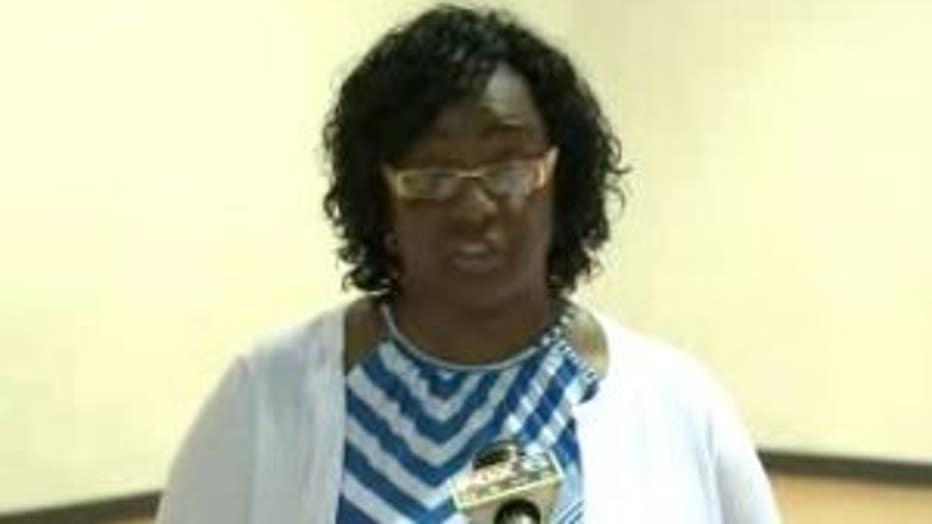 Doris Pinkney invited FOX 6 to her school last year to answer questions about her use of state funds.


"No, my school ain't closed," Pinkney said.

But it was closed. She shut it down nine days into the school year after the state issued an intent to bar her from the Choice program. Because she closed her school before the state could do it for her — she's not on the disqualified list either.

Neither is Phalanders Tatum, who ran Jared C. Bruce Academy.  That school closed in the fall of 2014, right after cashing a check from the state for $375,000.  It took more than a year for taxpayers to get their money back from Tatum.

But if he wanted to he could open another school tomorrow because he's not on the disqualified list either. He closed his school in the dead of night, before it could be officially barred from the Choice program.

Rep. Barnes says these loopholes in the law need to be closed to protect taxpayers and students.

"When people are receiving state funds and have had any sort of corrective action for misusing those public funds I think that should bar anybody from receiving more funds especially at that that magnitude," Rep. Barnes said.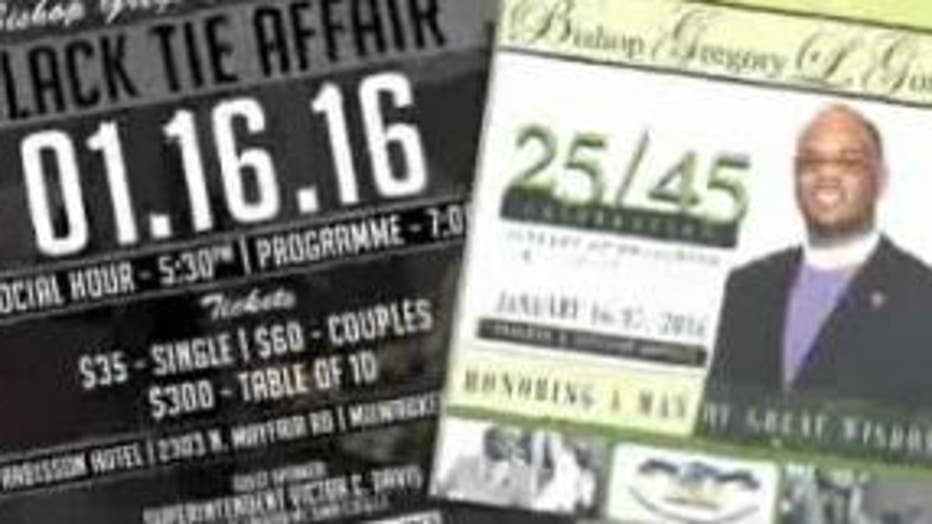 Bishop Goner threw himself a birthday party in January celebrating 25 years of preaching and 45 years of life. He charged $35 per person.


Bishop Goner has a new church and a radio show.  His probation has ended. In January he threw himself a birthday party at the Radisson. Tickets were $35. On his Facebook page he posted a video of the "black tie affair honoring a man of wisdom."

FOX6 News asked Goner if he would use the money he made that night to pay back teachers from his old school. He still owes them more than $70,000 in unpaid wages.

He never called us back -- and his attorney did not respond to an email.

Legislation is now  being drafted to close the loopholes in the state's voucher statute. Rep. Barnes hopes to introduce the bill this legislative session.