Unwrapping a hazard? The important label to look for to ensure your kids' toys are safe


CEDARBURG (WITI) — Hot holiday toys are flying off store shelves.  As you shop for your kids, do you know the important safety labels to look for?

Unfortunately, when it comes to toys — it's not all fun and games. At Cedarburg Toy Company, owners Natasha and Zachary Loos make sure the products on their shelves are safe.

"It's a place to come where they could walk in and not have to worry about checking the label," says Natasha Loos.

There are hundreds of toys to choose from, but just because a toy is popular or your child wants it — doesn't mean it's safe.

"If you go to Europe a lot of these toys wouldn't be available because they just don't allow this type of product into their country, but, unfortunately, in the United States we haven't had stronger regulations to ban these items," Natasha says.

Many toys found in the U.S. aren't made in the U.S. In turn, there are fewer regulations on what toy manufacturers can produce. The loose regulations can lead to dangerous chemicals and other toxins in toys.




"We had a slew of major recalls of children's toys coming out of China for lead-based paints, arsenic, formaldehyde," says Natasha.

The toy recall numbers are telling. According to data collected from Consumer Product Safety Commission, at least 18 toys made in China were recalled in the U.S. in 2014.

"We are putting our kids in a guinea pig situation where we just don't know enough about it and better to air on the side of safety versus it's a cheap item and we can get it at a good price," Natasha says.

The question is: what can parents do?

It's simple — look closely at the label.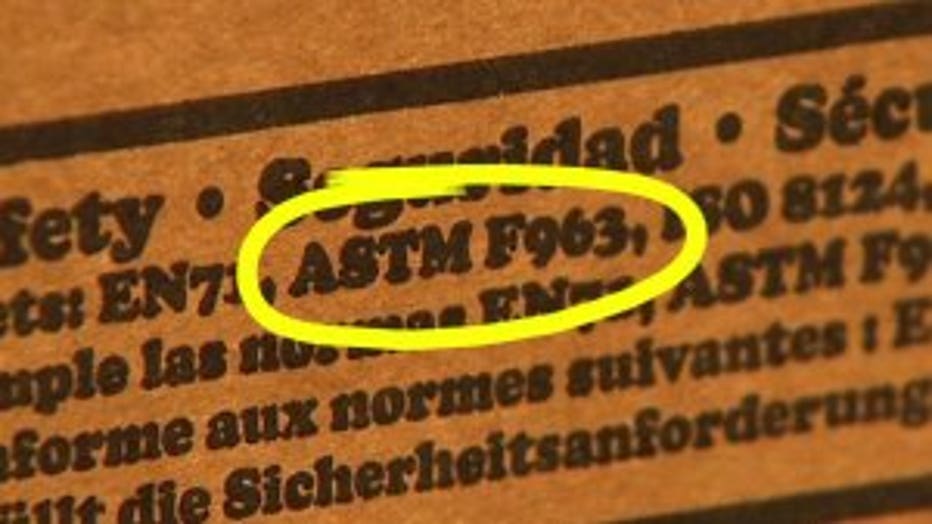 Label "ASTM F963" means toy meets the latest safety standards.


Toys labels will list warnings like choking hazards as well as ages the toy is appropriate for.

But, there's is one specific label you need to look for. It's tiny, but extremely important. It reads, "ASTM F963." It means the toy meets the most recent government safety standards. All toys sold in the U.S. must have it.

If you don't see it — don't buy it!

If you are buying art supplies for your children, the label to look for is "ASTM D4236." This label means that toxicologists have looked at the ingredients and have listed the warnings.

If you are worried about whether or not a toy, game or other product is safe for your children just ask questions.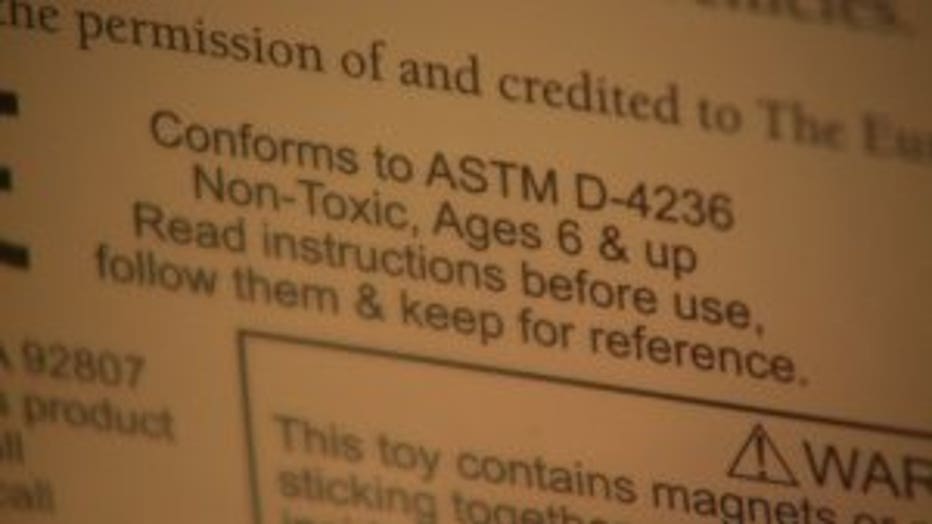 Label "ASTM D4236" means art materials have been tested by a toxicologist and have the proper caution labels.


"Ask your salesperson, 'What's the history of this company? What's the history of this particular item?'" says Natasha.

It's those quick questions that will help protect your kids.

You can stay up-to-date with the latest toy recalls here.

To learn more about toy safety standards just head to the Wisconsin Department of Agriculture, Trade and Consumer Protection website.