Two men accused of firing shots at each other while driving


MILWAUKEE (WITI) -- Two Milwaukee men are accused of engaging in a shootout of sorts while driving in the city and on the freeway at the end of June. One of those accused, and now charged in the case, is 27-year-old Eric Adamany. Adamany faces a charge of "first-degree recklessly endangering safety, use if a dangerous weapon."

"On the freeway, they were shooting at me," said Adamany. "I heard the bullets hit my grill up in the side and shoot out my passenger side window."

According to the criminal complaint in this case, Adamany told officers he was parked near 14th and Burnham on the city's south side shortly after midnight on June 26th, when another car, a Dodge, pulled up next to him. A passenger in the car, identified in the complaint as Roy Scott, allegedly stated, "what are you looking at white boy?" and then Scott "displayed a chrome handgun and fired once at the defendant's car, striking the driver's side mirror."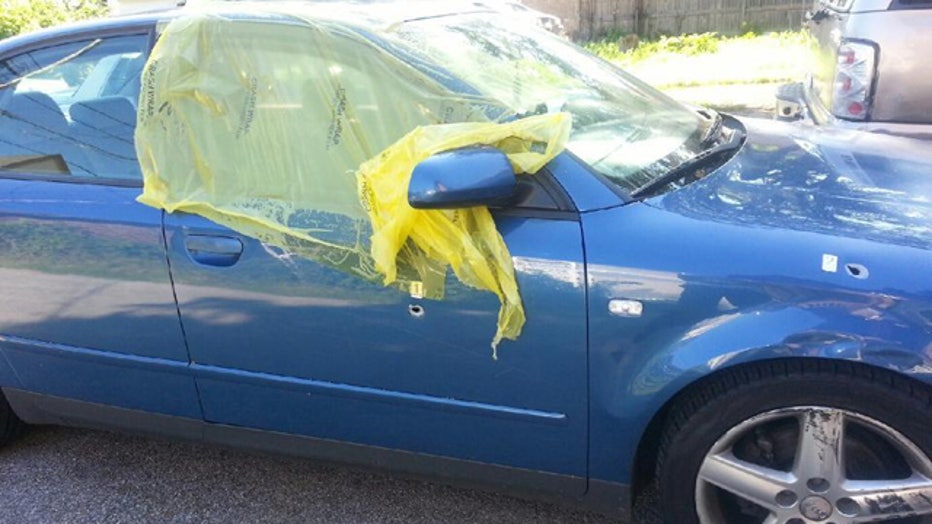 Eric Adamany's vehicle riddled with bullet holes


"I immediately grabbed my gun, which is just sitting here, and I stuck it out the window and they took off," said Adamany. "They fired over 50 rounds before I ever returned fire."

The complaint indicates Adamany then followed the car and more shots were fired from the Dodge even as both vehicles entered the freeway. Adamany told officers he and the Dodge "began to swerve around other cars on the freeway" and the Dodge eventually exited at Fond du Lac Ave.

The complaint says Adamany "began to fire his gun at the Dodge Magnum, emptying his clip in an attempt to shoot out the Dodge's tires." Adamany told officers "how he is right-handed but shot the gun with his left hand while driving on the freeway because he was steering and calling 911 at the same time."

"I was on the phone with 911 just giving updated information," said Adamany.

Scott told police that Adamany fired the first shots and then chased him, prompting him to return fire. Adamany vehemently disagrees.

"If that was the case, why did I call 911? Why am I trying to assist the police in capturing these people?" asked Adamany.

The complaint indicates Adamany and Scott are each concealed carry permit holders. Both admitted to being "involved in a gunfight with the other person."

"With the number of rounds fired in this situation, it's fortunate no one was hit," said Nik Clark of Wisconsin Carry.

Clark says regardless of Adamany's intentions and who fired the first shots, several principles of conceal carry were violated.

"Driving down the street with your phone in one hand and your gun over one shoulder shooting out the window, there's cars driving by, so you're responsible for where every bullet ends up," said Clark.

If convicted on the charge, Adamany faces up to 12-and-a-half years in prison plus $25,000 in fines.

"At the time I wanted to be good, do something good for my community, make sure these people are apprehended," said Adamany.

The Milwaukee County District Attorney's office tells FOX6 News, "No charges have been brought against Scott at this time."

Monitor FOX6 News and FOX6Now.com for updates on this developing story.