Too good to be true: Fake career service scams job seekers


WASHINGTON, D.C. (WITI) — It appeared to be the perfect job opportunity. There were plenty of open positions that came with good pay and great benefits. Turns out, job seekers were used as targets and lost money they didn't have.

A recording from a company called American Careers is exactly what anyone looking for a job wanted to hear.

"Athe Airlines are currently hiring for the following entry-level positions: flight attendants, ticketing, baggage handlers — no experience necessary!" 

The recording went on to say employees could earn $14 to $22 an hour, health insurance benefits and paid vacation.

For a fee of $39, the company would usher people through the hiring process to work for the airlines.

However, after sending the money, job seekers were still unemployed.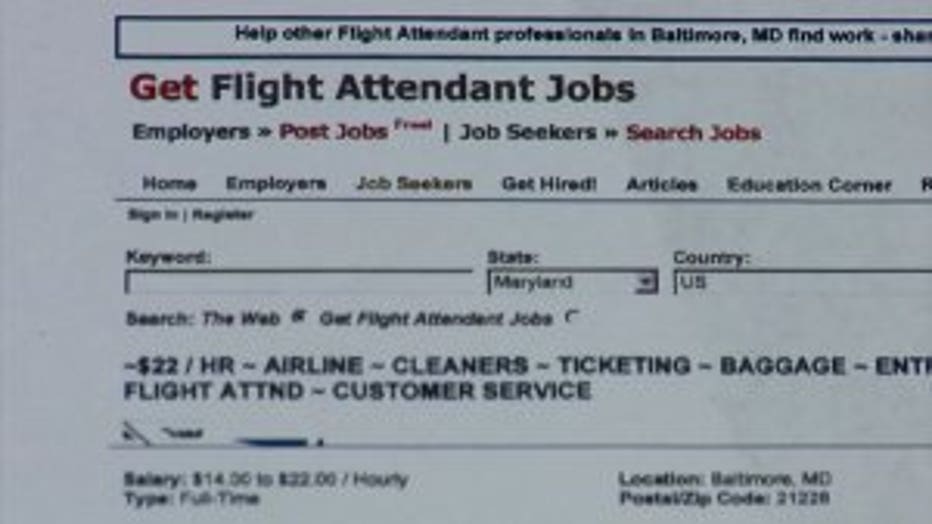 Online job posting from American Careers offering positions for $22 an hour,


"People would either receive nothing in return for their money or merely would receive an airline hiring guide," explained U.S. Postal Inspector Frank Schissler.

Postal inspectors began tracking American Careers after receiving hundreds of complaints.

"It appeared the company was connected with the airlines and was able to provide hiring assistance or would actually do hiring. People were urged to call a phone number and then provide their basic information and then submit a check or money order to the company," Schissler said.

Postal inspectors say the request for a check or money order was a red flag.

"They didn't allow you to use a credit card because, of course, you can dispute the charge with your credit card company," Schissler said.

If you're looking for a job and are asked to pay a fee — be skeptical. If you want to see if the company is legitimate, do some research.

"Check them out with your local BBB or state attorney generals office — see if there are any complaints that have been filed against them," Schissler advised.

The owners of American Careers were tracked down and asked to sign a cease and desist order. The order required the company to change their advertisements and recordings to reflect that the company was not associated with any airline and they cannot guarantee employment.

The order also required them to refund customers when requested within seven business days.