"There's gunshots and people are yelling 'call 911:'" 911 calls released in Innovative Optique shooting
FOX POINT (WITI) -- 911 calls have been released in connection with an armed robbery that turned deadly in Fox Point. On August 14th, at least three people were involved in a hold-up at Innovative Optique on Brown Deer Road. A store employee ended up shooting and killing one of them.

It was just after noon on Thursday, August 14th when calls came in about a possible shooting at Innovative Optique. Police responded and found one person dead inside the store. Later, we would learn more about what police believe happened.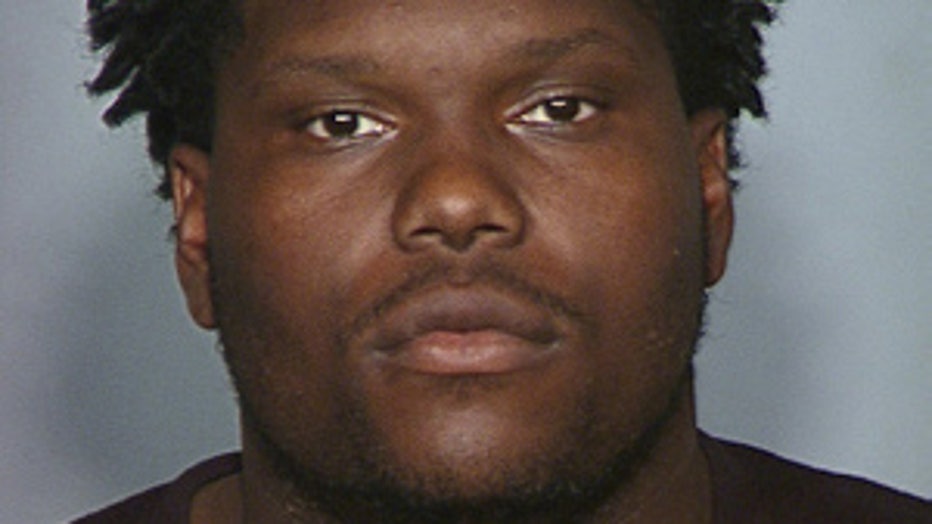 Tedric Sanders is accused of trying to rob Innovative Optique with at least two others. They were armed, but so was the store owner's brother.

Shots were exchanged and a suspected robber, 22-year-old Joshua Drake was killed. His alleged accomplice, Tedric Sanders, is now charged with Drake's death.

Wisconsin law allows the accomplice to be charged in a case like this.

Sanders has a lengthy criminal history. At the time of the attempted armed robbery and shooting, he was out on bail after he was arrested following a high-speed chase in Wauwatosa on April 12th.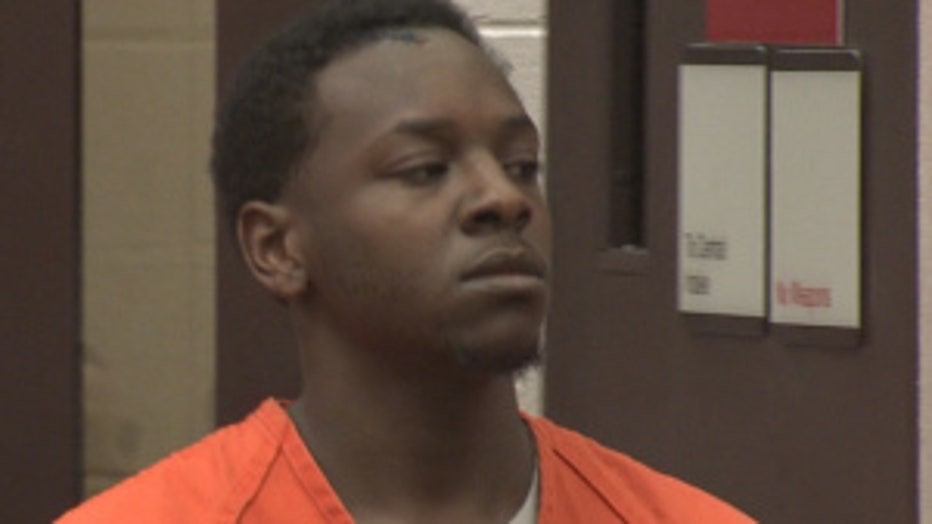 On the day of the attempted armed robbery and shooting inside Innovative Optique, Sanders was supposed to be in court in the high-speed chase case.

Following the attempted armed robbery and fatal shooting, a suspected getaway car was located -- matching witness accounts. The silver Dodge Charger was located outside Aurora Sinai Medical Center, where Sanders had checked himself in after the shooting.



Dispatcher: "911, what is your emergency?"

Caller: "Autobahn Court. There's gunshots being fired."

Dispatcher: "Do you see a vehicle?"

Caller: "No. I'm afraid to go near the door."

Dispatcher: "Okay."

Dispatcher: "How many shots have you heard?"

Caller: "How many Mark? At least 15 shots?"

Dispatcher: "Is it in the front?"

Caller: "It's in the front. A car. It looked like a Dodge something or another went flying out of here and went left."

Dispatcher: "Do you know what kind of vehicle?"

Caller: "Like a Dodge Charger."

Dispatcher: "You said it went westbound?"

Caller: "It went west. I don't know if anybody is hurt or not, or what they were shooting at."

Dispatcher: "Okay. Did you get a plate or anything?"

Caller: "No."

---

Dispatcher: "911, what's your emergency?"

Caller: "At Innovative Optique - 333 West Brown Deer Road."

Dispatcher: "Okay."

Caller: "All I just heard was a shootout."

Dispatcher: "In the parking lot?"

Caller: "No, in the store. They probably need an ambulance. I heard about six rounds. 333 West Brown Deer Road."

Dispatcher: "What's the name of the business?"

Caller: "Fox Point, Wisconsin. Innovative Optique. They probably need an ambulance."

Dispatcher: "Okay, hold on okay?"

Caller: "I don't know what's going on. Holy (expletive), I'm shaking. I'm not at the store, but I heard everything on the phone."

Dispatcher: "You're not there?"

Caller: "No. I heard everything on the phone. I just called because I'm running errands for the boss."

---



Dispatcher: "911, what's your emergency?"

Caller: "Autobahn Court Shopping Center, 333 West Brown Deer Road."

Dispatcher: "What's wrong?"

Caller: "We, our neighbors...we're at the floral shop and our neighbors, we peeked our head out and our  neighbors said 'call 911.'"

Dispatcher: "Did they say what for?"

Caller: "I'm sorry?"

Dispatcher: "What for?"

Caller: "It's a single level."

Dispatcher: "What did they need 911 for? What do they want the police for?"

Caller: "A gun. I think it was gunshots it sounded like."

Dispatcher: "What's the name of the business?"

Caller: "Uh, Innovative Optique."

Dispatcher: "Okay, we'll get somebody over there."

---

Dispatcher: "911."

Caller: "Hello?"

Dispatcher: "Hello?"

Caller: "Hi, um -- we are...we're at Riverpoint by Autobahn Court and there's gunshots. There's gunshots and people are yelling 'call 911.'"

Dispatcher: "Okay, do you know where?"

Caller: "Um, by -- it sounds like it's coming by Brown Deer and Regent. We're sitting in a parking lot."

Dispatcher: "Do you know which business?"

Caller: "We are not sure. It sounded by...kind of like Art Trooper. That area it sounds like."

Dispatcher: "Do you know who did it or what? Any car description?"

Caller: "No. Everyone went running inside stores."

Dispatcher: "Which store?"

Caller: "Um, I See London and down...like anyone who was outside -- like, there was an old lady sitting outside. Like, they went running inside."

Dispatcher: "Okay, is the people still there who did the shooting?"

Caller: "It sounded like gunshots, were saying 'call 911.'"

Dispatcher: "Is somebody still there?"

Caller: "We don't see anybody, but there's like, a group of people outside."

---



Dispatcher: "911, where is your emergency?"

Caller: "Yes ma'am. On I-43 southbound, below the Mequon exit, there's a gray car that just came past me. Didn't catch the model. What happened was, I saw that his back window was broken. There's holes in the back window -- back end is all tore up. He hit a pickup."

Dispatcher: "I'm going to transfer you to the Sheriff. They handle the freeways. Stay on the line, okay Sir?"

Dispatcher: "Do you know if anyone is injured, Sir?"

Caller: "The truck he hit pulled over, but he..."

Dispatcher: "Milwaukee County Sheriff's dispatcher. Where is the location of your emergency?"

Caller: "Uh, around Exit 80, of 43 southbound."

---



Dispatcher: "911, where is your emergency?"

Caller: "Hi, um, I'm on the interstate on the exit -- I believe I'm on 94. I'm right by Exit 80 for Good Hope Road."

Dispatcher: "What's going on?"

Caller: "I just had a car try and pass me in the median, and it completely side-swiped my truck."

Dispatcher: "Okay, what was the description of the vehicle, Sir?"

Caller: "Um, it was -- I believe a silver Dodge Charger with two males in it. I didn't get a...I didn't see the driver, but the passenger was a black male -- maybe in his mid-20s."

Dispatcher: "I want you to stay on the line. I'm going to transfer you to the Sheriff okay?"

Caller: "Okay, thank you very much."

Dispatcher: "Sir, I'm going to talk to the Sheriff, and then you can."

Caller: "Hang on. The other phone is ringing. I can't hear you ma'am."

Dispatcher: "Where is your emergency?"

Dispatcher: "Milwaukee County - I have a 911 transfer. It's a PDO on the interstate southbound I-43 at Good Hope."

Dispatcher: "You're calling from where?"

Dispatcher: "Bayside Communications."

Dispatcher: "You need the Sheriff."

Dispatcher: What's the location of your emergency?"

Dispatcher: "Milwaukee -- this is Bayside Communications. I have a subject on the line who was side-swiped southbound I-43. Suspect vehicle is a silver Dodge Charger. He is actually wanted in shots fired right now that happened in Bayside."

Caller: "Yeah. There was a gunshot through the back windshield."

Dispatcher: "Okay. Stay on the line one moment. And where is the vehicle now?"

Caller: "They flew past me going on the interstate in towards Milwaukee and I tried to speed up to them to get their license plate number, but they were too fast for my truck."

Dispatcher: "And where are you at now Sir?"

Caller: "I am on... I am going into Milwaukee on I-94 and right before Exit 80 for PP Good Hope Road. I'm right in front of that sign."

Dispatcher: "Okay, are you the black pickup truck?"

Caller: "I am a green pickup truck."

Dispatcher: "Oh, you're a green pickup truck?"

Caller: "Yup, I have a green Ford F-250."

Dispatcher: "And you pulled over?"

Caller: "Yep, I'm pulled over on the side of the interstate right now."

Dispatcher: "Okay, now, it was a silver Dodge Charger. No plate info, right?"

Caller: "No, I, I could get a whole, I couldn't see it fast enough.  I do have the description of the passenger, but I didn't get a description of the driver."

Related stories: