The results are in: Milwaukee's most troublesome intersections


MILWAUKEE (WITI) -- The totals are in, the city of Milwaukee saw more traffic crashes in 2013 than the year before. The good news is the number of fatalities fell. So which intersections are the most dangerous?

Bill Blood takes the bus over to 27th and Layton just about every day.

"Go down to McDonald's, have coffee just kill time," said Blood.

At this intersection, it doesn't take long to see bad driving on display, the kind of creative maneuvers that would make your high school driver's ed instructor cringe.

"Some people just don't understand the intersection, like that guy he's in a hurry to go now a car cut in front of him," said Blood.

Blood's observations provide anecdotal evidence of what the 2013 traffic accident report shows -- this intersection is one of Milwaukee's most dangerous, coming in at number 2 on the 2013 list of high frequency crash locations.

"If you look around you see all kinds of plastic -- it's from the accidents," said Blood.

This map shows you the city's top 5 locations for traffic crashes. The traffic volumes vary by location, but each of these had between 24 and 29 accidents in 2013. Each of them also had as many, or more injuries than the previous year.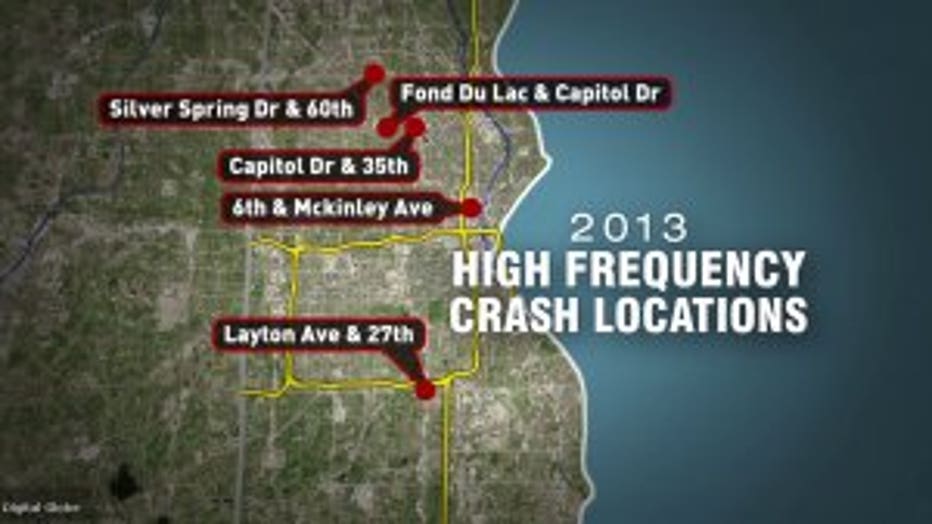 Blood says he last saw an accident about a month ago at this intersection. He offers advice to drivers:

"You better watch out because they're going to get you," Blood said.

As for what may be behind the 2013 trends -- we don't know yet.

FOX6 News reached out to the Department of Public Works, but were unable to get anyone to comment.