Supreme Court Justice Bradley apologizes for calling people 'queers,' 'degenerates' in college paper


MADISON — Wisconsin Supreme Court Justice Rebecca Bradley is apologizing for anti-gay opinion pieces she wrote when a college student 24 years ago but will not resign her position.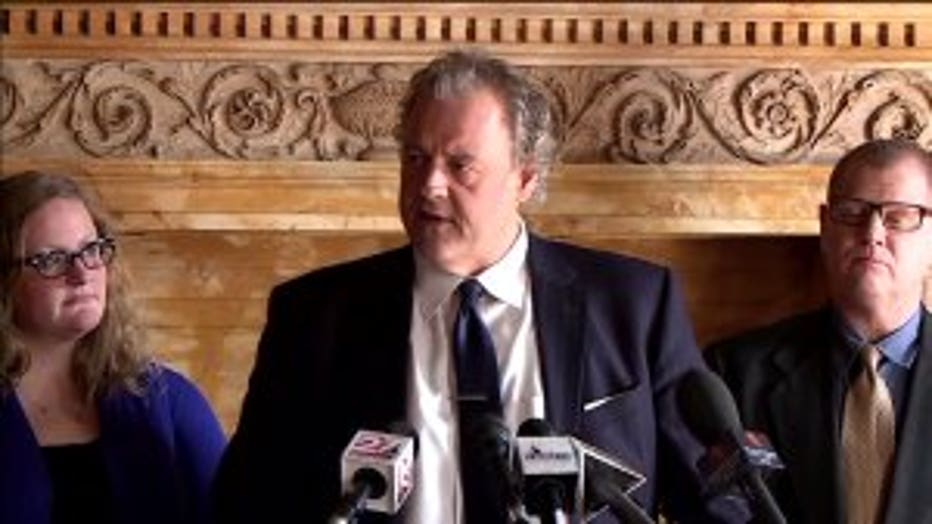 Scot Ross with One Wisconsin Now speaks in Madison on Rebecca Bradley


The liberal group One Wisconsin Now released three newspaper columns that Bradley wrote for the Marquette Tribune during her time at Marquette University in the 1990s. Bradley is running against JoAnne Kloppenburg after having been appointed to the bench by Gov. Scott Walker last fall.

"One will be better off contracting AIDS than developing cancer, because those afflicted with the politically-correct disease will be getting all of the funding," Bradley wrote in a column dated November 11th, 1992. "How sad that the lives of degenerate drug addicts and queers are valued more than the innocent victims of more prevalent ailments."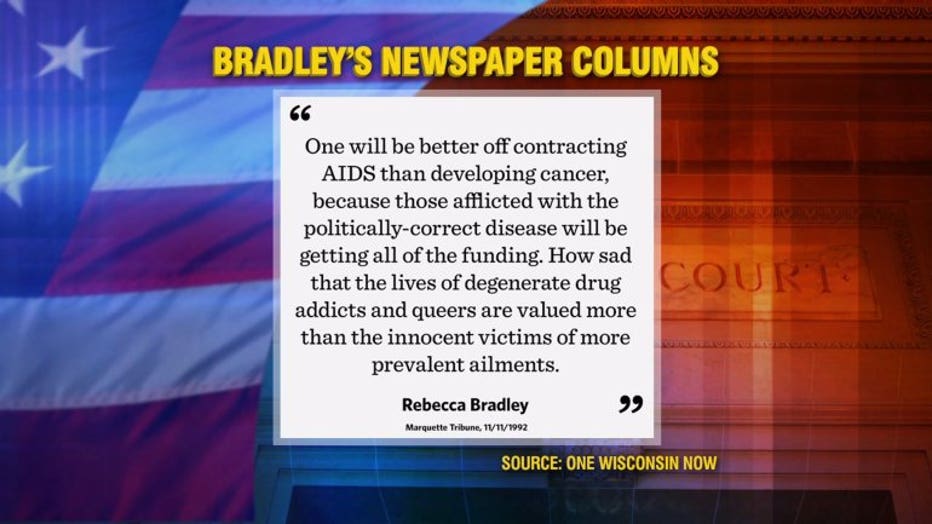 Rebecca Bradley newspaper column


In a statement, Bradley apologized and said she is "frankly embarrassed at the content and tone of what I wrote those many years ago."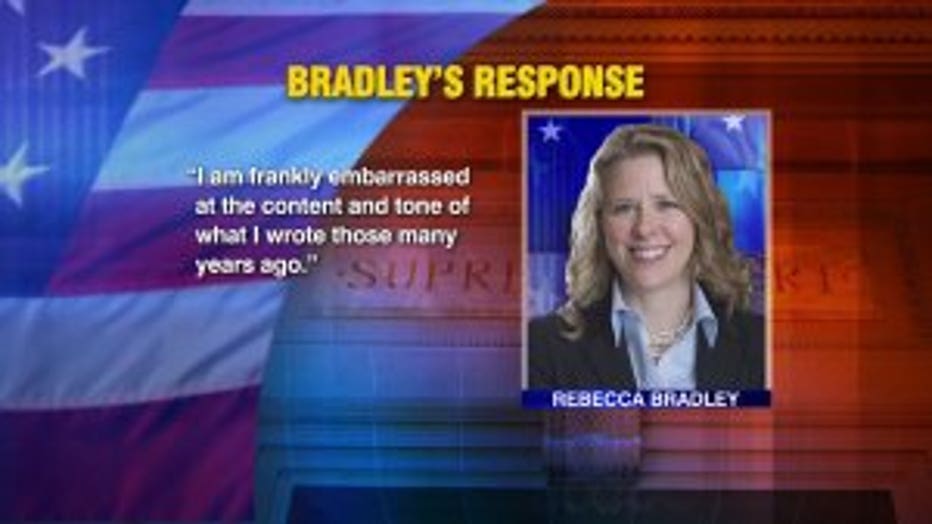 Bradley attended a fundraiser at the Milwaukee Club downtown Monday evening, but entered the event through a side door. Her campaign declined to make her available for questions from reporters.

Walker did not know of Bradley's 1992 comments before appointing her to three different judicial positions over the past four years, said Laurel Patrick, a spokeswoman for the governor.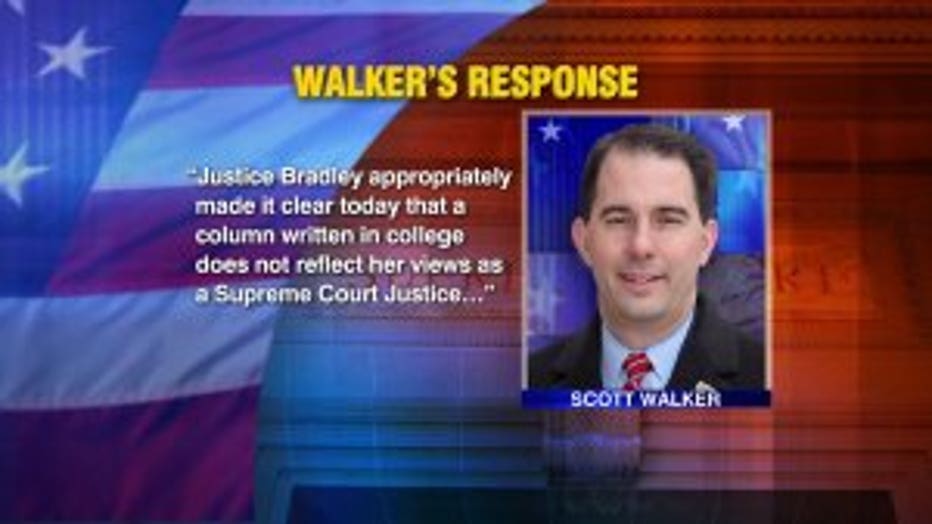 "Justice Bradley appropriately made it clear today that a column written in college does not reflect her views as a Supreme Court justice, a court of appeals judge, a circuit court judge or as an attorney," Walker said Monday afternoon in a statement.

Patrick did not respond to a follow-up question asking whether Walker would've made the appointment had he known about the 1992 opinion pieces.

One Wisconsin Now's executive director, Scot Ross, called on Bradley to resign her position on the Supreme Court. Bradley's past writings prove she would be unable to decide a case involving gays or lesbians fairly, he said.

"I've never seen anything this appalling," Ross said of his nine years of doing opposition research on Republican candidates. "If she has a shred of decency, she will resign immediately."

"That's absurd. She will not resign," responded Luke Martz, Bradley's campaign manager.

In the statement sent out by her campaign, Bradley said the One Wisconsin Now information was "a blatant mudslinging campaign to distract the people from the issues at hand."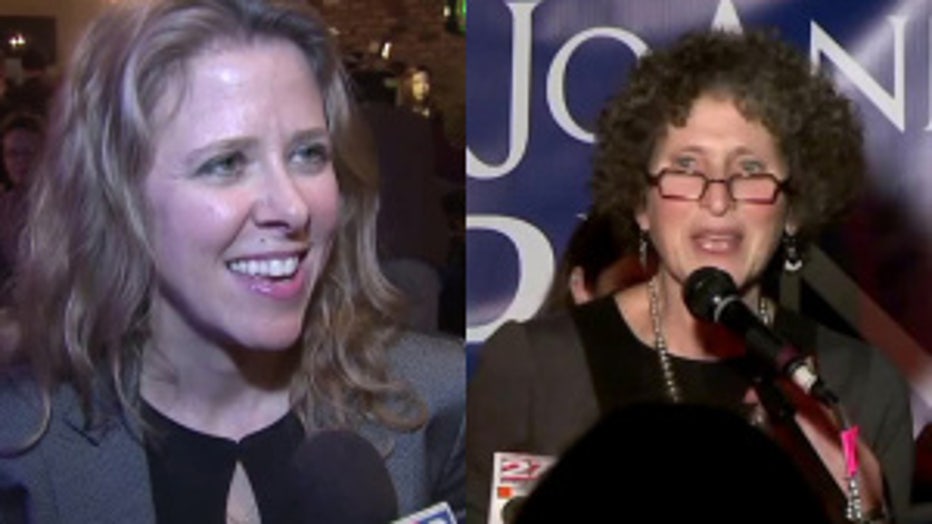 Rebecca Bradley, JoAnne Kloppenburg


Kloppenburg, who is facing Bradley in the April 5th general election, responded that there is "no statute of limitations on hate."

"Rebecca Bradley's comments are as abhorrent and disturbing today as they were in 1992," Kloppenburg said in a statement, in which she also criticized Bradley's ties to Walker.

The columns released by One Wisconsin Now span from February 11th, 1992 until November 11th, 1992. In the final column, Bradley criticizes U.S. voters for electing Bill Clinton president.

"We have now elected a tree-hugging, baby-killing, pot-smoking, flag-burning, queer-living, bull-spouting '60s radical socialist adulterer to the highest office in our nation," Bradley wrote. "We've just had an election which proves the majority of voters are either totally stupid or entirely evil."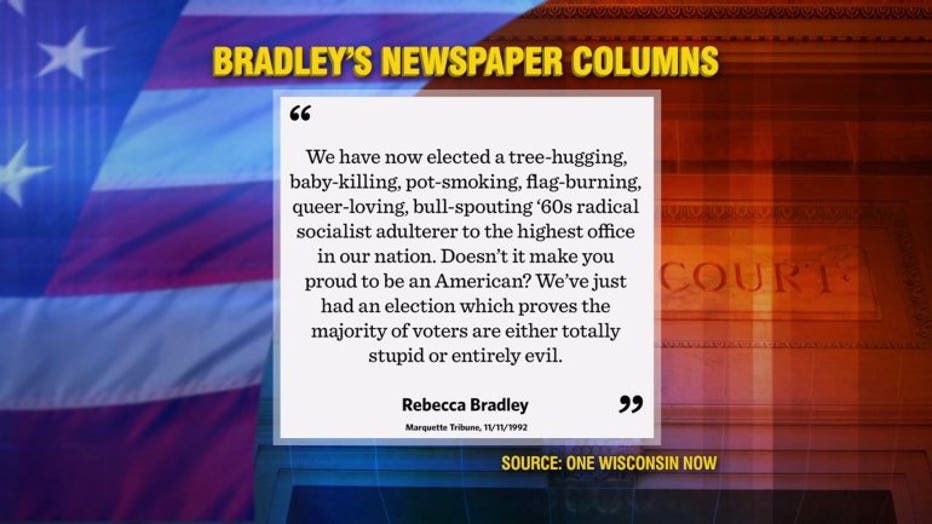 Rebecca Bradley newspaper column


Bradley was not immediately available for an interview, her campaign said.

Ross said One Wisconsin Now looked at microfilm at the Wisconsin Historical Society. He said he wasn't sure whether the group had looked at all of Bradley's columns or just a partial list.

Kloppenburg did not write for the student newspaper while attending Yale University or law school at the University of Wisconsin-Madison, said Melissa Mulliken, Kloppenburg's campaign manager.

The only reference to Kloppenburg found during a FOX6 News search was an October 1972 directory in the Yale Daily News that listed her room number. The directory lists Kloppenburg as JoAnne Fishman, her maiden name.