"Si se puede!" Massive crowd rallies at Capitol in Madison against "anti-immigrant" bills


MADISON— Thousands of Latinos and immigrants from around the state demonstrated outside the Capitol in Madison Thursday, February 18th in an effort to put a stop to legislation they say targets immigrants. The event was called "A Day Without Latinos," and 20,000 people walked off the job and out of class to take part.

The demonstrators chanted and held signs on the square outside the Capitol Thursday morning, amid temperatures below freezing.



One sign read "All We Want is Equity."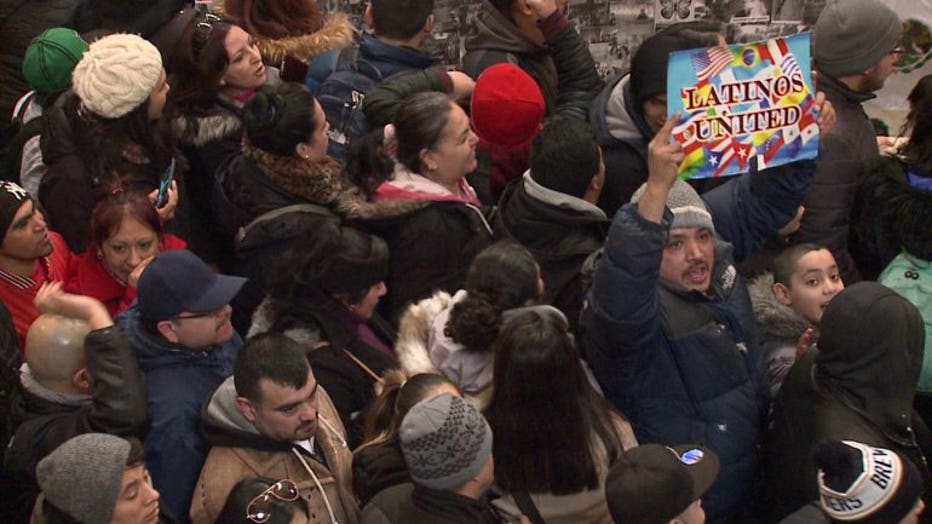 The groups oppose an Assembly bill that they say would lead police to investigate a person's immigration status and detain people for deportation. They say a proposed Senate bill would block counties from issuing local identification cards to people who don't have access to a state ID.

Roads leading to the Capitol were heavy with traffic and Mexican flags dotted the crowd. Inside the Capitol, hundreds of people packed the Capitol Rotunda and surrounding floors as the Assembly session began, banging on cymbals and chanting "si se puede," or "yes we can."

"This sends a strong message of the deep, deep opposition to these anti-Latino, anti-immigration bills," said Christine Neumann-Ortiz, the executive director of Voces de la Frontera.

From the Assembly chamber's windows, lawmakers could see and hear the thousands outside.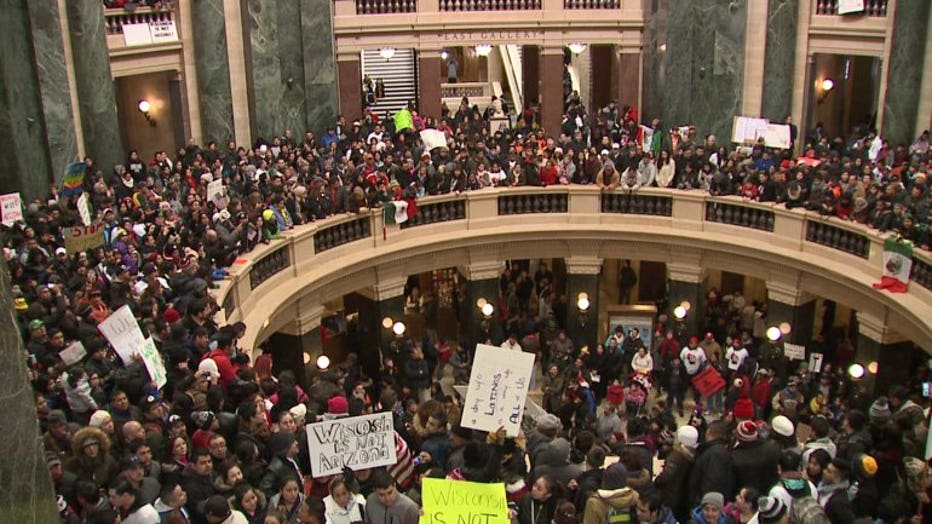 "I don't think they know what it's like to be in our position. They're born with these rights," said Monica Gonzalez.

Gonzalez immigrated from Mexico when she was 11.

Republicans said she and the others don't know what they're protesting.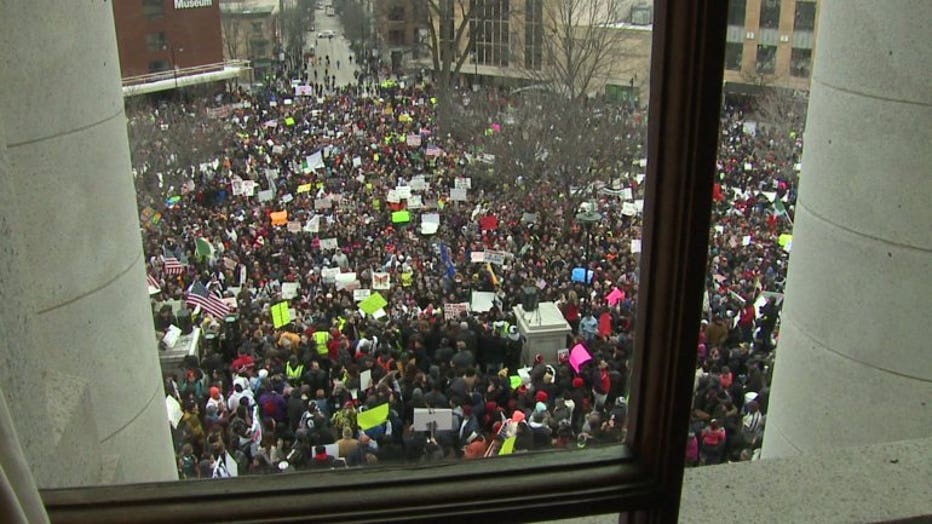 "Unfortunately they're being told a lot of misinformation and on purpose to gin up a bunch of ire," Rep. Joe Sanfelippo (R-New Berlin) said.

The Assembly passed two bills this week. One that restricts how cities issue identification cards to people, including those in the country illegally -- making it clear they can't use them to vote or get state benefits.

The other would fine so-called "sanctuary cities" that stop their police from questioning people charged with a crime about their immigration status.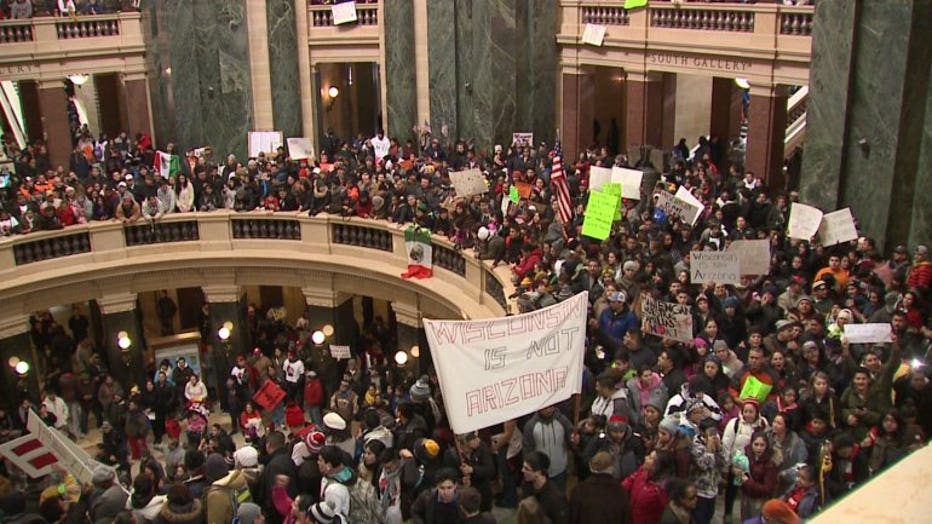 While the I.D. bill is already on Governor Walker's desk, the "sanctuary cities" bill awaits a vote in the Senate.

Republicans defended the bills over the din of the protests.

"It doesn't talk about law enforcement going to a field, stopping people driving, stopping people on the road, or anything else. That's not in this bill," Rep. John Spiros (R-Marshfield) said.

Meanwhile, these thousands of protesters said they hope they were able to make a difference.

And maybe they did.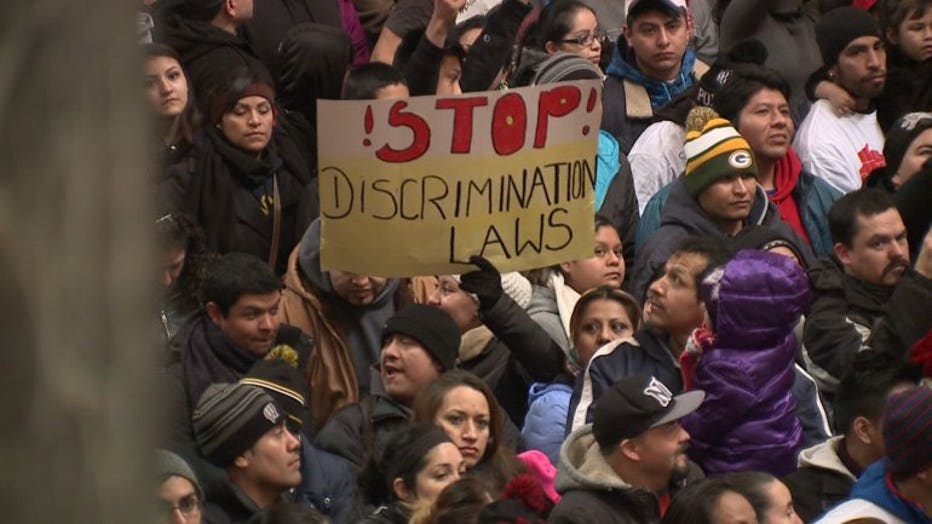 Senate Majority Leader Scott Fitzgerald's spokesman said Fitzgerald hadn't heard from any senator that the "sanctuary cities" bill is a top priority right now.

Senators are planning to come back into session sometime in March. Assembly leaders said Thursday was their last day for the year.

Governor Scott Walker responded to Thursday's demonstration -- saying protests at the Capitol are nothing new. He said there are protests there every day.

Walker said he thinks Latinos in the state are fighting for what everyone wants in Wisconsin.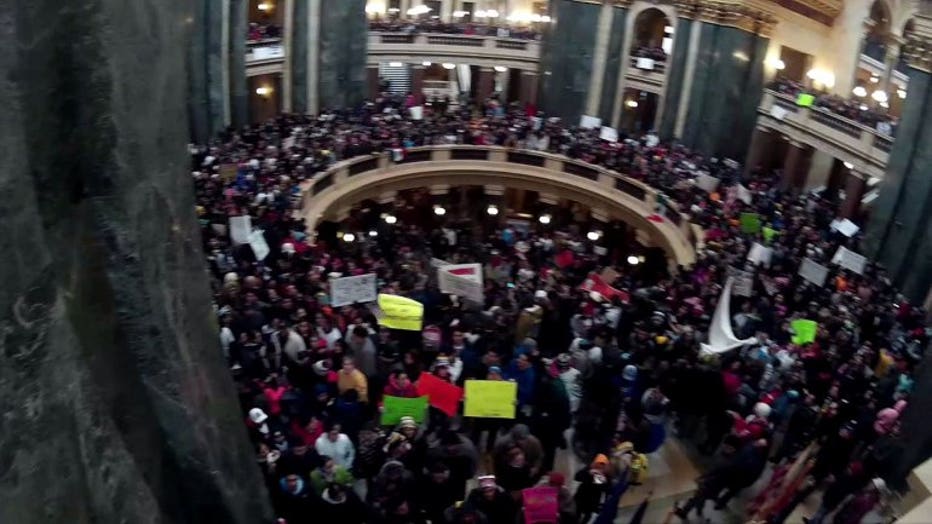 "They want elected officials that are focused on improving the economy, improving education, improving opportunities for people in this state. I think a lot of the talk about other issues is a distraction from that and we are going to stay focused on helping people get the education and skills they need to succeed in life," Governor Walker said.