"She will be greatly missed:" Racine Zoo's beloved Andean bear loses battle with cancer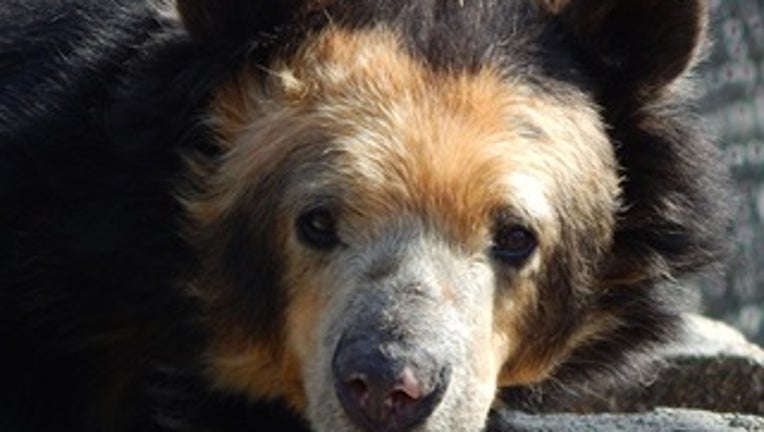 RACINE -- The Racine Zoological Society sadly announces Hallie, a female Andean bear residing at the Zoo, has lost her battle with oral squamous cell carcinoma, a type of oral cavity cancer. Hallie passed away Sunday, June 28 surrounded by the Zoo's animal care and veterinary teams.

"We knew she didn't have much time but it doesn't make the situation any easier," said Curator of Conservation and Animal Care Theresa Donarski. "Losing an animal is always very difficult and Hallie was such an amazing animal. We are at peace knowing she is no longer in pain. She will be greatly missed."

Over the past few days, Hallie's behavior changed as she became more lethargic and her appetite lessened, even for her favorite soft foods. She showed obvious signs of discomfort around her mouth and jaw. As she became more uncomfortable, Hallie still recognized Zoo staff and perked up when carnivore specialists visited and performed rounds.

On May 19, during Hallie's routine dental exam, the Zoo's veterinary team noticed something not quite right with the tissue surrounding a tooth and an area surrounding the jawbone. Results from tissue samples sent to the lab indicated oral squamous cell carcinoma.

The Zoo veterinary team consulted with special species veterinarians at the University of Wisconsin Veterinary Service on June 2 to discuss possible treatment options.  It was determined surgery to remove the cancer was not possible as it would require surgeons to remove Hallie's entire lower jaw, making reconstruction impossible.

After careful consideration, Zoo staff decided against surgery and did everything possible to ensure she had a good life for as long as possible.

"Our staff did everything possible to make Hallie comfortable during her last days and I am so proud of that," said Executive Director Beth Heidorn.  "Hallie was a wonderful animal ambassador and we'll miss her greatly."

The Racine Zoo acquired Hallie in May of 2004 from Sedgewick County Zoo in Witchita, Kansas but she was born at Lincoln Park Zoo on January 14, 1986.  Guests may still visit the Zoo's male Andean bear, Diamond, in his exhibit located in Bear Ridge.

Andean bears or spectacled bears are found in the mountainous regions of western Venezuela, Colombia, Ecuador, Peru, and Bolivia. The Andean bear's preferred habitat is high-altitude páramo grasslands and dense cloud forests in steep, remote regions where the bears are rarely seen.

Over the past several decades, deforestation has caused dramatic declines in Andean bear populations, and recent estimates suggest that fewer than 18,000 bears survive in the wild today.