"Search warrant! Open the door!" Men accused of impersonating officers due in court
MILWAUKEE --  Three men accused of impersonating Milwaukee police officers, and holding another man at gunpoint, are due in court for their preliminary hearings Thursday, November 17th.

Police say the three men went to a home near 67th and Carmen and told the residents they were MPD officers serving a search warrant.

According to court documents, Zedric Byrd, Justin Figgs and Brandon Streff banged on the lower unit door, saying: "Search warrant! Open the door!"

Streff allegedly wore a baseball hat with "POLICE" written on it.

One of the other men allegedly wore a black mask, and was armed with a rifle.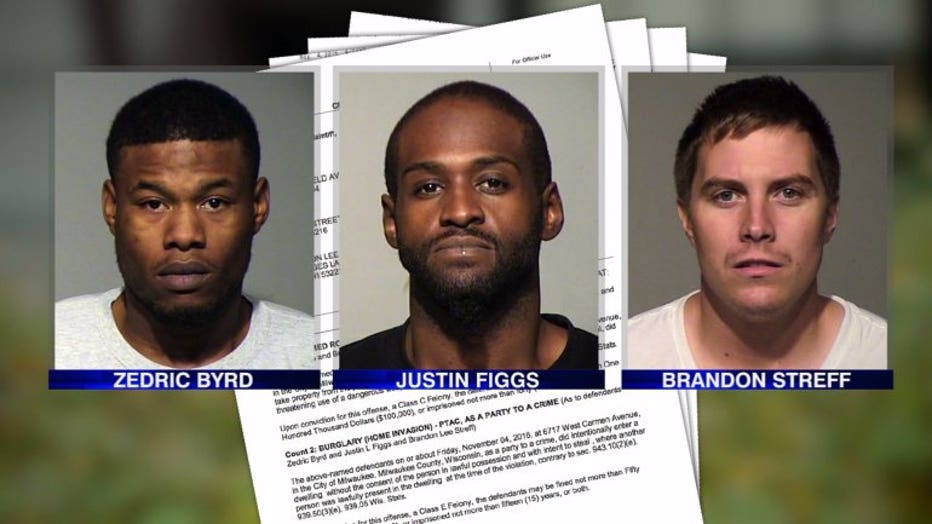 Zedric Byrd, Justin Figgs and Brandon Streff


As you may have guessed, these men are not police officers.

"I am so disgusted and so hurt that he would even do anything like that," Cordia Stinson, Figgs' grandmother said.

Stinson told FOX6 News she just found out her grandson is in jail. She last saw him wandering around her house awhile back.

"He just didn't look right to me. He wouldn't come into my house. I don't know if he was on drugs. I don't know," Stinson said.

Milwaukee police say drugs were the reason the men dressed up as officers. Investigators say they were looking for the man who lives in the upper unit of the home. They allegedly stormed inside, held the man at gunpoint with a semi-automatic handgun and AK-47 and took $200, and a bag of heroin from him.

Figgs allegedly told police they went to the home to rob the man of drugs and money because the man "shorted them on a quarter ounce of cocaine a few months ago."

Neighbors told FOX6 News this happened at around 2:30 a.m. Friday, November 4th.

When the real police arrived, Figgs, Byrd and Streff allegedly ran upstairs and hid in a closet.

The alleged drug dealer they were after was taken into custody, but he hasn't been charged.

All three men face charges of armed robbery, burglary and impersonating a police officer.

Streff faces an additional count of possession of a firearm by a felon.