"Saved by the Bell" actor Dustin Diamond takes stand in own defense


PORT WASHINGTON -- "Saved by the Bell" star Dustin Diamond took the stand in his own defense Friday, May 29th -- which marks day three of testimony.  He's accused of stabbing a person at a Port Washington bar Christmas night.

The jury has been deliberating for close to four hours.

Diamond himself took the stand today.

While on the stand, Diamond described in detail what happened on that Christmas Day at the Grand Avenue Saloon. He told the court and jury everything was prompted by someone being aggressive with Amanda Schutz, who was with him at the bar.

Diamond testified he heard Schutz scream -- and when he looked back at her, he noticed there was blood coming from her face, as if someone had hit her. He indicated he was scared -- and felt the atmosphere in the bar was "aggressive and unstable."

"They started taking note who we were, who I was -- they started taking pictures and laughing and making it a game to bump into us and trying to capture it on video or camera," Diamond said.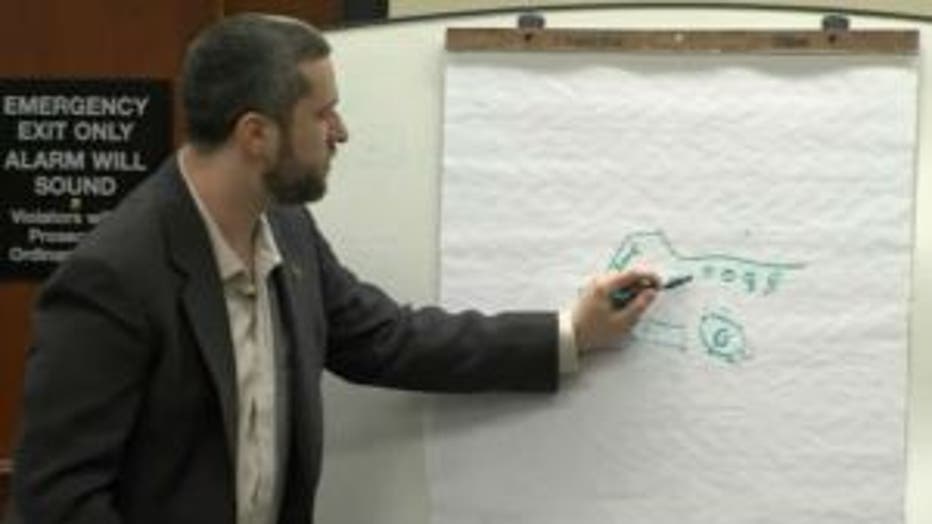 Dustin Diamond describes scene inside bar


Diamond said on the stand that at some point he was shoved about ten feet across the floor inside the bar. Moments later, after noticing Schutz was still taking shots, Diamond described how he showed his pocketknife as a "deterrent" to the crowd in the bar. He showed the court how he held the pocketknife in his right hand at his beltline -- and had his left hand extended. He testified he tried to tell the crowd "to stop hitting my wife."

But he says he didn't pull out the knife until he saw his fiancée, Amanda, who he often refers to as his 'wife,' get injured.

"She looked up at me and her face started pouring blood from the nose and mouth area," Diamond said.

He told the court he didn't realize anyone was injured by the knife.

"I did not swing or motion the knife at him at all. I think he injured himself when he grabbed at me," said Diamond.

The fact he was unaware of the injury was reiterated when an interview he had with police from that night was played in court.

But what the DA says is unclear, is why Diamond's story the night he was taken into custody, differs in many ways from the way he tells it in court.

"You're basically saying in version 2 that Amanda went into the crowd to confront the people that were antagonizing her correct?" the DA asked.

Eventually, Diamond said he and Schutz made it out of the bar -- and left the scene prior to police showing up. Diamond testified the two of them were later interviewed by police -- and he admitted lying about having a pocketknife. He said he did that because he thought the situation at the bar was over and done.

Diamond's case is now in the hands of a jury, as both sides wait for an outcome.

Amanda Schutz is also on trial facing lesser charges but she chose not to testify.

If Diamond is found guilty to all charges, he could be facing 10 years in prison.

Monitor FOX6 News and FOX6Now.com for updates on this developing story.

CLICK HERE to take a look at Dustin Diamond's career history, dating back to 1987.