Racine Co. District Attorney arrested for OWI after crash Friday


RACINE CO. (WITI) -- Racine police say Racine County District Attorney Rich Chiapete has been arrested for OWI (1st offense) and hit-and-run (property damage).

Police say on Friday, April 4th, just after 10:00 p.m., they responded to an accident at Melvin Avenue and N. Main Street involving a vehicle and a traffic signal. Officers were advised that the driver left the scene.

Police located an unoccupied vehicle at the scene.

Further investigation revealed to police the vehicle involved in the incident struck a traffic signal and a tree near the intersection.

It happened in Jocelyn Johnson's yard.

"We heard a thud from upstairs," Johnson said.

She says when she looked out the window, she saw a man walking around a car with airbags deployed. She says she grabbed the phone to call 911.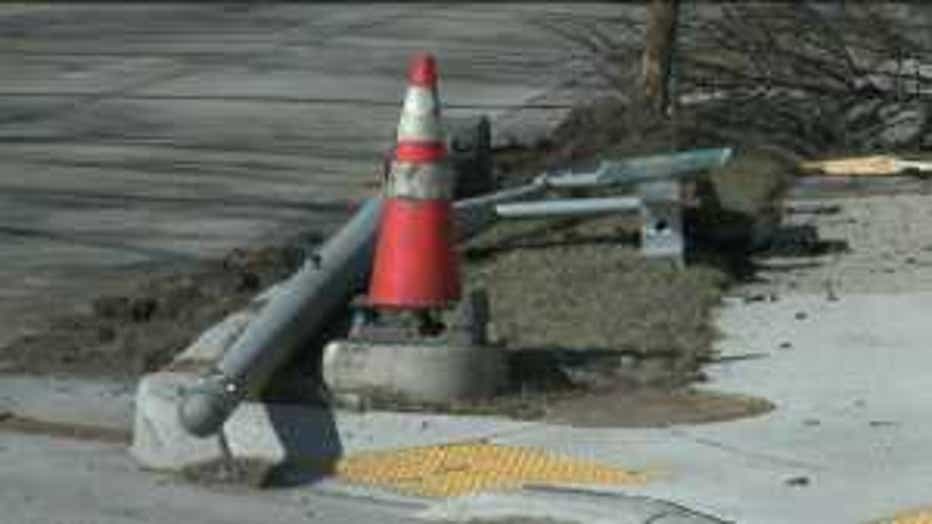 "I said there was an accident in front of my house and it was a light pole down, and a tree down and they should send help," Johnson said.

Warren Draves lives across the street -- and he heard it too.

"It was very loud. It was very loud. The house was locked up and we had the TV on. It was very loud," Draves said.

Draves says he came outside to see a man heading down the street -- away from the accident.

"I was hoping he was going for help -- but it didn't look like it. I went to get my keys and my cell phone to see if I can track him down," Draves said.

Officers responded to the residence of the vehicle's registered owner, at which time it was determined that Racine County District Attorney Rich Chiapete was the operator of the vehicle at the time of the incident.

Chiapete was arrested on a charge of first offense OWI (a municipal offense) and as a result of leaving the scene without making proper notification, Chiapete was issued a municipal citation for "duty upon striking property" -- also referred to as hit-and-run on/or adjacent to a highway.

Due to the high-profile nature of this investigation involving an elected official -- Racine Police Chief Art Howell issued the following statement:

"On those occasions when it becomes necessary to conduct investigations involving public officials, members of the law enforcement community or other high-profile incidents, the integrity of the law enforcement profession is rightfully under public review. As the administrative manager of the Racine Police Department, I would like to take this opportunity to ensure members of the public that this investigation was handled in a manner consistent with similar investigations, that being with professionalism and impartiality.

I would like to publicly acknowledge the work performed by Racine police officers, who, while investigating this politically sensitive matter, placed their Constitutional duty above their professional relationships. Along with oversight review from an external law enforcement agency, I will continue to monitor the facts involved in this case to affirm that the highest standards of professional police conduct were applied during this investigation."

Chiapete released the following statement to FOX6 News on Monday, April 7th:

"(Friday) evening, I was involved in a single car accident near my house. I was coming home from a birthday party and had a few drinks. I did initially panic and leave the scene. I exercised extremely poor judgment on many levels. I did receive municipal citations for OWI and Hit & Run. I take full responsibility for my actions. I am ashamed and embarrassed. I apologize to my family, to the law enforcement community and to all of the citizens in our community. This should not have happened and I pledge to work hard to restore your faith in me."

Racine police are interested in any additional information anyone may have on this incident. Anyone with information is asked to call Racine police at (262) 635-7816.