Quite the collection! 62 hair bands, eight pairs of underwear and more recovered from black lab's stomach


MARS, Pennsylvania -- Veterinarians could hardly believe their eyes when they were able to learn what was making a black lab sick.

Tiki hadn't been feeling well, and vets soon learned the dog has quite the remarkable appetite, and unusual tastes.

A variety of items were surgically removed from the dog's stomach -- including 62 hair bands and eight pairs of underwear!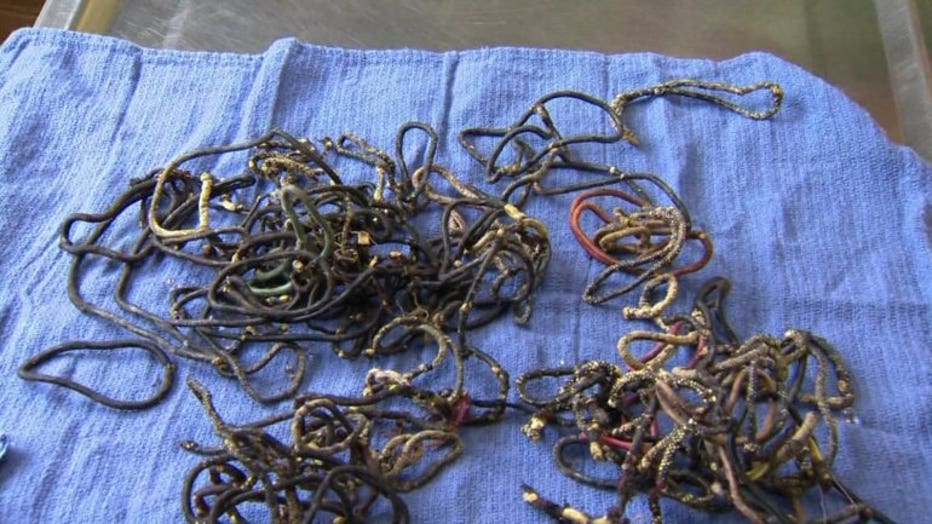 Hair bands in Tiki's stomach


"(The doctor) started pulling handfuls of different items out. It was quite the experience to see!" Emily Cottle, head veterinary technician at Good Shepherd's Veterinary Hospital in Mars, Pennsylvania told WTAE.

The surgery came after Tiki wasn't responding to medication to treat vomiting and diarrhea, and lack of appetite. WTAE says X-rays showed a mysterious mass in her stomach.

"Four rubber bands, a Band-Aid, eight pairs of underwear and 62 hair bands is a lot to be in a dog's stomach!" Cottle said.

Tiki is Sara Weiss' family's pet. She tells WTAE prior to this, the most unusual thing Tiki had eaten was a Nerf dart. That was able to pass through the dog's system, and surgery wasn't needed.

The veterinarian who performed surgery on Tiki told WTAE he recently pulled 15 pacifiers from another dog's stomach.

"I was there for the pacifiers and many other different items but not something as big (as Tiki's collection)," Cottle said.

WTAE says Tiki is doing well after surgery.