Puppies found in trash in South Milwaukee now a month old; listed for adoption


FOND DU LAC COUNTY/SOUTH MILWAUKEE -- Officials with the Fond du Lac Humane Society have provided an update on three puppies found in a trash can in South Milwaukee one month ago. They are now listed for adoption.

The puppies were discovered in South Milwaukee on March 15th -- and rushed to the Milwaukee Area Domestic Animal Control Commission.

They were then rushed into foster care to ensure their survival, because they need care around the clock.

MADACC officials said these puppies were lucky to have been found and rescued.

On Sunday, April 17th, just over a month after they were found, officials with the Fond du Lac Humane Society posted new photos of the puppies, and this message:

Five weeks ago, someone decided to throw newborn puppies in a garbage can. These three have far exceeded all of our hopes and our expectations. Eating and drinking, playing and doing everything puppies are supposed to do. 'I saw the most horrendous things, and I thought to myself; why doesn't someone do something? One day I looked in the mirror and realized; I am someone.' We are so very grateful to all the 'someones' who helped make a difference for these three little ones who almost lost their lives five weeks ago.

PHOTO GALLERY



When they were found, the puppies were just two days old.

"Furious, just heartbroken that with all the resources, there's just so much available to people to be able to get help. There's no reason to throw newborn puppies in a garbage can," Renee Webb with the Fond du Lac Humane Society said.

At the Fond du Lac Humane Society, the puppies were bottle-fed every three hours, around the clock.



The puppies were driven to Fond du Lac by Badger Rescue Animal Transport Services, or BRATS. They were called by MADACC.

"It was best to get them out of there and into a more quiet environment than what they would've had there. It's critical to the puppies to get them someplace where they can get that nutrition that they need on a regular basis. That's why this one was so urgent," Lynn Mitchell, BRATS president said.

"Something like this, when you can take a puppy that really had no chance of survival and be able to hand them to an adopter - it's amazing. It's absolutely amazing. Had they been left in that trash can for more than a couple hours, they would have died, so at this point it's a miracle that they are alive and well," Webb said.

The three puppies -- Puppy 1, Puppy 2 and Puppy 3, American Pit Bull Terrier mixes, are listed for adoption on the Fond du Lac Humane Society's website.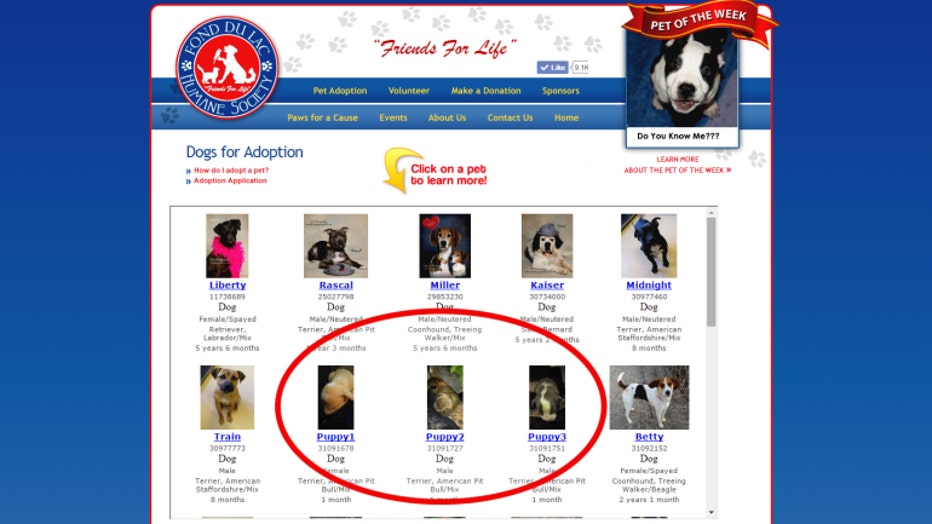 Fond du Lac Humane Society website