Pit bull stolen in videotaped theft reunited with owner


AUBURN, Wash. -- On Monday, Jessica Barcelo set eyes on her beloved pit bull, Keno, for the first time since he was taken in a home burglary last week.

As the Auburn City Animal Control truck pulled up, she nervously asked, "Where's my baby?  Is he in the back?"

Animal Control Officer Ray Peckham anticipated her eagerness, jumping out of the driver's seat and greeting her.

"Hi Jessica," he said, knowing his special delivery, in a compartment of the back of his rig, was the reason she was anxiously waiting.

Once the door to the animal carrying compartment swung open, the emotion poured out.

"Keno!  Ohhh!  Hi baby!  It's ok," Jessica told her beloved pit bull.  "You're gonna come home with Mommy, ok?"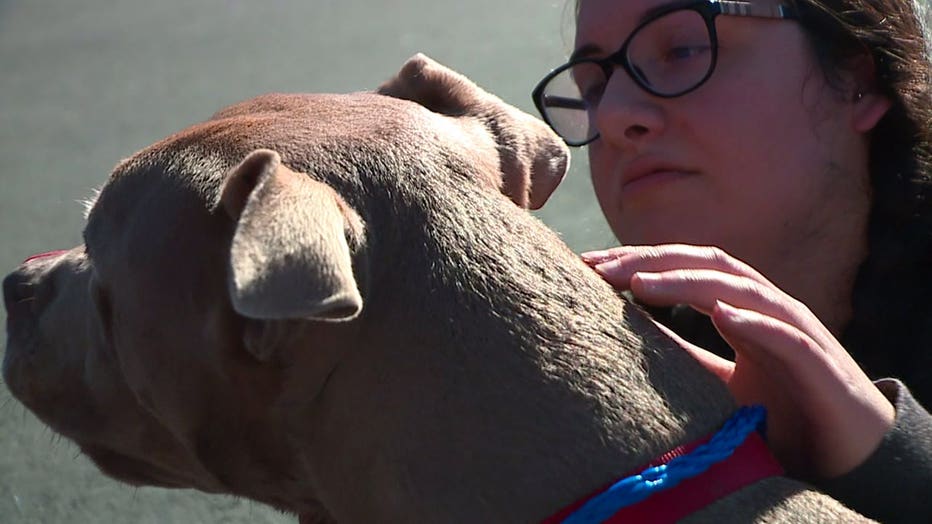 It had been a long four days, since a burglar was recorded on surveillance camera ransacking her Renton home and taking Keno, a pit bull companion who's like family to her.

Asked how she felt when she heard Keno had been located and was safe, she said, "I thought I was dreaming.  Like, are they really finding my baby?"

Jessica first realized Keno was missing last week when she checked her surveillance camera on her smartphone app and noticed the door to her home was open, and the dog was nowhere in sight.

The burglar broke out her front window and was able to unlatch her front door.

He took electronics and a few other unusual items, like yarn, a three-hole punch, some Christmas cards and a dish where Jessica stores her earrings.  Not the earrings themselves, just the dish.  And of course, the big lovable pit bull, Keno.

Four days later, police found him roaming the streets of Auburn, tired and dirty, but in good health.

"Are you back with Mommy?" Jessica asked her dog after their emotional reunion.  "Yes.  You are!"

"I can't even explain it," she said.  "I was so happy when I first got him, but  this is like, ten million times that."

"My dog walker made flyers.  She and I went out to look.  Then David Rose from Q13 made a post online and it got shared like, I don't know, like over 2,000 times,"  Jessica said.

"I feel like, without the community's help, I wouldn't have got him back."

Jessica says she had visited several animal shelters looking for Keno.

"I went to the Auburn Humane Society yesterday to look for him.  Even though I live here, I was going to all the animal shelters and they're like, 'No we don't have him.'  So it's like, so weird and ironic that the Auburn police picked him up."

Police are still looking for the burglary suspect responsible for the dog's disappearance.

Jessica says Keno loves all people.  And that's probably why he went with the intruder.

The happy ending points to the importance of having your family pet micro-chipped.  Keno had a microchip embedded under his skin.  And that's what helped animal control authorities bring him back home.