Parks and Wrecked: Waukesha man accused of stealing city vehicles, crashing through gate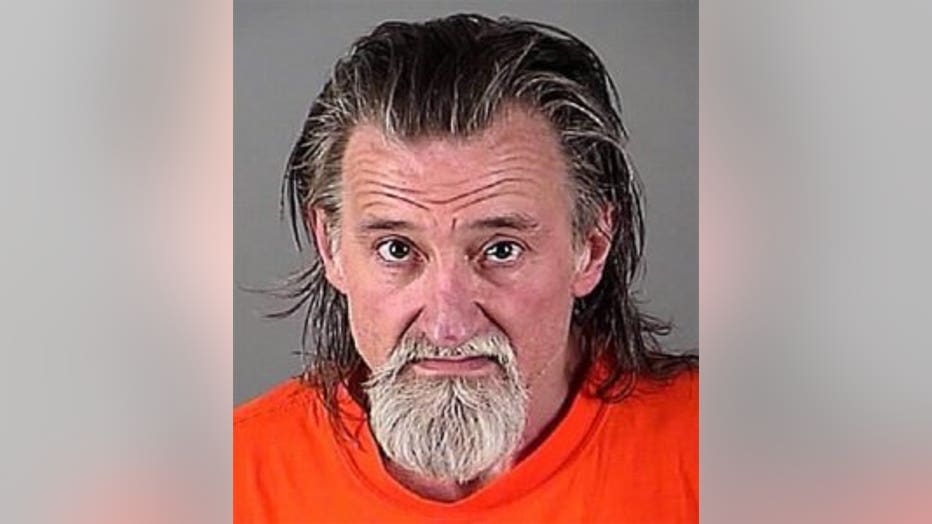 WAUKESHA -- Richard Sternke knew something was off the moment he noticed a traffic cone and debris in his driveway. When he walked up his driveway, he discovered a bucket truck stuck in his front yard. Waukesha Police are investigating a different kind of smash and dash. They say 56-year-old Brian Zielinski got into three city Parks and Recreation vehicles before using one of them, the bucket truck, to bust his way out of the city lot. According to the criminal complaint, officers first responded to the Parks and Recreation Department around 10:00 p.m. on Wednesday, May 3rd to investigate a report of damage to a gate.  The officer "found the gate into the secured area behind the Parks and Recreation Department was completely knocked over and on the ground." He believed the gate was "knocked outward" by some type of larger vehicle.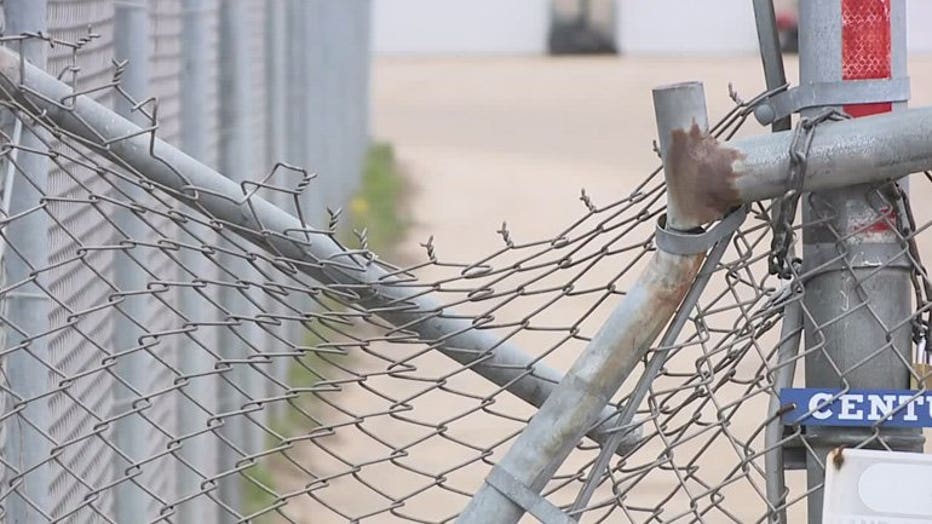 Waukesha Parks and Recreation Department yard
The same officer found a Jeep Wrangler with its headlights on nearby. The Jeep's headlights and emergency flashers were on -- and there was new damage to the vehicle. There was nobody inside the vehicle. The officer also found a Chevrolet van with Wisconsin government registration nearby. Its driver's side door was open and the keys were in the ignition. There was nobody inside that vehicle either.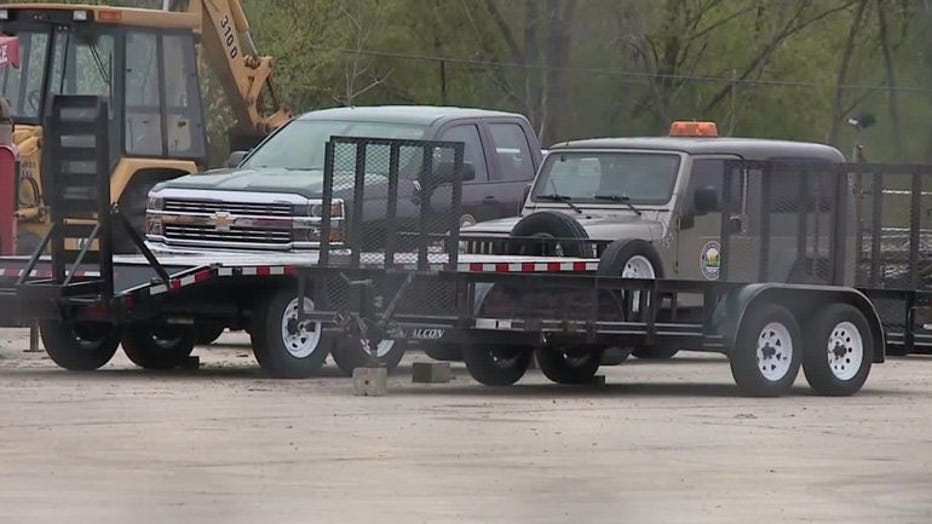 Waukesha Parks and Recreation Department yard
When the officer spoke with a Parks and Recreation employee, the employee noted on that evening, "he heard a male's voice on the radio, on a designated Parks and Recreation channel, stating something like 'let me out of here' and a short time later he heard the voice again saying 'get me out of here.'" The employee reported the person on the radio "sounded a little drunk based upon the way they were talking because they were joking and acting goofy." Investigating officers then viewed video from cameras located at the police department, since it was adjacent to the Parks and Recreation building. They reported seeing Zielinski leaving the Waukesha City Police Station at approximately 7:00 p.m. following his arrest earlier after an officer found him in "some kind of stress and in possession of some marijuana." Around 8:00 p.m., Zielinski is seen in the video walking toward the Parks and Recreation Department -- and a short time later, "some kind of lighter colored utility truck with a bucket or boom on it" leaves the facility.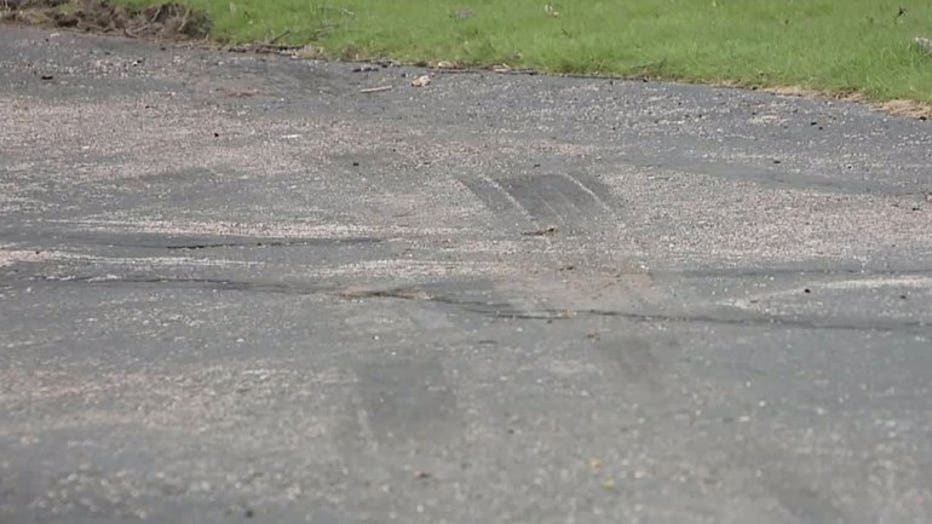 That truck was later recovered near Taylor's Woods Road after a report of a traffic crash involving a county highway truck in the Town of Delafield.
"You can see the skid marks coming through here," said homeowner Richard Sternke. Sternke said he first suspected parks officials must have had mechanical problems with their truck. He then noticed it was a city of Waukesha vehicle and was abandoned. "The windows were down. They (city workers) would've knocked on my door and said, 'Hey, we have a problem,'" Sternke said. Sternke said the skid marks indicate the driver went down the front lawn before nearly hitting a tree next to the driveway. Another set of tracks led back to the fire pit where Sternke found the vehicle stuck.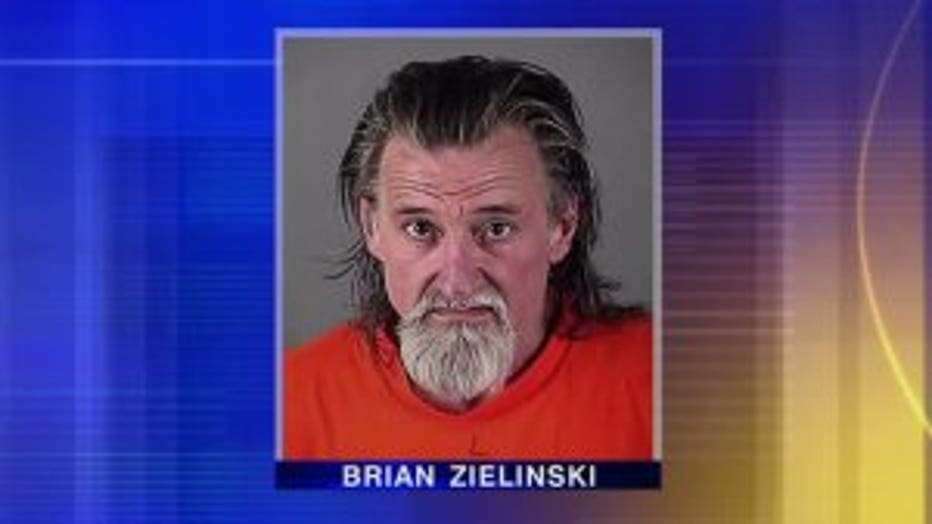 A short time after Sternke reported finding the truck, Zielinski was spotted nearby. Authorities took him into custody. When investigators questioned Zielinski about what happened on that evening of May 3rd, he told authorities he had been abducted by men in a van. He stated he was "struck in the back of the head but did not how or who struck him -- but he lost consciousness and the next thing he remembers was that he was walking down a road that was unfamiliar to him." Police say they confronted Zielinski with the surveillance video showing him walking toward the parks and rec lot. Zielinski stated he could only recall the alleged abduction.
When officers confronted Zielinski about some of his own property being inside the damaged vehicles of the Parks and Recreation Department, he again talked about being forced into a van. The complaint indicates Zielinski said "he did not remember being in any other vehicles." Waukesha Police did not return our calls Tuesday. Parks officials referred our questions to the city administrator's office. City Administrator Kevin Lahner said the city is working to get a total damage estimate. Lahner added a total of three vehicles, two gates, and an overhead garage door were damaged. Zielinski now faces multiple charges in this case, including:
Zielinski is due in court for his preliminary hearing on May 18th. If convicted on all counts, he faces a maximum sentence of about 11 years in prison.