Milwaukee VA 1 of 37 sites to get 1st doses of COVID-19 vaccine
MILWAUKEE - The Milwaukee VA announced on Friday, Dec. 11 that it has been selected as one of 37 VA sites to receive initial doses of the COVID-19 vaccine.
A news release says the medical center was selected for its ability to vaccinate large numbers of people and store the vaccines at extremely cold temperatures.
The COVID-19 vaccine needs to be kept at a very low temperature. The VA added an ultra-low temperature freezer just last week in anticipation of vaccine distribution.
When the doors open, you can feel a wave of cold from several feet away. 
"It's normal for us to have things in a regular freezer at like the minus 20 Celsius mark. This minus 80 or minus 70 is new for us in the pharmacy as well," said Kim Bell, the chief of pharmacy leading the VA's vaccine efforts.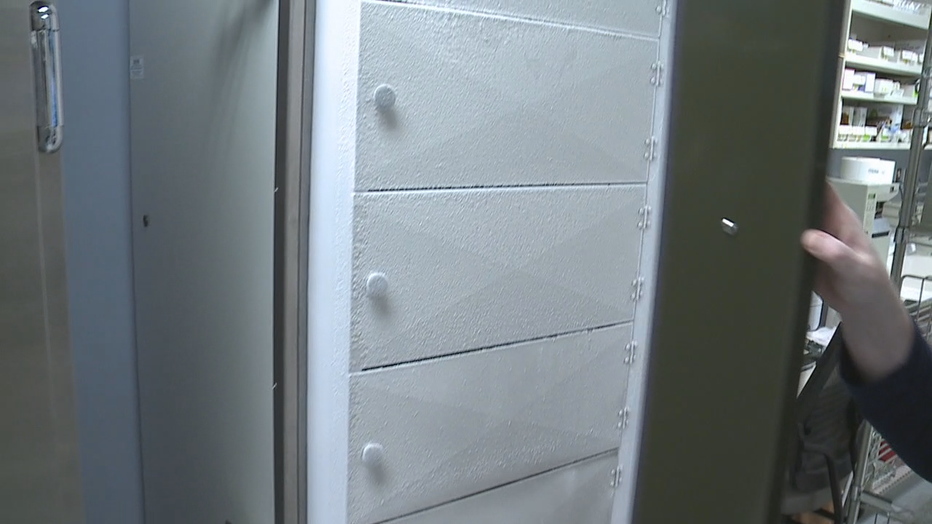 Ultra-low temperature freezer at the Milwaukee VA for storing COVID-19 vaccine
The freezer itself is an area of the pharmacy that is staffed 24/7, and it's equipped with a sensor and alarm that will all staff to act right away of the temperature should for any reason reach a point that compromises the vaccine.
Now, frontline workers are just waiting on the U.S. Food and Drug Administration (FDA) to make its final decision on emergency use authorization. Once it's authorized and the vaccine starts shipping, the VA will be ready to go.
Bell said the VA has not been informed how many doses of the vaccine it will receive or when. What is known is that the hospital workers and long-term residents there will be first in line.
"We know there are lots of veterans out there who are interested and ready," Bell said. "At this point, we don't have a waiting list started."
On any given day, the VA 30-40 patients are hospitalized with COVID-19. Like other area medical centers, the VA is stretched thin but getting by.
Bell, and others at the VA, hope that everyone who wants to get vaccinated does, but they also know it's going to take time.
"We need to understand that this doesn't mean that next week everyone gets vaccinated. It's just not logistically possible," said Bell. "It's going to take time for everyone to be vaccinated."
FREE DOWNLOAD: Get breaking news alerts in the FOX6 News app for iOS or Android
As more vaccine becomes available, staff will schedule appointments with eligible veterans.
Veterans seeking more information on the COVID-19 vaccine should visit the VA Coronavirus FAQs page.