Milwaukee mayor encourages masks, COVID trends worsen
MILWAUKEE - Milwaukee County health officials said Tuesday, July 27 that the CDC's new mask recommendations apply to the county, where COVID-19 transmission levels have been rising.
During a briefing, Milwaukee Mayor Tom Barrett promoted vaccinations as the leading method to continue reducing coronavirus activity. However, he also pushed for residents to resume voluntary mask wearing in certain settings.
"Because we are seeing transmission of the virus, even among some vaccinated people, it is increasingly important for everyone to wear a mask in groups and indoor settings away from home," Barrett said.
FREE DOWNLOAD: Get breaking news alerts in the FOX6 News app for iOS or Android.
Barrett said his request comes without enforcement but based on guidance from the CDC and conversations with city Health Commissioner Kirsten Johnson.
"We certainly have the hope that Milwaukeeans will embrace masks once more as an effective tool to care for themselves and the community," said Barrett. "I'm asking everyone in this city, everyone in this county, everyone in this region, to help us in this effort."
The call comes days after the Milwaukee Health Department reported the worst COVID-19 case burden and positivity rates since May. The citywide public health order that previously mandated masks expired June 1.
In addition to encouraging resumed mask use, officials are concerned about possible transmission of the virus at large gathering places, like the Deer District. Some are concerned a rise in cases could correlate with recent NBA championship celebrations.
"We will be closely watching COVID-19 cases for links to these large gatherings," said Barrett. "Overwhelmingly the number of people who are hospitalized are not getting vaccinated."
Officials estimate about 50% of eligible residents are now vaccinated. Contact tracing in regard to Bucks celebrations will also be difficult, they said, due to large numbers of out-of-town visitors.
"We continue to see a stubborn number of people who are not getting vaccinated. For whatever reason, they are not getting vaccinated," said Barrett. "COVID-19 infections can take up to 10 days to show symptoms so the full picture is not yet visible. Of course, our largest concern by far, are the people who were unvaccinated."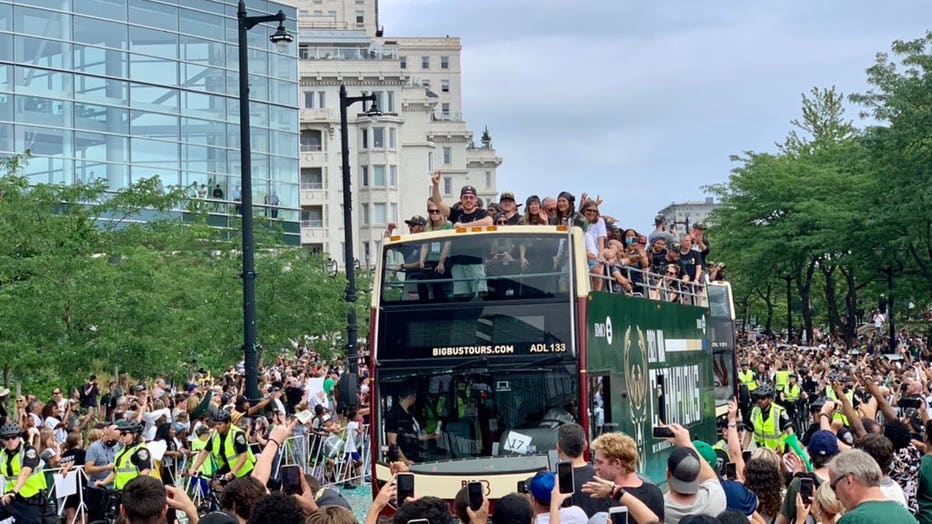 Fans attend the Milwaukee Bucks' 2021 NBA championship parade
As of late, there has been an average of 84 new COVID-19 cases reported each day. Dr. Ben Weston with the county's Office of Emergency Management said masks will help stop the spread, especially to children ages 11 and under who he says are now the most vulnerable population.
"Of the studies that have been done, some show that up to 25%, so one in four children infected with COVID may have long-term symptoms," Weston said.
A vaccine drive held Tuesday at Washington High School was just one planned clinic at Milwaukee Public Schools ahead of an in-person school year.
"We must stay ahead of the curve," said Weston.
Hundreds of thousands attended. Anyone with symptoms is encouraged to get tested.