Mark your calendar: Public invited to board one of Milwaukee's new streetcars


MILWAUKEE -- The entire community is invited to get a first glimpse at one of Milwaukee's new streetcars during an open house on Friday, June 8.

A news release says this free event will provide an opportunity for the general public to go inside The Hop, slated to begin passenger service this fall.

The Hop open house will run from 4 p.m. through 6 p.m. at the streetcar maintenance facility, located under the I-794 expressway between North Fourth and Fifth Streets. Public access to the event will be at the northeast corner of the facility near the intersection of N. Fourth and W. Clybourn streets. No advance registration is required to attend.

In addition to the chance to be among the first to step on board and see the interior of the vehicles, attendees will be able to see inside the new streetcar maintenance facility and learn about streetcar safety for motorists, bicyclists and pedestrians. The Hop streetcar will be stationary during the event, with an ADA-compliant temporary platform to provide access to the vehicle.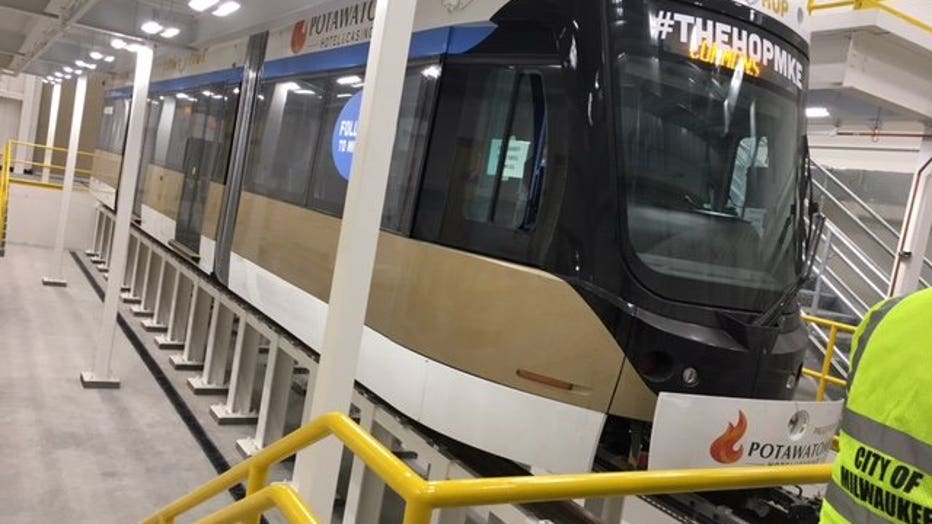 Streetcar at operations and maintenance facility


Two of five vehicles for The Hop have already arrived in Milwaukee from Brookville, Penn.-based Brookville Equipment Corp., with the remaining three vehicles set to be delivered in the coming months. The Hop vehicles are already undergoing on-street testing along a closed portion of W. St. Paul Ave., and will begin testing along the entire route this summer. For more information regarding The Hop, visit thehopmke.com.

The public is expected to first be able to ride The Hop in November. Rides will be free for the first year, thanks to Potawatomi Hotel & Casino's 12-year, $10 million sponsorship deal.