Man admits to "being stupid," accused of posing as 15-year-old to talk to 13-year-old girl


HALES CORNERS (WITI) -- You've heard the phrase "there's an app for that." The apps have names like Tinder, FourSquare and Link Messenger. They are free, and can be downloaded to any smartphone -- and apps like these can help you meet people in your geographic area. Police in Hales Corners say a 36-year-old man used an app to find and communicate with a 13-year-old girl. He is now facing a criminal charge.

A 36-year-old Milwaukee man whom Hales Corners police say was portraying himself as a 15-year-old boy now faces a felony charge of "use of a computer to facilitate a child sex crime." The accused is Floyd Sauve.

Police say they began their investigation into this case on September 27th. Sauve allegedly used the Link Messenger application for Android -- and engaged a 13-year-old girl in conversation beginning on September 2nd.

"The subject purposefully portrayed his age as 15 to gain access to those individuals," Hales Corners detective Justin Landry said.

A criminal complaint says Sauve called himself "Looker Looking" on the app. After chatting with the girl via the app, police say Sauve admitted he is 36. The criminal complaint says Sauve suggested nude photos.

Using his smartphone, officials say Sauve set up a meeting with the victim at the Hales Corners Library. The victim met him twice. During the meetings they met at the library and went to Whitnall Park and the Hales Corners McDonald's.

Police say the girl's mother got suspicious about where her daughter was, and that's when the girl told her mother about the smartphone app and the man. The girl's mother then went to police.

On October 6th, members of the Hales Corners Police Department assumed the victim's identity using her cell phone. A detective sent a message to the suspect and eventually arranged a meet at the Hales Corners Library. At about 6:00 p.m., officers met with the suspect and arrested him. At the time of his arrest, Sauve had a .40 caliber Smith & Wesson M&P Pistol in his waistband. In his vehicle, officials say he had two more fully loaded magazines, three knives and a handcuff key.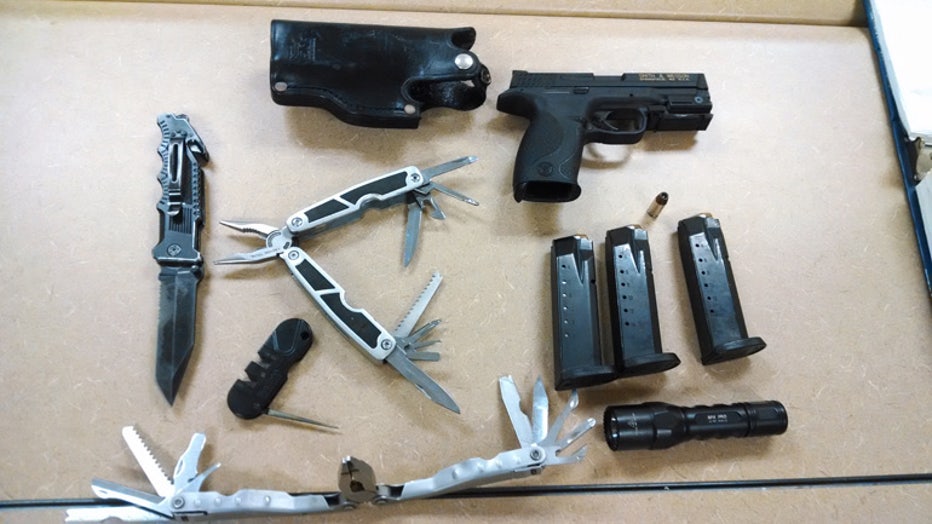 Police confiscated these items from Sauve


Officials say Sauve was cooperative with police and admitted to sending the messages and meeting with the victim. In the criminal complaint against Sauve, he told police he was "being stupid." He was taken to the Milwaukee County Jail, where he remains in custody on $50,000 bail.

If convicted, Sauve faces up to 40 years in prison and $100,000 in fines. He is due back in court on Tuesday, October 21st -- for his preliminary hearing.

Police say this case serves as another warning for parents.

"Parents need to know. You got to go through your child's smartphone. What kind of applications are on the smartphone? New applications are coming out every day. We're trying to catch up to the technology that's out there. Fortunately we intervened before anything bad happened, but it's still a scary situation," Hales Corners Detective Justin Landry said.

Monitor FOX6 News and FOX6Now.com for updates on this developing story.