Making a difference: Your help is needed to collect "Suits for Soldiers"


WAUWATOSA -- It pays to look good, but it's expensive to get there. Especially for veterans who practically have to start from scratch when it comes to professional attire -- as they've always been required to wear a uniform.

"Getting out and actually adapting to a whole new wardrobe can be kind of frustrating," said Dryhootch Quick Reaction Force Manager Dale Maupin.

That's why The Equitable Bank began Suits for Soldiers.

"A business wardrobe can cost up to thousands of dollars. People are donating really good quality suits and dresses for women returning and it's saving them a lot of money and it's giving them confidence to go back into the workforce," said The Equitable Bank Marketing and Brand Director Rachel Schwab.

For a week, all six bank locations are collecting new and gently used professional clothing. The outfits are then donated to Dryhotch, which is a nonprofit that provides services to veterans.

"The suits that The Equitable Bank has gotten for us are pretty stylish. So you don't have to worry about looking like a fool in a an old 40s corduroy suit," said Maupin.

This is the fourth year of the event. Last year, The Equitable Bank collected 3,900 articles of clothing and over 550 complete suits.

Dryhootch then hosts an open house to distribute the clothes.

"People don't realize that something as small as a suit can change someone's whole outlook on the entire week. Instead of being worried about what you're going to wear to your job interview, you have a nice, clean, fresh-pressed suit," said Maupin.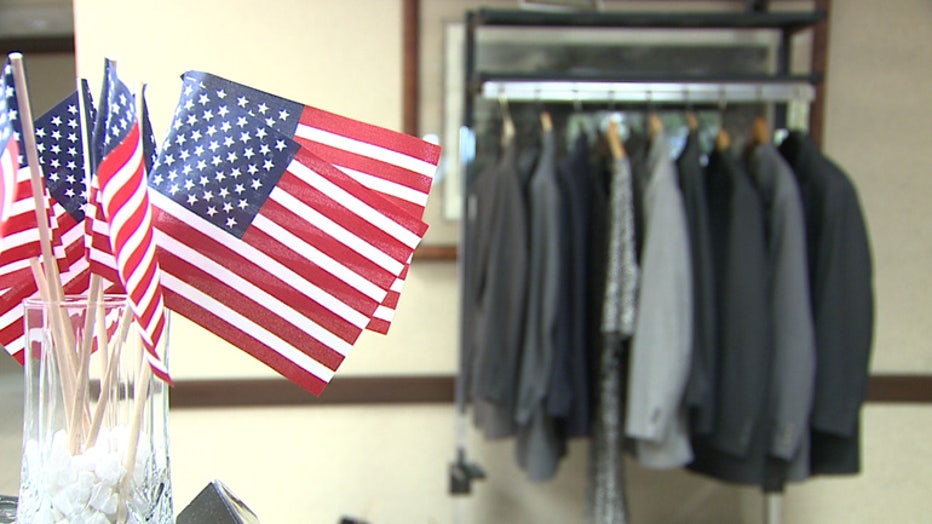 Making a difference...

"If you're not going to wear it, there is a veteran that will," said Maupin.

By taking a trip to your own closet. The Equitable Bank will host Suits for Soldiers through Wednesday. Dryhootch has not yet set a date to distribute the clothing, but it will be posted on its website within the next week.

For more information on drop-off locations CLICK HERE, or Dryhootch CLICK HERE.