Little girl's reaction to unboxing her new pink 3D arm is absolutely delightful
BRISTOL, ENGLAND -- A very special little girl got the surprise of her life when she received a 3D printed arm. Thanks to a volunteer at Team UnLimbited, eight-year-old Isabella is able to use both of her arms for the very first time.

According to enablingthefuture.org, Team UnLimbited e-Nable is a company that creates 3D printed prosthetic hands for people in need.

Forty-year-old Stephen Davies was born missing his left hand and after reaching out to e-Nable, he was able to get his very own e-Nable 3D printed hand. Davies was so blown away with the e-Nable community, he wanted to be involved with the great work they do.

Davies raised money to purchase a 3D printer and was ready to create his first prosthetic.

Isabella's parents discovered e-Nable through Facebook and jumped at the opportunity for her to be paired with a 3D prosthetic creator -- that creator was Stephen Davies.

Davies traveled 200 miles round trip to deliver his first experimental design for Isabella. In a video posted to YouTube, the eight-year-old glows with joy as she opens the box containing her brand new bright pink, purple, and lime green prosthetic arm.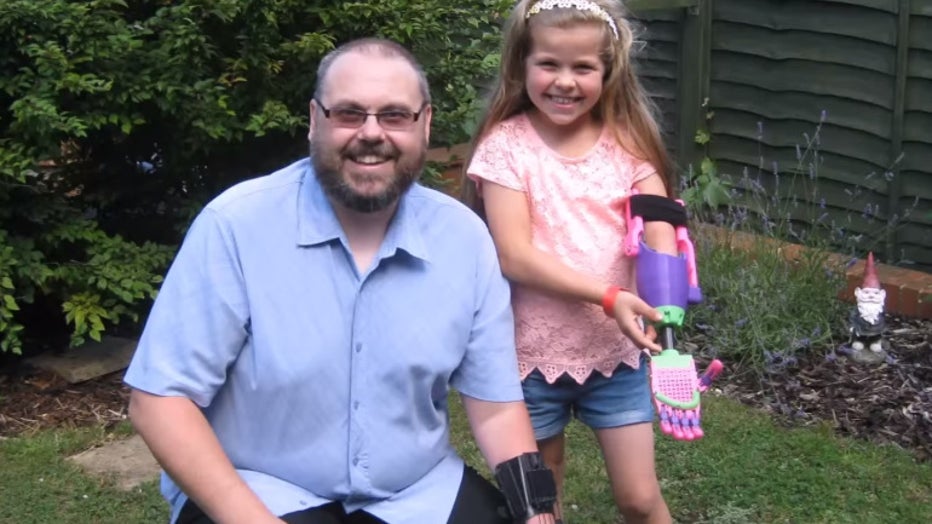 Stephen Davies and Isabella courtesy: YouTube


Isabella loved her new arm so much, she insisted on wearing it to the local supermarket right after she got it to show it off to the world!

Check out the sweet video here: