John Kasich on Trump's call for him to drop out of race for the White House: "Why would I get out?"


NEW YORK -- Republican presidential candidate John Kasich was campaigning in New York on Monday, April 4th -- the eve of the presidential primary election in Wisconsin. Voters head to the polls in New York on April 19th.

On Monday, the Ohio governor spoke at Hofstra University in Hempstead, New York.

Kasich does not have a straight path to securing the nomination, but said he is hoping to convince delegates to support him at a contested convention.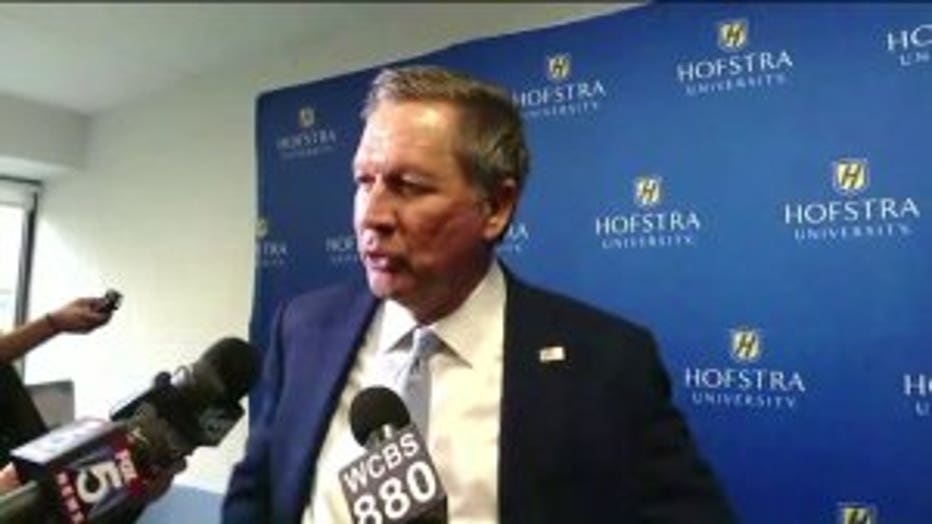 Donald Trump has called on Kasich to drop out of the race -- an idea Kasich has flatly rejected.

"I'm not getting out. Why would I get out? Particularly when Trump's worried I'm going to get his votes, which I always knew that I could do. We're not going anywhere. We're gonna be fine. They've spent, I don't know, a million dollars, including smearing me. Ted, Senator Ted, the smear artist, they're attacking me in Wisconsin. For a guy that's not doing very well, they sure are worried and spending a lot of money trying to knock me out," Kasich said.

On Monday evening, at 6:00 p.m. On the Record with Greta Van Susteren sat down with Kasich after a campaign event in Huntington, NY ahead of the state's primary.  Kasich took questions from Van Susteren and supporters around New York's Long Island in front of a live audience.

As of late Monday, Kasich had not announced any plans to return to Wisconsin.