John Kasich hosts two events in Wisconsin; supporters say they're drawn to his respectful tone


MADISON -- Republican presidential candidate John Kasich hosted a town hall event in Madison on Monday evening, March 28th -- the candidate's second event of the day in Wisconsin. This, ahead of the April 5th primary election here in the Badger State.

Kasich trails both Donald Trump and Ted Cruz in the polls, but he is hoping for a surge in Wisconsin.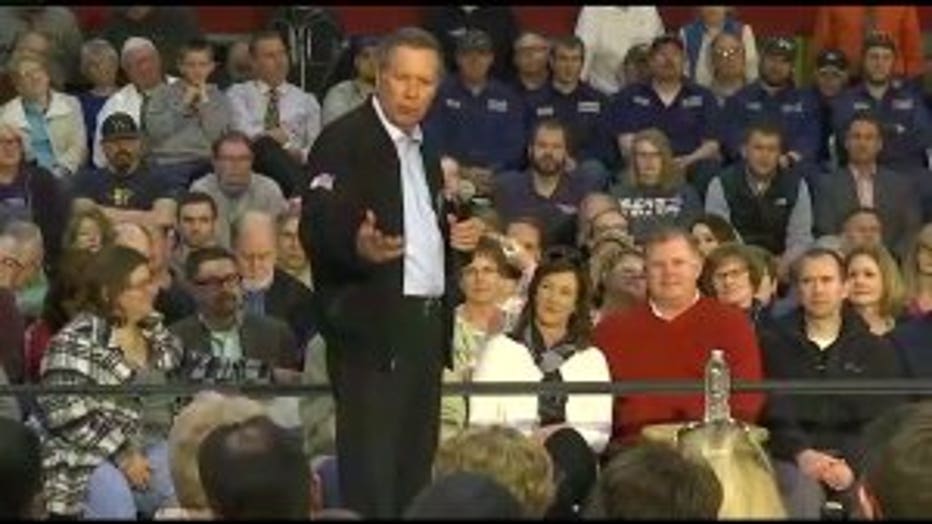 John Kasich hosts town hall event in West Salem


Kasich on Monday evening spoke at the Sheraton Madison Hotel at 706 John Nolen Drive in Madison at 6:00 p.m. after a town hall event in West Salem at 11:00 a.m.

The candidate's events occurred amid a report that Kasich is pulling all radio advertising in Wisconsin.

When asked for comment, the Kasich campaign provided a statement that did not specifically refer to radio ads. It does say Kasich is increasing advertising in some congressional districts while reallocating spending in other areas.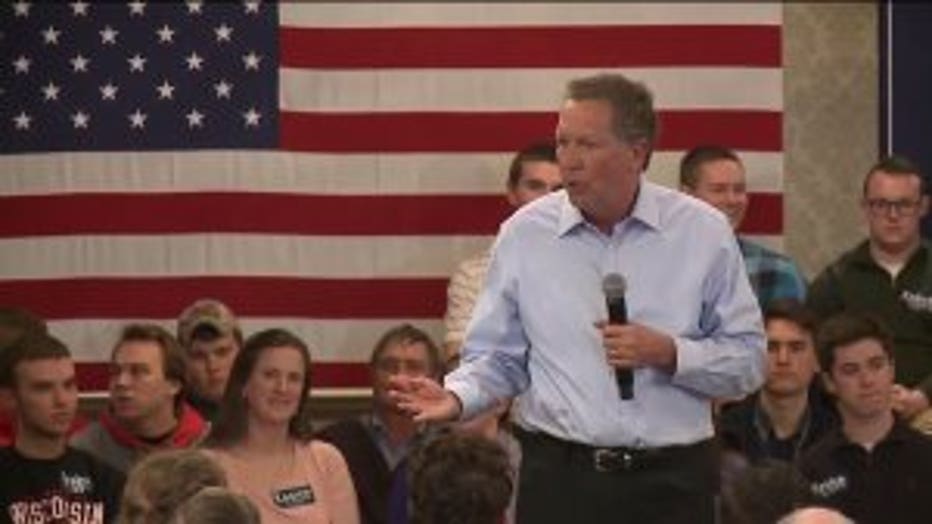 In Madison, aside from a pro-Ohio Buckeyes remark, Kasich's words went over well with his supporters. Kasich called for respectability in politics, and maintained that, unlike Trump and Cruz, he can win the general election.

Kasich fielded questions from a crowd of supporters and UW-Madison students during the town hall event.

He began with the topic of national security. He said with pointed words that he is the most qualified Republican to defeat ISIS.

"You know what this is? This is the voice of inexperience, amateur hour. Do we have a religious test? OK, everyone here who`s a Muslim, raise your hand. You`re not coming in. The other candidate says we gotta police neighborhoods where we think there`s Muslims," Kasich said.

Kasich said his conservative intentions lie in his desire for a smaller federal government.

"Why should welfare come out? Use Wisconsin values for welfare, not somebody down there in Washington. Education? You run their schools. You don`t need to call someone in Washington about your schools," Kasich said.

His supporters said they are drawn to Kasich's respectful tone.

"He`s genuine. He`s not -- he doesn`t bash everyone the way other candidates do," Cheryl Schroeder said.

Yet the delegate count and the polls indicate Kasich's only shot is to come out of a brokered convention on top. When asked if they'd vote for another Republican in November, Kasich's backers were split.

"No. I disagree fundamentally with what Trump and Cruz stand for. Trump and Cruz, in my opinion, are too far to the right," Scott Clemence said.

"I don`t know. I guess I would have to vote for the Republican nominee because we certainly don`t want the Democrats," Schroeder said.

Earlier Monday, in West Salem, former governor and current Kasich supporter Tommy Thompson introduced Kasich.

Kasich, in turn, had high praise for Thompson.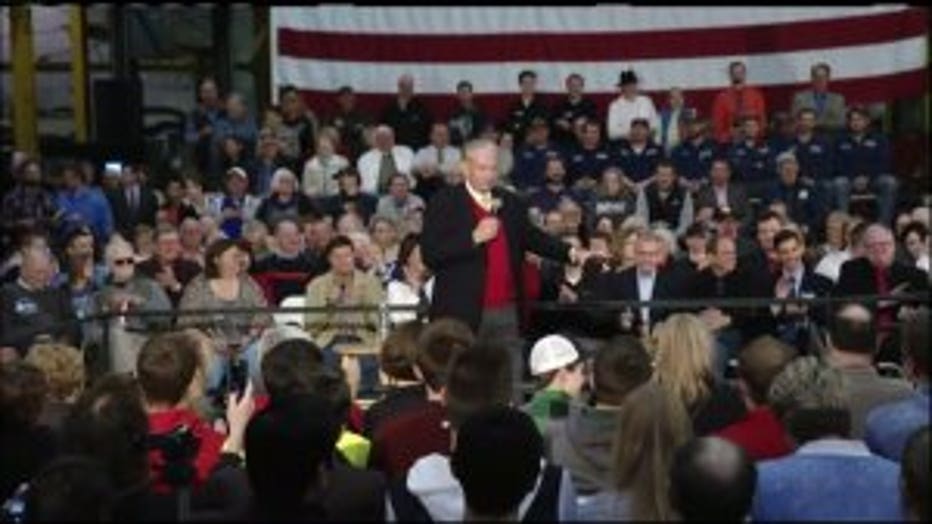 Former Governor Tommy Thompson introduces John Kasich in West Salem


"Tommy is a visionary. That`s what you have to understand about him. Frankly, Tommy, they want me to drop out. If you`ll get in, I`ll drop out and support you for president, OK?" Kasich said.

In the most recent Marquette University Law School poll, which came out in February, Kasich trailed Donald Trump, Marco Rubio, who has since dropped out of the race, and Ted Cruz.

Kasich will head east Tuesday morning to host a town hall event in Waukesha.

Kasich will be in Milwaukee on Tuesday night, for a GOP town hall event at the Riverside Theatre with Donald Trump and Ted Cruz.




CLICK HERE for a complete and updated list of the presidential events in Wisconsin ahead of the April 5th election.