"I'm not dead!" Brewers to host news conference to address speculation regarding "Hank 1"
MILWAUKEE -- Is Hank the Ballpark Pup...an imposter? That's the claim being made by a blogger at "BrewCrewBall.com" -- a Milwaukee Brewers baseball community, and others on social media. The speculation has led to the Milwaukee Brewers scheduling a news conference for Friday, March 4th at 11:00 a.m.
According to the Brewers, Hank's story started when he first appeared at "Spring Training" on February 17th, 2014, the day of the first workout for Brewers pitchers and catchers. That morning, he wandered up to staff at the Brewers Maryvale facility after clearly being a homeless stray for an extended period of time.
Hank's 2014 culminated in Los Angeles as he was named "Dog of the Year" in January 2015 at the nationally-televised World Dog Awards.
The blog post at BrewCrewBall.com suggests the roots of the rumor that Hank the Ballpark Pup is an imposter go back to a tweet posted by Twitter user @akschaaf in December 2015.
Travis Sarandos wrote the blog post.
"Didn`t necessarily mean to start a big, national controversy," Sarandos said. "I think it started around December, probably, with some of the side-by-side pictures."
In the blog post are a series of photos that compare the "original Hank" to the "replacement Hank."
 CLICK HERE to view the photos.
This blog post -- and others on social media, claim "original Hank" and "replacement Hank" are two different dogs.
The blog post claims the "real" Hank the Ballpark pup died on June 30th, 2014 -- leading to the Brewers' subsequent collapse on the field.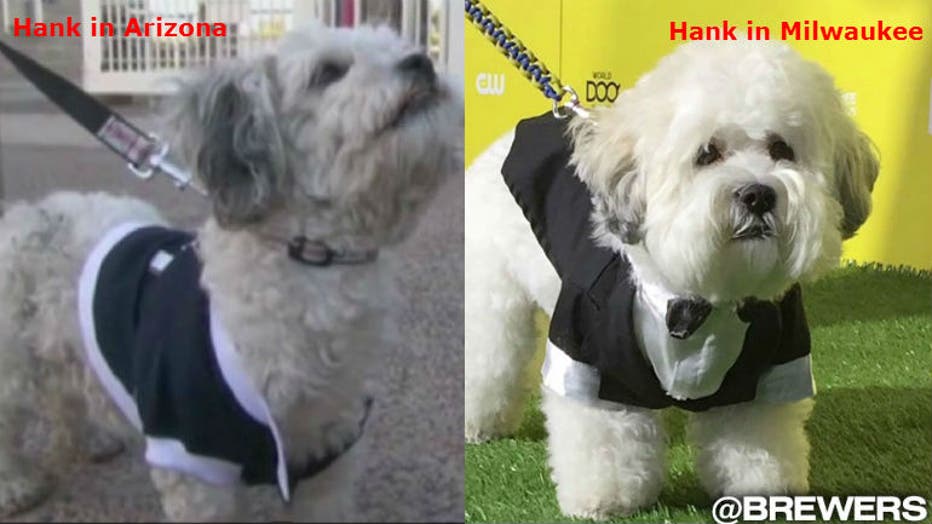 "Like I said in the original article, it certainly doesn`t look like the same dog, but I understand dogs can change with a little bit of love and a better diet," Sarandos said.
Valerie Lesak says the 'real' Hank and the 'replacement' Hank are the same dog. Lesak is a dog groomer.
"That`s the same dog. We do that stuff all the time," Lesak said.
Lesak used 'Candy' as an example -- a rescue dog who was transformed after a good bathing.
"I`ve had dogs come in completely matted in one piece that you basically peel off of them with the shaver and they look like a whole different dog," Lesak said.
What do you think? Is Hank the Ballpark Pup an imposter?
Adam McCalvy, a beat writer for the Brewers, said this on Twitter on Tuesday:
Tyler Barnes, the vice president of communications for the Brewers responded to the rumors in an article at MLB.com entitled: "Attention world: There's only one Hank the Dog and he's just fine."