'I look familiar don't I?' New video shows officer stepping on Sterling Brown's ankle during arrest


MILWAUKEE -- New body camera video obtained by FOX6 News shows the aftermath of the controversial arrest of Milwaukee Bucks' guard Sterling Brown, during which a Taser was used. It happened in January after police said Brown's vehicle was found parked across two parking spaces meant for those with disabilities at the Walgreens store near 27th and National.

Multiple body cameras were recording on the night of the incident. The new video shows the aftermath, including officers discussing how it would all look in the media. It sheds light into the thought process of some of the officers on scene, and the commentary by the officers has the mayor concerned.

Milwaukee police released video showing one angle on May 23.




In the new body camera video obtained by FOX6 News, an officer is seen stepping on Brown's ankle after the Taser had been used and Brown had been handcuffed. Brown asks the officer why he is stepping on his ankle.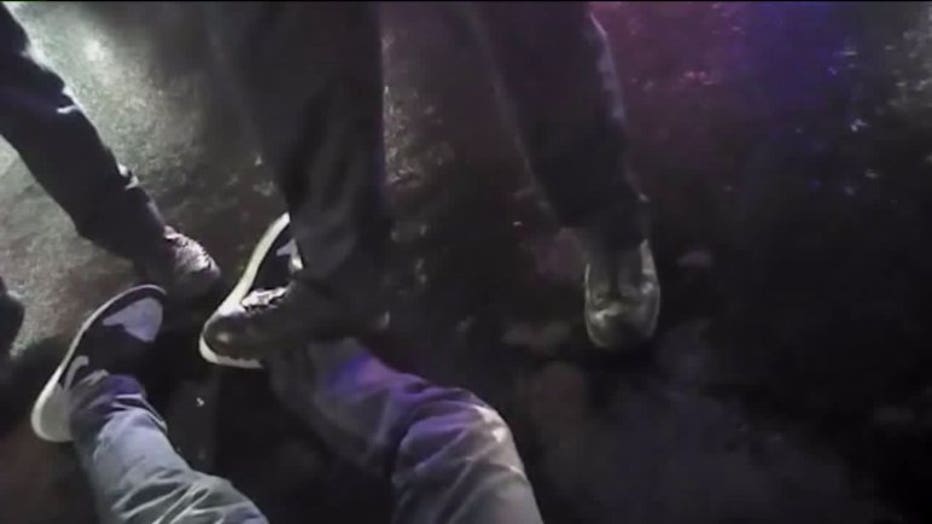 Sterling Brown: "I ain't got no reason to kick y'all, man."


Brown can be seen surrounded by officers, as he asks repeatedly "all of this for what?"




An officer soon recognized his name, and asked whether he was a Bucks' player.

Brown can then be seen saying "I look familiar, don't I?"

Sterling Brown: "You just said it so I look familiar."

Officer: "I remember the name."

Sterling Brown: "Yeah I know. I look familiar. I need all of y'all's names on that report."

Another video shows officers chit-chatting about the arrest.

Officer: "A douchebag driver is in custody and it doesn't list to him."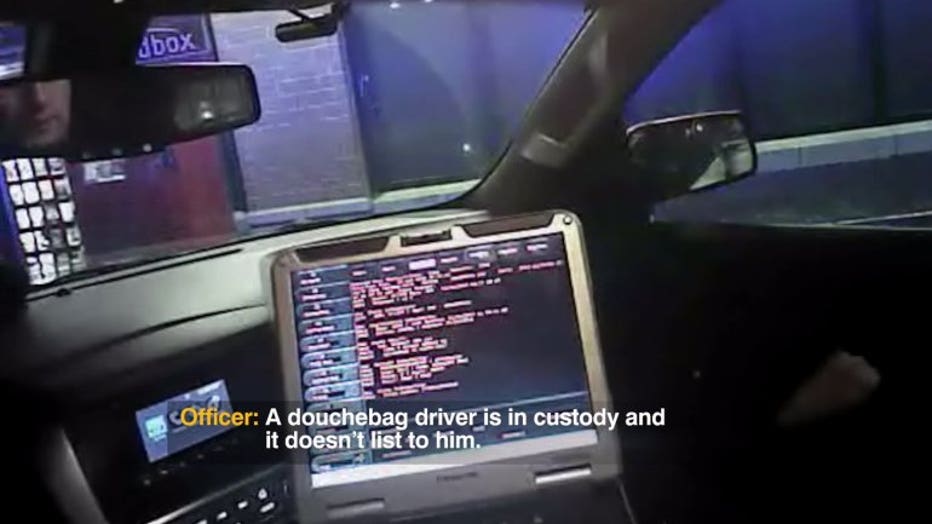 There's also discussion in the video about how it will make MPD look.

Officer: "We're trying to protect ourselves."

Officer: "Oh cuz he's a Bucks' player."

Officer: "Yeah, cuz he plays for the Bucks. If he makes a (expletive) complaint it's gonna be a media firestorm. Any little (expletive) that goes wrong, it's gonna be 'ohhh MPD is all racist blah blah.'"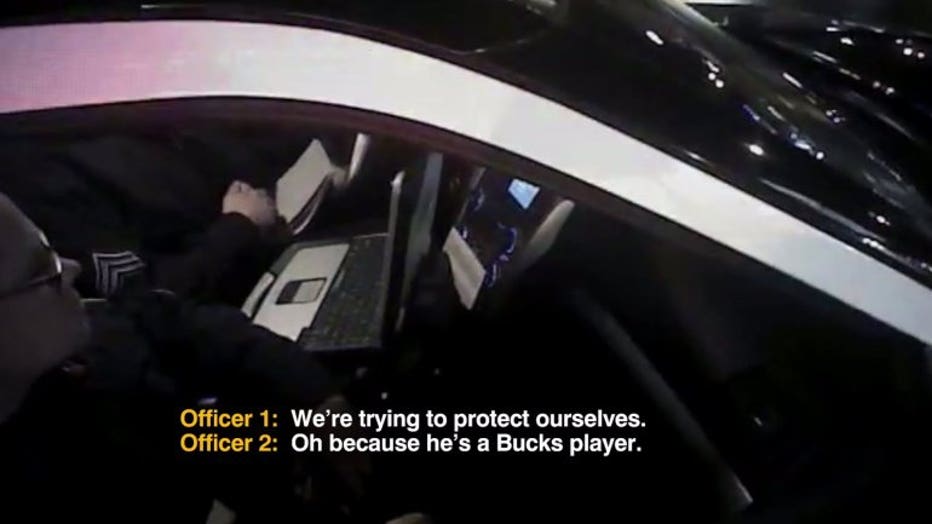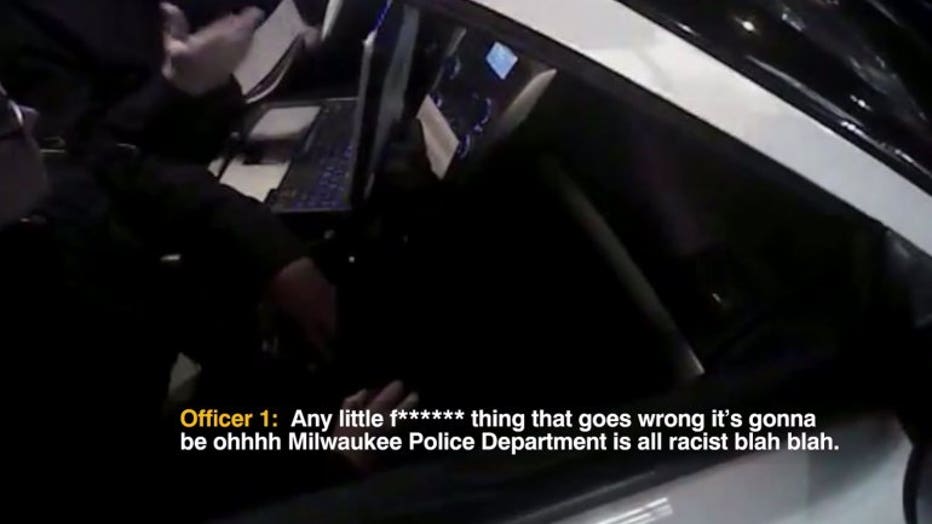 One officer comments on the overtime the arrest will cost.

Officer (singing): "Money, money, money, money, money, money."

At the time, police said Brown was arrested on suspicion of resisting arrest after he was illegally parked.

Sterling Brown: "Y'all surrounding me for what? I'm just asking questions because I didn't do anything."

Officer: "Yeah cuz you walked up and I told you not to walk up on me like that."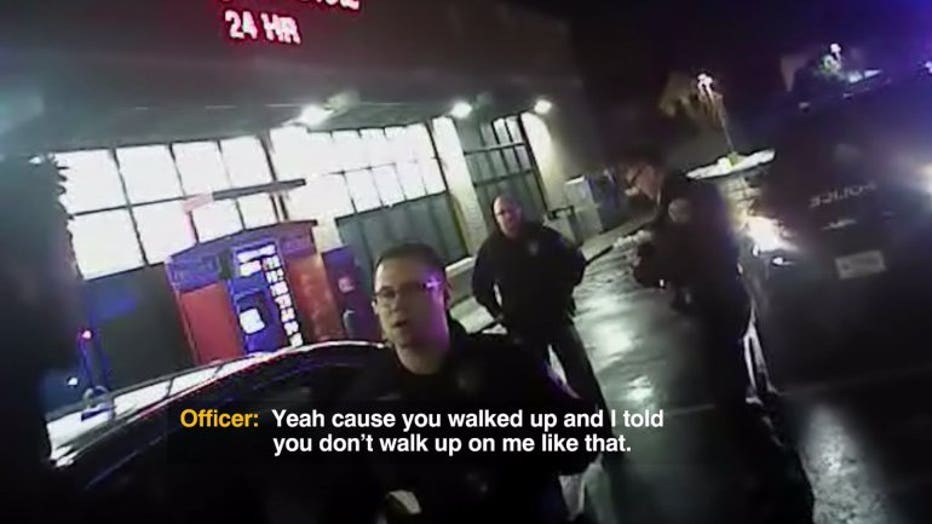 The non-combative Brown was taken down by multiple officers.

Officer: "Get your hands out of your pockets now."

Sterling Brown: "Relax -- I have stuff in my hands. You want me to drop it?"

The Taser was then used.

Officer: "Tase him, tase him."

While on the ground surrounded by officers, the video shows Brown repeatedly questioned the officers' use of force on him.

Sterling Brown: "Y'all was protecting your boss. All this for what? All this for what?"


Milwaukee Mayor Tom Barrett has been vocal as to his concerns following the release of the first video by MPD -- which shows Brown was not combative, as originally reported by the officers.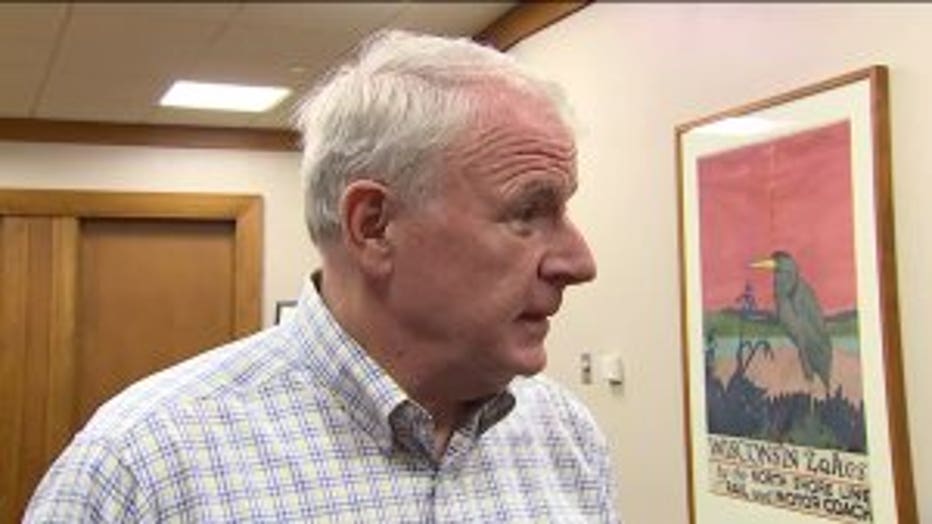 Milwaukee Mayor Tom Barrett


"Foot on the ankle was not necessary. Clearly it was not necessary," Barrett said Monday. "I think this is another sign that we have to have better training so that our officers know how to diffuse situations like this."

Brown is planning on filing a civil rights lawsuit against the Milwaukee Police Department. Two sergeants and one police officer were disciplined with suspensions. There will be additional training for a total of eight officers.

Milwaukee police did not release the new videos, but they responded to them, saying their investigation was "internally generated after supervisors within the Department brought it to the attention of the executive command staff." The statement went on to say more videos and documents related to the investigation will eventually be released to those who have filed public requests.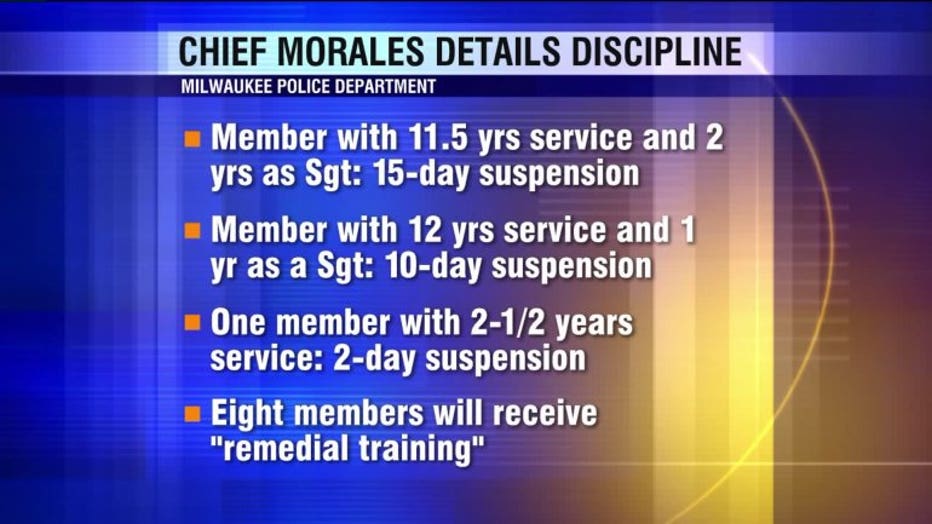 Police Chief Alfonso Morales details discipline to officers in Sterling Brown arrest


Chris Ott, executive director of the ACLU of Wisconsin, issued the following statement in response to the release of this video:

"We are outraged that the police officers involved in Milwaukee Bucks' player Sterling Brown's arrest were focused on planning damage control for their excessive use of force, instead of treating Mr. Brown with the dignity and professionalism that everyone—whether a Bucks player or not—deserves from the police. These officers refer to public concerns about racially biased policing with disdain, providing further proof that the culture and conduct of the Milwaukee Police Department toward people of color and their concerns need to change.

These officers must be held accountable to reinforce that police have a duty to protect and serve all people equally regardless of the color of their skin - including people of color. And to people who think that basketball players - or other athletes - shouldn't concern themselves with what happens off the court, take note that this type of policing impacts ALL people."

Below is a joint statement from Milwaukee Common Council President Ashanti Hamilton, Alderwoman Milele A. Coggs, Alderman Michael Murphy, Alderman Russell W. Stamper, II, Alderman Khalif J. Rainey, Alderwoman Chantia Lewis, Alderman Nicholas Kovac, Alderman Jóse G. Pérez, Alderman Robert Bauman and Alderman Cavalier Johnson:

"The recent release of additional bodycam footage from the Sterling Brown incident provides more concerning details surrounding that night while prompting a call for a full audit of the incident. The footage provides yet another glimpse into the activities and comments of some of the police officers involved. It is concerning and unacceptable that these clips and others were not included as part of the initial bodycam footage shared with Common Council members over 2 months ago and the public most recently.

After meeting with the Fire & Police Commission today we have requested the following:




An audit of all activity associated with this incident


The results of the audit be communicated to both the FPC and the Common Council in open sessions for the public to see and hear.


Introduction of a file specific to the Sterling Brown incident to include all bodycam footage, communication and reports associated with the event.




Both the Council and the community were assured by MPD that a plan would be put forth to make improvements. We are anxiously awaiting the details of this plan and urge MPD to be transparent with the public in its approach. At the same time, it is our continued commitment that there be complete transparency around this issue along with swift and appropriate action to all those involved who violated MPD policies and procedures. We remain steadfast and are ready to work with the Community, Fire & Police Commission and MPD toward necessary change."