"I couldn't breathe:" State changes course after placing rapist within blocks of his victim


PEWAUKEE —  It's one thing to know a sex offender lives in your neighborhood. It's quite another to learn it's the man who raped you. FOX6 Investigators show you what happened when a rape survivor told the state about the man they unwittingly placed right around the block.

With more communities restricting where sex offenders can go, the state is having a tough time finding places to put them. That may explain how the Wisconsin Department of Corrections responded when a rape victim told them her attacker was too close for comfort.

Fifteen years after the high school party that changed her life, a wife and mother -- whom we'll call Christine -- is reliving the nightmare. As a victim of sexual assault, she asked that we not use her real name.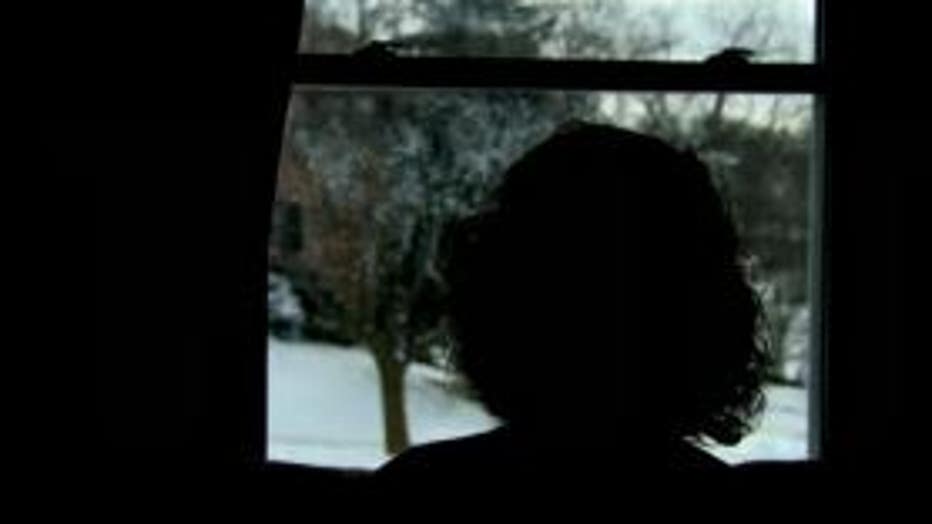 The victim of a 2001 sexual assault says she "freaked out" when she learned the man who raped her was moving into her neighborhood.


"It all comes flushing right back," said Christine. "You think you moved on and you really didn't."

In January, Village of Pewaukee police issued a bulletin indicating that 33-year-old Peter Watry was moving into the village. Specifically, he was moving to an apartment on Greenhedge Road. It just so happens that is in the same neighborhood as Christine -- one of his victims.

"I freaked out. I couldn't breathe. I started crying. I couldn't believe that they'd place him so close to me," Christine said.

Christine was 17 and Watry 19 when she reported him for sexual assault after a drinking party in 2001.

"I lost all my friends. I'd have stuff thrown at me in the hallways when I went to school," Christine recalled.

While her complaint was still pending in court, Watry had sex with a 13-year-old girl. He was convicted of sexually assaulting both of them, and he was sentenced to five years in prison. Since then, he has been released from prison, sent back, and released again multiple times for violating the rules of community supervision.

The building Watry moved into this time is home to four other sex offenders, all of whom committed crimes against children. But Christine says she isn't worried about the others.

"I'm not asking them to move all of the registered sex offenders. I'm asking them to move the one that raped me," she said.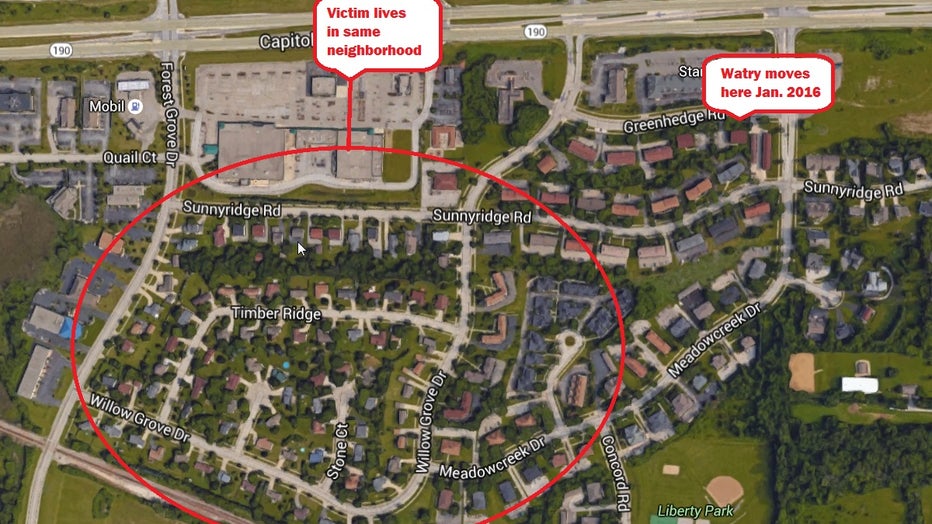 The Wisconsin Department of Corrections did not know Christine lived nearby when Watry moved in. So she called his probation agent and told her. After that, Christine was informed that it was too late. Her attacker was there to stay.

"They told me that if they made him move out of there that he would be homeless," Christine said.

"We've had offenders who've stayed the night in parking lots," said Matthew Carney, spokesperson for the Village of Pewaukee Police Department.

Carney says it's getting harder for the state to find homes for sex offenders because a growing number of communities have laws that severely limit where offenders are allowed to live.

"Eventually the state has to make a decision on what we want to do with these individuals," Sgt. Carney said.

Unlike other communities, the Village of Pewaukee only restricts where sex offenders can hang out. They're not allowed to loiter within 500 feet of any school, recreational trail, playground, park, or public beach, but there are no restrictions on where they can live. This is what makes Pewaukee an increasingly attractive place for sex offenders to settle in.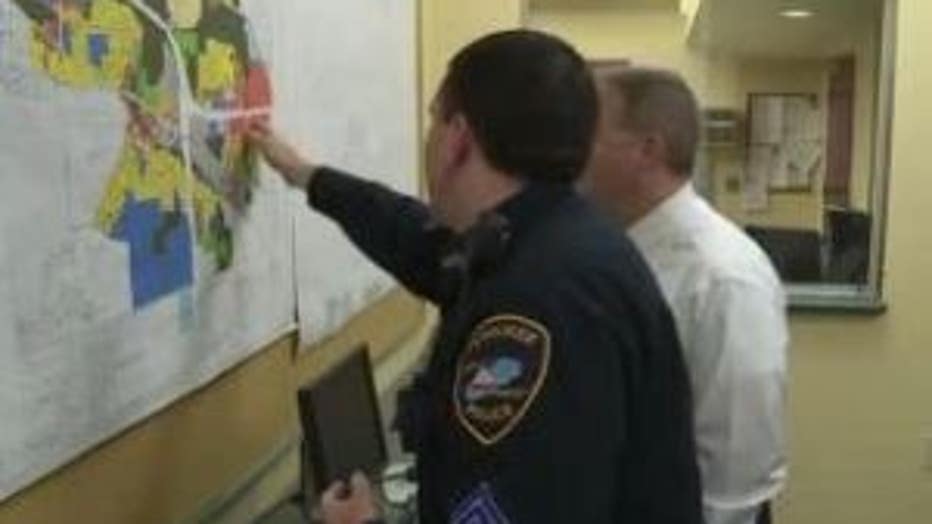 Village of Pewaukee Police Sergeant Matthew Carney shows FOX6 Investigator Bryan Polcyn where clusters of sex offenders now live.


When Christine asked Watry's probation agent to move him, the agent reassured her that Watry was on a GPS monitoring bracelet. The DOC promised to set up a "geo-fence" that would alert the state if he came within a certain distance of her home.

That wasn't enough to assuage Christine's concerns, since the building Watry moved into is not just close to her home. It also sits directly behind a row of businesses and restaurants on Capitol Drive that she and her family visit routinely -- her husband's bank, the grocery store, a coffee shop and restaurants.

"I could go to Noodles with my family and I could be sitting there enjoying dinner and he could just walk in," Christine said.

A second cluster of sex offenders is located on the west side of Pewaukee, so Christine asked the Department of Corrections to move him there.

"Move him to the other side of Pewaukee. That's fine," Christine said.

Just hours after FOX6 stopped by the apartment looking for Watry, he called and said, "I understand...the thought of me being around brings back bad memories. I'm sorry."  He added, "My agent found this for me...I just want to be left alone."

"If we knew that there was a victim of one of these sex offenders within that radius, we would've worked with the Department of Corrections to make sure they weren't living there," Sgt. Carney said.

After FOX6 got involved, the Wisconsin Department of Corrections changed course, forcing Watry to vacate his new apartment. It was a decision that caught Watry's family by surprise.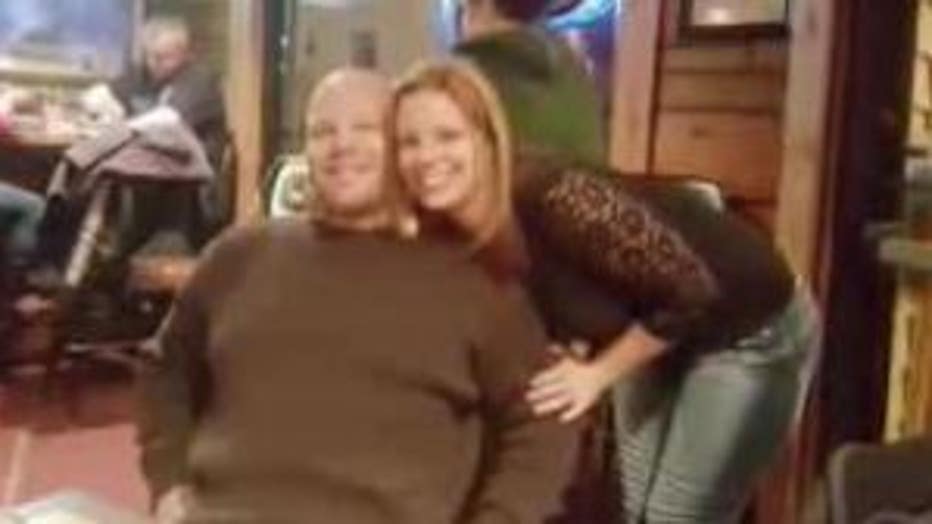 Jennifer Watry, the sex offender's sister, says the family was "stunned" when her brother was told to vacate the apartment building. She says "he did nothing wrong" and that he is now homeless.


"He's working two jobs. He's doing everything he's been asked to do. I just don't understand why he has to be forced to move when he hasn't done anything wrong," said Jennifer Watry, Peter's sister.

She says her brother is temporarily crashing on a friend's couch, but -- as the Wisconsin Sex Offender Registry now shows -- he is technically homeless.

"It's completely unfair," Jennifer Watry said. "To me, the way the system is set up, is like these particular sets of people are set up to fail."

Christine said she understands sex offenders need a place to live, but it shouldn't be so close to the person they sexually assaulted.

"How would you feel if the person that raped you moved right up the road from you and your family?" she said.

A spokesperson for the Wisconsin Department of Corrections says the location of a victim is among the factors they consider when approving a sex offender's residence plan.  However, the state did not know where Christine was living before approving Watry.

If you're a victim, the Department of Corrections encourages you to sign up for a free service called "Voice for Victims" that provides updates on an offender's status and gives you the option to provide the state with your current address. We have information on how to sign up here.

Pewaukee police say this further highlights the problem Wisconsin has with a patchwork of local ordinances that govern where sex offenders can and cannot live.  Last fall, Representatives Joel Kleefisch (R-Oconomowoc) introduced Assembly Bill 290, which would standardize sex offender residence laws statewide. That bill is sitting dormant in the Assembly's Committee on Corrections.