His boast got him busted: Man accused of brutal attack involving fists, brick, steel toe boots


MILWAUKEE COUNTY -- Greenfield police call the case against 36-year-old Brian Schwochert of Milwaukee one of the easiest they've ever closed! He faces a felony charge of substantial battery for an alleged brutal attack that happened in May. Prosecutors say he posted a complete confession...on Facebook.

"He had posted some information on Facebook. Essentially, it was a confession," Greenfield Police Sgt. Chris DeGlopper said.

Police say on May 7th, a woman called police.

"She called hysterical -- reporting that there was a fight involving her boyfriend and a friend," DeGlopper said.

According to a criminal complaint, the victim told police that on Saturday, May 7th, Schwochert walked "aggressively towards (the victim) with his hands clenched in fists, stating 'I came here for you (expletive).'" The complaint then indicates Schwochert punched the victim, knocking him to the ground. At that point, Schwochert apparently "proceeded to kick (the victim) and hit him with a landscaping brick from a fire pit."

"He had been hit by something extremely hard. He thought it was a rock -- multiple times," DeGlopper said.




The victim ended up going to the hospital and received six stitches "to close the lacerations to his head."

When police arrived on scene, Schwochert was gone, but a tip led them to Schwochert's Facebook page -- and a bombshell post.

"In the 18 years of law enforcement that I`ve had -- I`ve never seen someone provide such a confession on social media," DeGlopper said.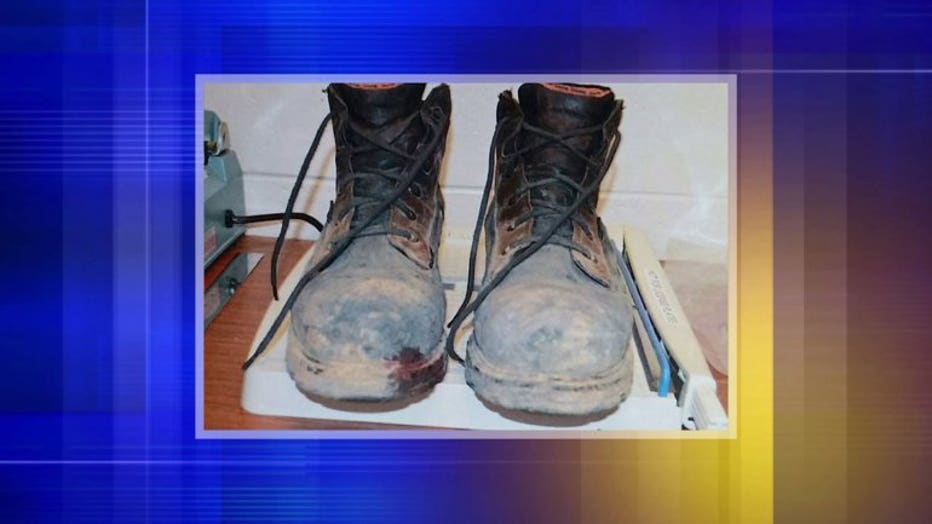 In the post, Schwochert made references to kicking the victim with his blood-stained steel toe boots, according to the complaint.

When police arrested Schwochert, the complaint says "his shirt and boots had fresh blood stains on them."

Police say Schwochert wrote on Facebook: "I also smashed 2 bricks, yes, concrete bricks over his head. He ran crying and screaming for police. Why would I post this? This is a test of loyalty. We'll find out...if I have a trial. Trust me. This (expletive) deserved it."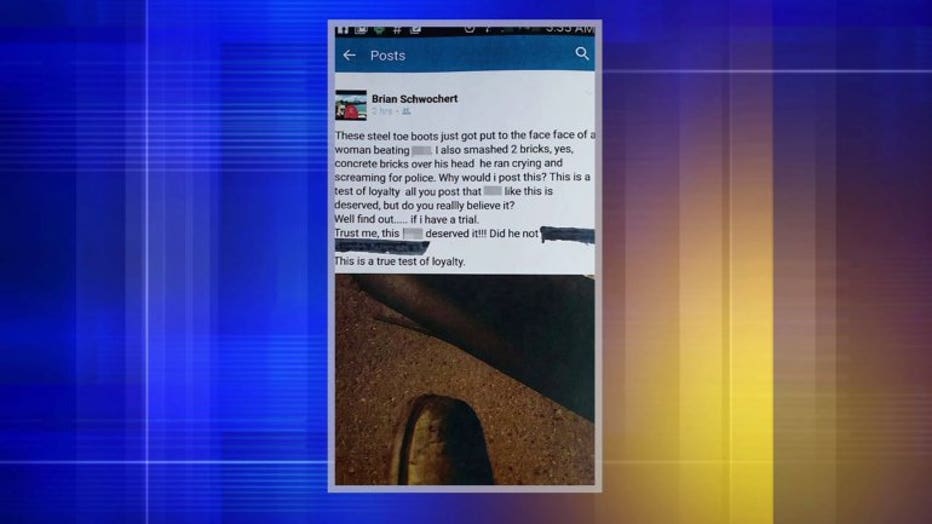 "I wish that every offender would go home and do the same thing -- put it out on Facebook for everybody to see.  It sure would make our job a lot easier," DeGlopper said.

Police say Schwochert alleged the victim was beating the woman, but there is no evidence the victim was ever charged with any crime.

FOX6 News reached out to Schwochert's attorney for comment, but we did not hear back.

If convicted, Schwochert faces up to three-and-a-half years in prison and $10,000 in fines.