Help homeless veterans in Milwaukee: Donations needed for 8th annual "Holiday Donation Drive"


MILWAUKEE (WITI) -- On a very chilly day, with single-digit wind chills during the day and scattered snow showers, Milwaukee Mayor Tom Barrett helped to kick off a donation drive to benefit homeless veterans in Milwaukee.

The 8th annual "Holiday Donation Drive" began on Monday, November 17th, and runs through December 15th. Folks are encouraged to donate the following items: toothpaste, dental floss, shaving cream, shampoo, conditioner, silverware, kitchen utensils (can openers, spatulas, etc.), bath towels, toiletry items, foil, plastic wrap, baby wipes, diapers and maxi pads.

"It is estimated that there are 552 homeless veterans in the state of Wisconsin alone, and many of those, if not most of them reside in Milwaukee or the Milwaukee area," Mayor Barrett said.

"If you look at the homeless and you know that one-in-four homeless are veterans, if we can't get it right, we don't deserve to be celebrating ourselves as a great country," Milwaukee County Executive Chris Abele said.

Ben Donovan and his wife, Jamie served in the National Guard. When Ben suffered a serious leg injury and Jamie became a mother, they found themselves without work, and without a home.

"Somebody else has been through it. When you're actually needing something it's...we get kind of tight-lipped. You're scared because you went through and served and you did a bunch of things -- and then you just get lost when you come back and things fall apart," Ben Donovan said.

The Donovans found their way from Chicago to Milwaukee's VA Medical Center, and eventually found temporary housing.

"It's been a whirlwind. It's been a lot," Jamie Donovan said.

Though they're still figuring out their own future, the Donovans say they feel the need to take on a new mission. They're already trying to help others in their shoes.

"With organizations like (Milwaukee Homeless Veterans Initiative), you don't have to fight to hope for the best. You have it presented as an opportunity to say 'hey - keep going. Keep pushing forward,'" Ben Donovan said.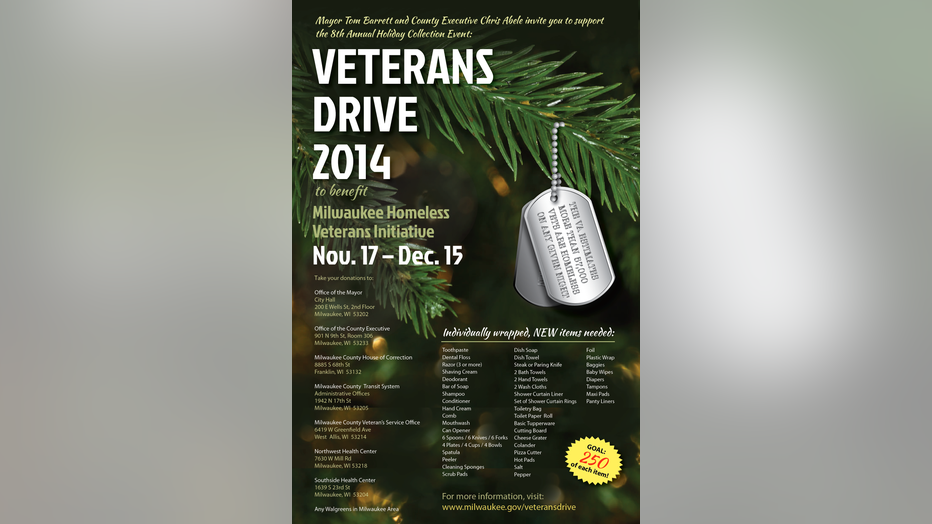 Milwaukee County Executive Chris Abele has issued this statement on the Holiday Donation Drive:

"Dear Community Partner:

Last week Mayor Barrett and I announced the 8th Annual Milwaukee City/County Holiday Drive. This year we are once again focusing on helping veterans.

Milwaukee is fortunate to have a number of excellent veterans service organizations, including the Milwaukee Homeless Veterans Initiative, which runs a home support program that furnishes apartments for veterans.

Through this drive, we are gathering basic household items, from kitchen utensils to personal hygiene goods, and packaging them into Home Starter Kits to support 250 veterans.  You can see a complete list of needed items and donation sites at http://milwaukee.gov/veteransdrive.

You may also make a financial contribution which allows us to purchase items that have not been donated at https://www.indiegogo.com/projects/veterans-drive-2014.

Last year our Holiday Drive exceeded expectations by exceeding our goal of over 250 Home Starter Kits for veterans.   We hope to be able to help as many people again this year.

If you have any questions, please contact my office at (414) 278-4212 or Countyexec@milwaukeecountywi.gov.

Please consider supporting this effort and help make sure that our veterans have the comforts of home they deserve.

Sincerely,
 
Chris Abele
County Executive"

CLICK HERE for a list of donation locations -- and more information on the Holiday Donation Drive.