Hartford retired K-9 Officer Cash laid to rest
HARTFORD, Wis. - The Hartford Police Department laid to rest retired K-9 Officer Cash on Friday, March 3. 
A post on the Hartford Police Department's Facebook page says K-9 Cash served the community for nine years, seven months, and 28 days. He was the first K-9 officer in Hartford – and funded entirely by donations from businesses and private citizens.
Officials say K-9 Cash retired comfortably in December 2021, and has been residing with K-9 Handler Nate Dorn.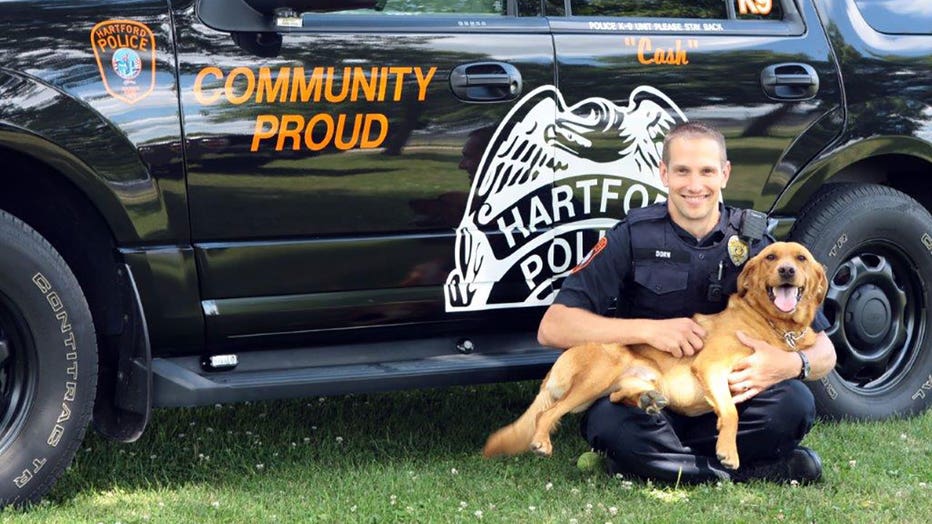 K-9 Officer Cash and his handler, Nate Dorn
The post finished up by saying…
"K-9 Cash was not just a dog, he was a dedicated partner, who worked closely with Officer Dorn every day. He protected the city and its resident from those that would do them harm. K-9 Cash's work resulted in many arrests over the years making Hartford a safer community.
"Godspeed and thank you for your service K-9 Officer Cash."
K-9 Cash battled cancer the last few months. A procession was held Friday morning – to honor K-9 Cash.