FOX6 Investigators: New device helps cops track criminals (as well as the innocent)
MILWAUKEE -- Police say it's the greatest thing to come along since fingerprints and DNA.  In a matter of years, there could be a license plate reader mounted on every squad car in the country. The new technology is helping cops spot criminals without even looking, but use of this technology has privacy advocates worried.
Automated License Plate Recognition (ALPR) technology is changing the way police find cars connected to crime, but along the way, it's helping them compile a lot of information about people who aren't doing anything wrong.
Take Kate Krause, for example.  She's never been convicted of a crime. In fact, she's never even been suspected of one. Still, Greenfield police know exactly where she was on July 17th at 6:38 p.m.
"Usually I take that route about that time every night to go pick up my kids. Kind of scary that they know that!" Krause said.
This photograph of Krause's minivan was taken by an $18,700 camera system that can read license plates automatically.
"It's clearly one of the biggest advancements in technology we have had in the last 50 or more years," Greenfield Police Chief Brad Wentlandt said.
ALPR systems have been around for years. The Illinois Tollway uses fixed ALPR cameras to catch drivers who blow tolls without paying.  But police departments in Wisconsin have only recently started mounting mobile plate readers on squad cars.
"You don't have to think about it. It's constantly helping you scan for stolen vehicles and other violations. You can drive rather quickly in a parking lot and it will still pick up the read," Greenfield Police Officer Brian Wallander said.
Greenfield police have equipped two squad cars with ALPR. Each car has four cameras -- two in front and two on the side.
Every time the camera recognizes what looks like a license plate, it snaps pictures of the license plate and the vehicle it's attached to.  The software then converts the plate image into text.  Then it compares that text to a "hot list" of license plates belonging to stolen cars, cars involved in AMBER alerts, or cars suspected of having a connection to a crime or other violation.
It's a process that happens in the blink of an eye. Over and over and over again.
"Every time you hear that 'beep,' that 'ding,' -- that's a read," Officer Wallander said.
When Officer Wallander took FOX6 News along for a demonstration, he got a 'hit' on a car with stolen plates before even pulling out of the parking lot.  The car was parked outside the Greenfield Public Library.  Inside, they found Paul Kovacik, an ex-con with a hefty criminal record.  Police say he admitted to stealing the plates from a used car dealership in Oshkosh.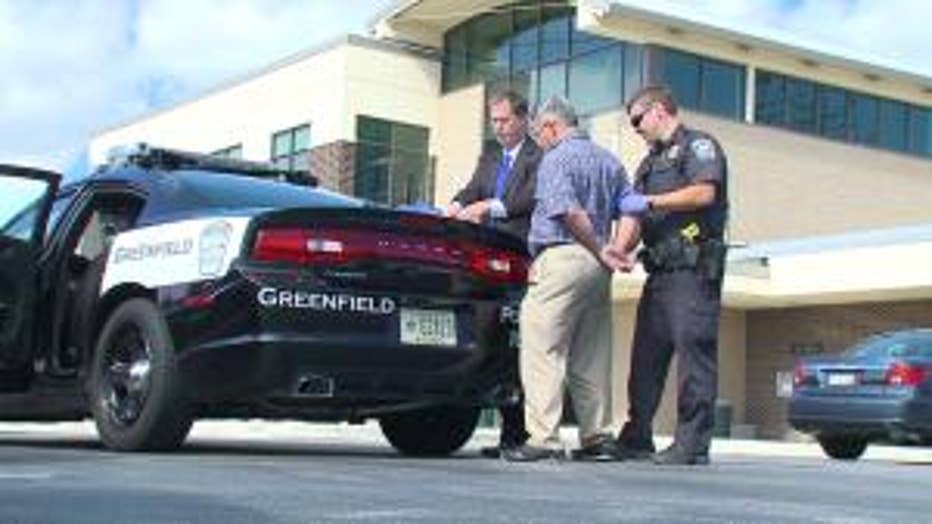 "This is an offender that would have gone unnoticed without this system," Chief Wentlandt said.
That's why ALPR is quickly spreading across the country. In 2007, just one police department in all of Wisconsin had it.  Five years later, there are 37 -- including nine departments in southeastern Wisconsin alone.
"The agencies that don't have license plate reader technology want the technology because of the ability to multiply the eyes that are out there on the road," Chief Wendlandt said.
However, those eyes are watching more than just criminals. They are capturing the time, date and location of vehicles whose drivers aren't doing anything wrong.
Kate Krause is a FOX6 producer who lives in Greenfield. She agreed to file an open records request with police to see if they are storing information about her minivan.
"Obviously you know if a cop is following you, but you don't know they are snapping shots of your license plate as you are driving," Krause said.
Sure enough, there are four records that pinpoint Krause's location on specific
dates and times.
"It is almost as if you have big brother watching you," Krause said.
That's a concern for privacy advocates like Jennifer Lynch, an attorney for the San Francisco-based Electronic Frontier Foundation.
"Of course everybody wants to be able to catch criminals, but that can't be the justification for collecting massive amounts of information on Americans," Lynch said.
In just two months of using ALPR, Greenfield police captured a half-million plates.  Racine police are closing in on 900,000. Franklin police have amassed a database of nearly 1.8 million reads.
"You can really map out a picture of a person's life with all that information," Lynch said.
The International Association of Chiefs of Police acknowledges that ALPR raises privacy concerns, because it can "reveal an individual's driving habits," placing them at "political protests, doctors offices or religious places of worship."
That's why the IACP says strict limits need to be placed on access to the data.
"We have taken a very strong stance that this information is private, and we will resist any attempt to release this information because we do understand the ramifications that this information could be used in a negative way," Chief Wentdlant said.
"I really do think it has to be a balance. Maybe that balance is struck on how long law enforcement can keep the information," Lynch said.
So far, the IACP has been unwilling to recommend a specific data retention policy. So, departments are coming up with their own rules:
Chief Wentdlandt says the data can come in handy in conducting investigations.  In August, it helped them nab a pair of bank robbers.
"The old adage -- a picture is worth a thousand words," Chief Wentdlandt said.
Oak Creek police had asked neighboring departments to be on the lookout for a red Pontiac Grand Am, license plate 279-KVL.  Turns out, Greenfield police had already scanned a picture of the car into their system.  That picture revealed a unique dent in the rear fender that helped police spot it a short time later.
"Two of our officers were off duty and happened to be driving down Oklahoma Avenue and just happened to spot it in a parking lot," Chief Wendtlandt said.
They arrested 58-year-old twins, Michael and Patrick Wegge, for armed robbery.
"As long as you are using it for the distinct purpose of catching criminals, then I don`t see the problem with it," Krause said.
That's the great dilemma of 21st century policing. The more police know about criminals, the more they know about all of us.
Oak Creek Police Chief John Edwards told FOX6 News they are still looking into ALPR -- including the possibility of sharing the data with other departments on a cloud-based system. However, Chief Edwards says he's hesitant, at least in part, because there is no standard for data retention.
Some departments are dumping the information right away, while others may keep data for up to seven years.
While license plate readers are great at capturing information, there's a lot of uncertainty about what to do with all of it once it's been collected.
Could Wisconsin legislators step in and set a statewide standard? That's certainly an option.
The state of Maine passed a law requiring police to get rid of license plate scans after 21 days. New Jersey allows up to five years. So far, the state of Wisconsin has not set any limits or even recommended a standard policy.