Former Wisconsin Lieutenant Governor Margaret Farrow dies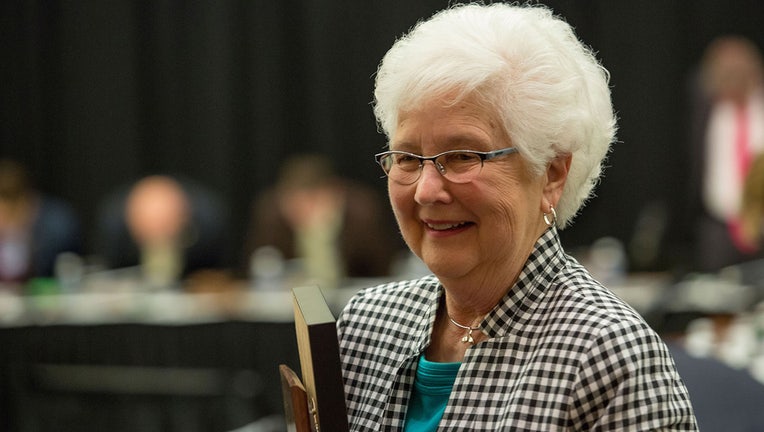 article
WAUKESHA, Wis. - Former Wisconsin Lieutenant Governor Margaret Farrow has died. That word comes from Farrow's son, Waukesha County Executive Paul Farrow in a news release on Tuesday, March 8. She was 87.
The former lieutenant governor spent decades in politics, beginning as a trustee in the Waukesha County Village of Elm Grove. Farrow was elected to the Wisconsin Assembly in 1986 and was elected to the state Senate three years later, then reelected in 1990, 1994 and 1998.
In 2001, Farrow, a Republican, was appointed lieutenant governor after the man who held that office, Scott McCallum, became governor when Tommy Thompson departed.
Farrow passed away peacefully, surrounded by loved ones at home in Pewaukee, according to her family. No cause of death was released. Funeral arrangements are pending.
Full statement
Today I am heartbroken to share the passing of my mother Margaret Farrow. She was resting peacefully
at home surrounded by loved ones.
I feel fortunate and blessed to have been raised by one of my personal heroes.
Mom was a lifelong public servant. Her service to her community and State spanned almost fifty years,
starting with her time on the Elm Grove Board of Appeals to Village President. From municipal
government, she rose to represent Waukesha County in the State Assembly, then the State Senate, before
becoming Wisconsin's first female Lieutenant Governor. That work doesn't scratch the surface of all the
boards, committees, commissions, and task forces she continued to lead through 2021.
She was a trailblazer. Not only because of her significant positions as a woman in what was very much a
man's world at the time, but because of the way she stood up for all of the people of our community and
our state to represent their best interests for decades.
Mom leaves behind a legacy of promoting the values that make us all better citizens and better people.
Her values, her conviction, and her strength have inspired me in my life and my career as I strive to serve
our community to a degree that honors her.
I can't state enough how lucky I am to be Margaret Farrow's son and how much I will miss her.
Members of the community have already begun to reach out to share their condolences and to ask for
information about services. At this time we ask for privacy for the family. We will announce funeral
arrangements in the near future. I want to let you know how truly grateful I am to represent a community
full of as much love and support as Waukesha County. 
SIGN UP TODAY: Get daily headlines, breaking news emails from FOX6 News
Reaction
Sen. Ron Johnson (R-Wisconsin)
"Margaret Farrow represented her community and our state with a rare combination of political conviction and dedication. Her principled political career should be seen as a roadmap for how Republicans can serve with class and conviction without the need to resort to vitriol. Margaret always impressed and inspired me as a party leader, as I'm sure she did with countless other Republican office holders. Jane and I send our sincere condolences to Paul and the entire Farrow family."
Rebecca Kleefisch (R)
"Lt. Gov. Margaret Farrow was a mentor and friend. She was an inspiration to me and thousands of Wisconsinites. Lt. Gov. Farrow was proof that strong women build remarkable legacies, are the architects of excellent policy, and leave lasting marks on history. I will miss her dearly."
Wisconsin Manufacturers & Commerce (WMC) President & CEO Kurt Bauer
"Our hearts go out to the Farrow family today. Margaret was a trailblazer in Wisconsin and an unwavering friend to the state's business community. While she will truly be missed, her dedication to public service is an inspiration that will live on."
State Sen. Alberta Darling (R-River Hills)
"Margaret Farrow was a trailblazer and a fearless leader. I am proud to have called her a friend. As the first woman to serve as Wisconsin's Lieutenant Governor, Margaret's legacy will continue to inspire many women in politics – including me.
"I was lucky to serve alongside Margaret for several years. In fact, when we served together, the majority of Republicans were women.  
"Margaret was passionate, tough, honest, and kind. She believed in her community and believed in our great state. It is impossible to have met Margaret Farrow and not be encouraged and inspired by her.
"My thoughts and prayers are with her family, especially her son, Paul."
Assembly Speaker Robin Vos (R-Rochester)
"On behalf of all my fellow legislators, we send our deepest sympathies to the Farrow family.
"I am saddened to hear of Margaret's passing. She was a great leader who stood up for everyone in her community and represented our state with grace. She was incredibly talented and inspired many, not only because she was the first female Lieutenant Governor, but because of her long legacy of public service.
"My thoughts go out to her son, Paul, and her entire family. Margaret will be sorely missed and has left a lasting impact on the legislature and the state of Wisconsin. She has influenced people and policy, and our state is better because of her."
MMAC President Tim Sheehy
"Former State Representative, State Senator and Lieutenant Governor Margaret Farrow was instrumental in a number of legislative and policy wins that have had a deep and lasting impact on the prosperity of this region. Having worked with then-Senator Farrow, I can personally attest to her thoughtful insight and determination, both of which were instrumental to the passage of legislation providing low-income parents the opportunity to choose where their children attended school, both through the Milwaukee Parental Choice program and independent charter schools.
"Senator Farrow had the respect of her colleagues, the ability to work across the aisle, and was focused on outcomes, never credit.
"She should also be recognized for her role in helping to make Miller Park, now American Family Field, a reality for millions of baseball fans across Wisconsin, securing an asset that will long be of value to this community."
State Rep. Adam Neylon (R-Pewaukee)
"Margaret Farrow was a true trailblazer, with an incredible legacy in her time as a State Representative, State Senator, Lieutenant Governor and a founding pioneer of WisconsinEye. My thoughts and prayers go out to her son, Paul, and to the rest of the Farrow family in this difficult time. She will be greatly missed."
State Rep. Cindi Duchow (R-Delafield)
"Wisconsin has lost one of its greatest citizens. 
"Margaret was one of the kindest, most genuine people I have ever met. In every conversation, her love for her family, friends, and Wisconsin neighbors overflowed.
"There are never any words adequate to express the deep sorrow of losing a beloved parent. My thoughts and prayers are with the Farrow family."
Associated Press contributed to this report.