For many, Milwaukee's July 3rd fireworks show is family tradition


MILWAUKEE (WITI) -- For many, the U.S. Bank Fireworks show along Milwaukee's Lakefront is a family tradition -- with many of the same people gathering in the same spots in Veteran's Park year after year. Last year, those folks had to deal with high temperatures, and this year, cooler weather.

Some of those claiming their seats for the fireworks show at Veteran's Park on Wednesday, July 3rd have been neighbors for the fireworks for years, if not decades!

FOX6 News spoke with parents who remember coming to the big fireworks show as kids, and now bring their only families to enjoy this Fourth of July celebration.

Many say this fireworks show is the best around -- and many come prepared, with grills, chairs, tents, food, games -- and even bedroom furniture!

"I remember coming here when I`m like 7, 8 years old. I`m 33 now. There was a couple years when I was a teenager when I was too cool to come, but other than that I don`t remember not coming here on the 3rd," James Phillips said.

Of course, there were some new faces this year as well -- including a 75-year-old man who said he was taking in the fireworks show for the first time this year! He has been watching the fireworks on the television, and decided this was the year to make it down to the Lakefront.

"I just thought, well, I'm going on maybe I should do things that I generally don't do," Edward Endlich said.

Folks at the Lakefront had to deal with wet conditions -- many coming back to Veteran's Park on Wednesday afternoon to soaking blankets and puddles.

"The temperatures are fine, but the sun would be better. It's a little wetter than we were expecting," Jason Guenwald said.

Hope Wegert said she prefers this year's weather over last year's heat.

"What's nice this year is it's not quite as crowded," Wegert said.

Tim Priebe's display suggested a sort of "Christmas in July" at Veteran's Park. He says he missed his company Christmas party last year, so they're celebrating on the eve of another holiday.

"We obviously kind of stand out. We probably had 80 Christmas gifts under this tree -- to bring some Christmas into what is normally an extremely hot day," Priebe said.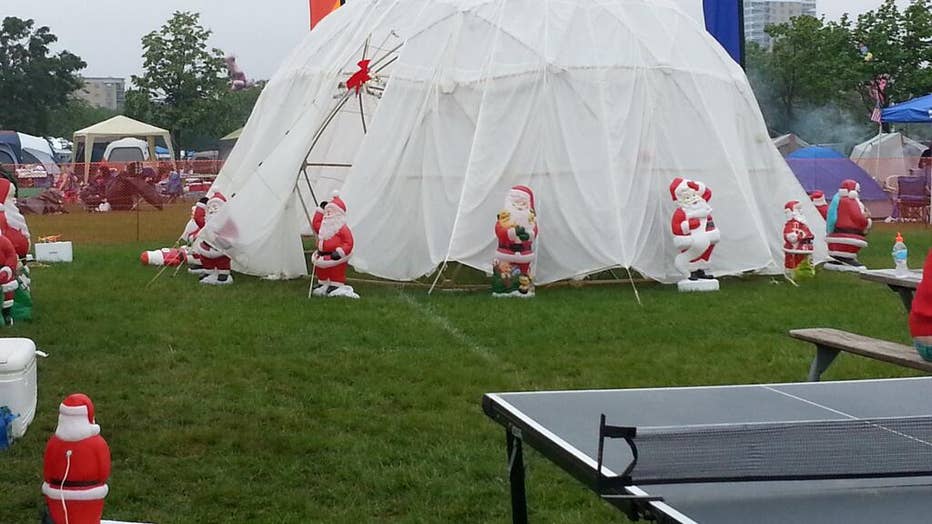 Can't make it down to the Lakefront? FOX6 News is the ONLY Milwaukee television station carrying the entire U.S. Bank Fireworks show! We're also LIVE STREAMING the fireworks on our website!