Doctor at Waupun prison positive for COVID-19; ACLU asks policymakers to consider release
WAUPUN -- A doctor at Waupun Correctional Institution tested positive for the novel coronavirus, according to an email sent Wednesday, March 18 by Waupun Correctional Institution Warden Brian Foster. The Waupun Correctional Institute, a maximum-security prison that houses more than 1,200 inmates.




This message was sent out to all prison staff in Waupun: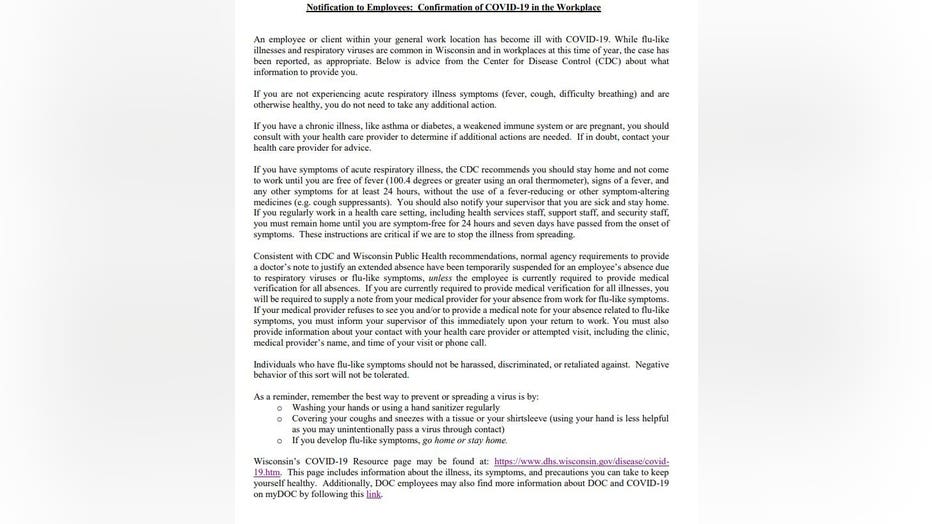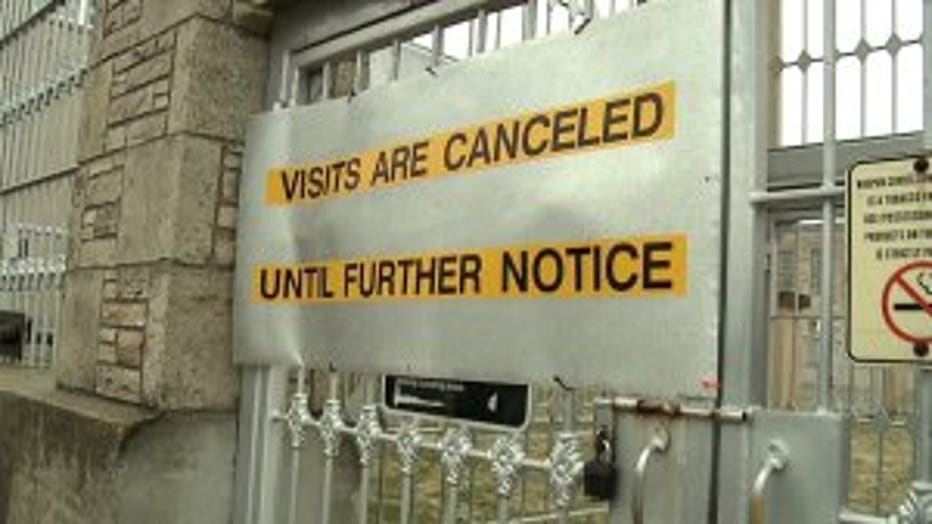 Roughly 300 guards monitor the more than 1,200 inmates. One guard who agreed to speak with FOX6 News on the condition he remain anonymous noted Thursday there's plenty of concern among his colleagues.

"You can't really put hand sanitizer out because the inmates will drink it," he said.

Chris Ott with the ACLU of Wisconsin called on policymakers to consider releasing prisoners close to release, or those especially vulnerable to COVID-19 because of their age.

"I think really helps to show the urgency of the situation," said Ott. "What we're urging is to look at individual cases. We're not saying just open the doors, let everybody out."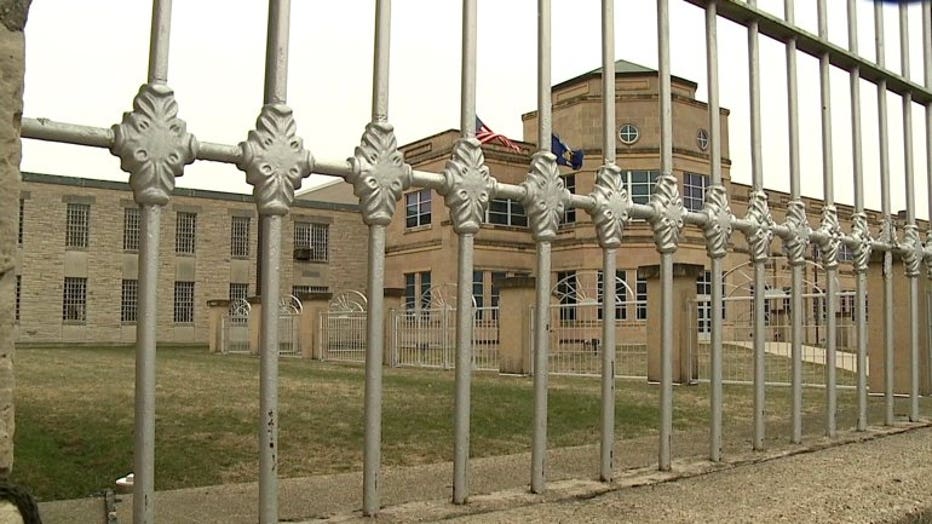 DOC officials suspended all visits at DOC institutions on March 13 "to protect staff and persons in our care very seriously, and out of an abundance of caution," in an effort to minimize the risk of bringing COVID-19 into DOC facilities.

The same day, officials moved to suspend medical co-pays so that "anyone who is incarcerated and exhibiting symptoms related to COVID-19" can seek medical attention right away.

On March 16, officials suspended work-release at state correctional facilities effective immediately.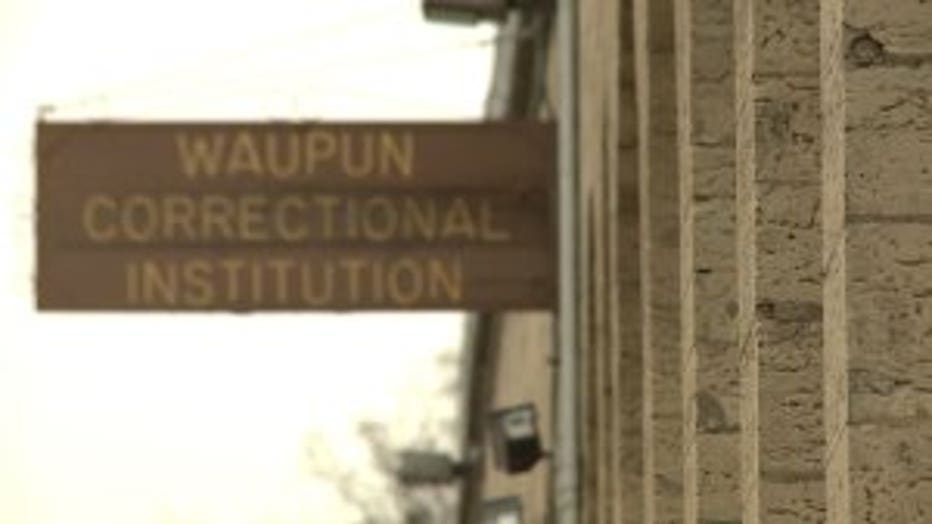 The next day, officials announced "several strategies" being implemented to "keep our staff and clients safe," noting that some staff would begin working remotely, and clients were being allowed to report to their agents by video conference.

Officials with the Wisconsin Department of Corrections issued the following statement:

The Department of Corrections confirms a staff member tested positive for COVID-19 (Coronavirus). In the last several weeks DOC has taken several steps to minimize the risk of persons under our care potentially being exposed to COVID-19 (Coronavirus) and compromising the health of staff and persons under our care.  As a result of these actions, we feel equipped to deal with this situation. Each division maintains detailed pandemic plans that outline protocols and isolation procedures on what to do if someone was infected. Upon confirmation of a positive case, all potentially exposed staff were notified, and all adults in custody that were directly exposed were quarantined. Any staff members that report symptoms will be directed to quarantine for 14 days.

Given the ADA's privacy protections and federal law we cannot disclose any details about the staff member that would violate those protections, including which DOC worksite where this potential exposure occurred. DOC is taking the situation very seriously, and is working closely with DHS on best practices on how to handle this situation. We will continue to monitor this situation, prepare and react in accordance with the guidelines established by our state and federal partners. We are committed to the health and safety of our staff and those in our care, and will continue to take the steps needed to honor that commitment.  We continue to provide regular updates on our public website regarding COVID-19 (Coronavirus). I encourage individuals to check the site frequently for updates at doc.wi.gov/covid19

FOX6 News received this statement from the Waupun emergency management director and city administrator:

On Thursday, March 19, 2020, city leadership was made aware of a confirmed Coronavirus (COVID-19) case of a staff member at Waupun Correctional Institution. The City of Waupun has been in contact with State Representative Michael Schraa, Waupun Correctional leadership, and Fond du Lac and Dodge County public health officials to understand the potential impact on our community. The Department of Corrections (DOC) has informed city officials that they are working through recommendations from the Centers for Disease Control (CDC) on protocol for their staff and inmates.

As a department within the state of Wisconsin, the DOC operates independently from Waupun city government. However, city staff routinely meet with DOC officials and other community partners to discuss current conditions and needs across the community. COVID-19 was a recent topic at a community relations meeting and DOC officials assured city staff that proper protocols were in place. Public health officials assured city leaders that the risk of getting COVID-19 in the U.S. remains low.

Mayor Julie Nickel said, "Our primary concern is for the safety and well-being of residents and staff, many who live within our community." Nickel added, "It is important to note that this is a single case that was confirmed. The DOC assures us that they are taking proper precautions to monitor the situation and we are engaged with public health officials to ensure the ongoing safety of our community. The City of Waupun takes the COVID-19 threat very seriously and city staff have been meeting for several weeks to develop safety protocols and to share information with the public."

The release of this information places a critical emphasis on the information that has been widely shared through the Fond du Lac and Dodge County Health Departments, the WI Department of Health Services and the Centers for Disease Control and Prevention (CDC), including: