Clintonville experiences fairly quiet weekend after earthquake


CLINTONVILLE -- One week after "booming" noises and vibrations began waking and shaking Clintonville residents, the small town experienced a fairly quiet weekend. There is now an official cause to the booming and shaking - a 1.5 magnitude earthquake that apparently struck Tuesday, March 20th. However, some residents say they're continuing to speculate.

There are several things the reported booming noises and vibrations brought to the city of roughly 5,000 people over the past week - confusion, national attention and speculation.

Even after government geologists announced Thursday, March 22nd that a 1.5 magnitude earthquake struck the city early Tuesday, Clintonville residents like Joanne Christiansen say it's not helping quiet residents' wild speculations regarding other causes. "Everybody's acting either like it's a hoax, or the people that are already here, that know that it happened, they have no idea. They're very confused," Christiansen said.

Clintonville resident Julia Aschenbrenner says she hasn't heard or felt a thing, but she has seen an effect the reported noises and vibrations have had on her kids. "They don't want to do their homework at night, and it's hard to get them to stay focused on what they have to do," Aschenbrenner said.

As Clintonville residents' questions and frustrations surrounding the noises continue, city leaders say the issue hasn't been put to bed, yet. "I think that the whole three days of mystery behind it will certainly add to the face that people will continue to look for reasons for awhile," Clintonville City Administrator Lisa Kuss said.

Kuss says the city will look at educating residents about earthquakes because that's what they can, as of now, confirm as a cause. However, Kuss says that doesn't mean other explanations won't be pursued. "We want people to continue to call even though, certainly, it has gone on for awhile, and clearly it is diminishing. We're going to continue to do what we can, if there is anything that makes sense, from a logical standpoint, to do that," Kuss said.

Geophysicists say they're not sure what's behind the small, but continued reports of booming noises and vibrations since Tuesday's confirmed earthquake. "What they're experiencing now, whether the vibrations are additional quakes or not, we're going to try to locate as many as we can," Paul Caruso with the U.S. Geological Survey said.

Kuss says the recently returned seismic monitoring devices could be brought back, if necessary.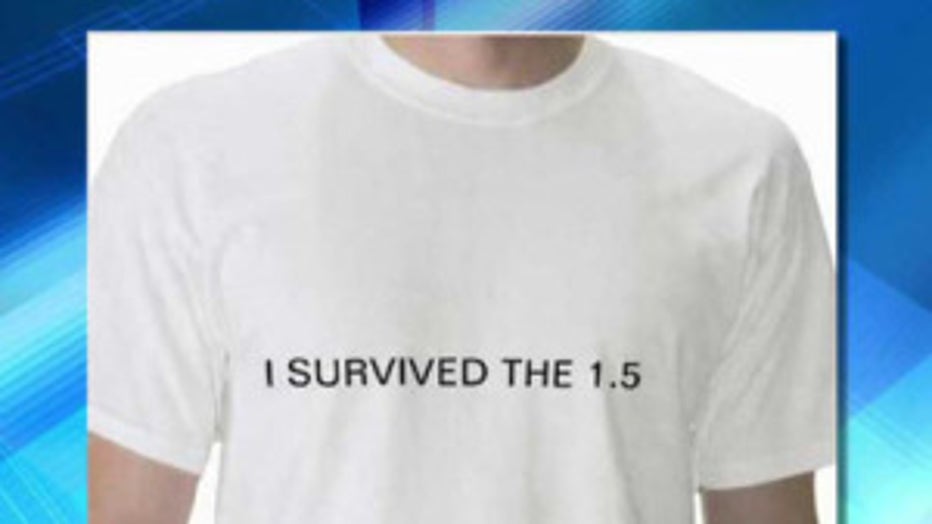 Meanwhile, Kuss says the city plans to sell t-shirts commemorating the rare earthquake event. The shirts will say "I survived the 1.5." Kuss says the shirts are intended to show unity - not to make light of the situation. It's also a way to show the town has charm and personality.

As far as where the money will go - that hasn't been announced yet, but they say it will be used to benefit the public.