Can you spot a skimmer? Contact 6 gets an inside look at the new technology


MILWAUKEE -- They steal your information the with swipe of a card. But could you spot a card skimmer if you saw one? As technology becomes more and more advanced, several lawmakers want to make possessing a skimmer a felony crime.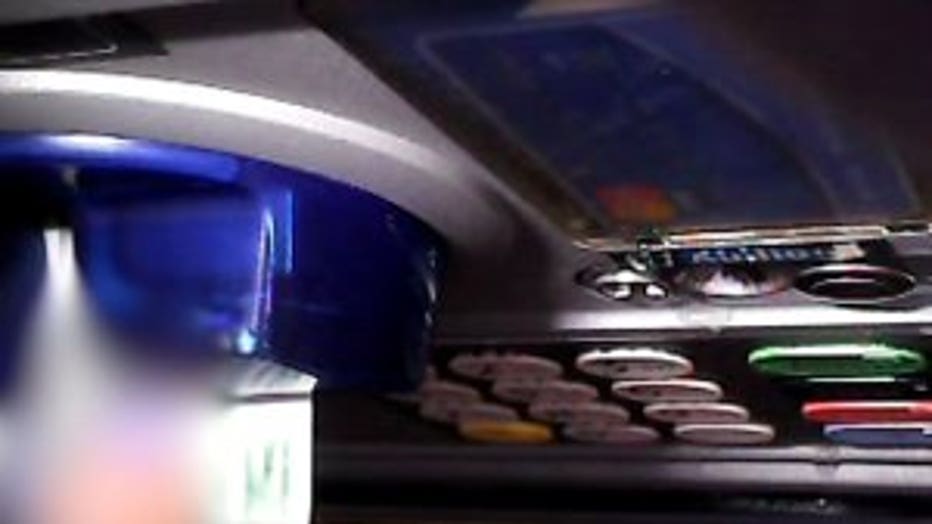 Milwaukee Police Department released video of a criminal installing and testing an ATM skimmer.


Installing a skimmer takes a criminal less than five minutes.

In a video from the Milwaukee Police Department, the installation of a skimmer was captured. The criminal fixed a pinhole camera to a bank ATM and also placed a blue skimming device over the card reader. The criminal tested it out and then disappeared.

"The pinhole camera is literally that. You have a little. That's how much space you need to see the video," explained Richard McQuown, an MPD detective.


The small hole where pinhole cameras capture video of pin numbers.


Detective McQuown said the camera was positioned to capture pin numbers while the skimming device stole the card information.

"Then the bad guys come in, retrieve both pieces and they put it together," McQuown said.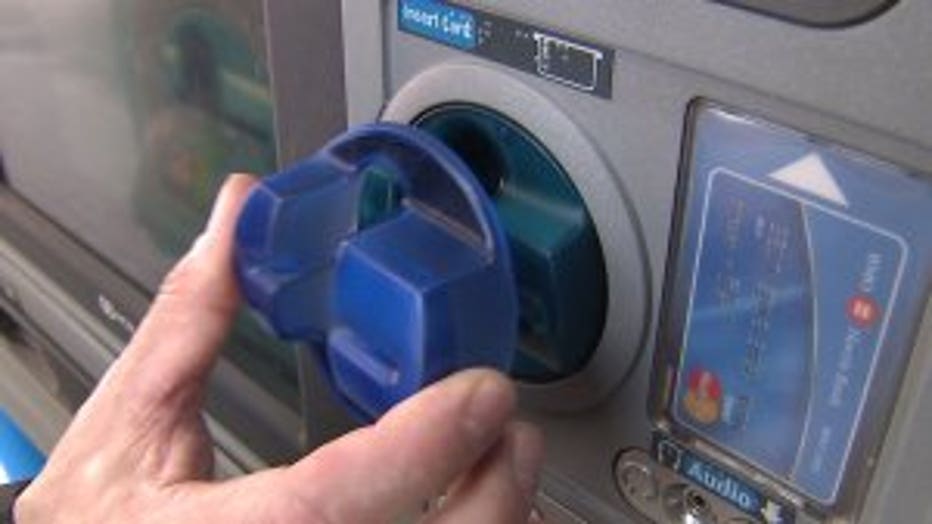 The Milwaukee Police Department has confiscated skimmers and cameras from all over the city. McQuown said they can be tough to spot.

"The color is pretty close to the same," McQuown said.

In order to see if a skimmer has been attached to a card reader, McQown offered this advice:


In one video from Milwaukee police, a skimming victim attempts to cover his hand, but it wasn't enough.

"The person had his hand over here, but if the cameras over here, you can still see it," McQuown said about the video.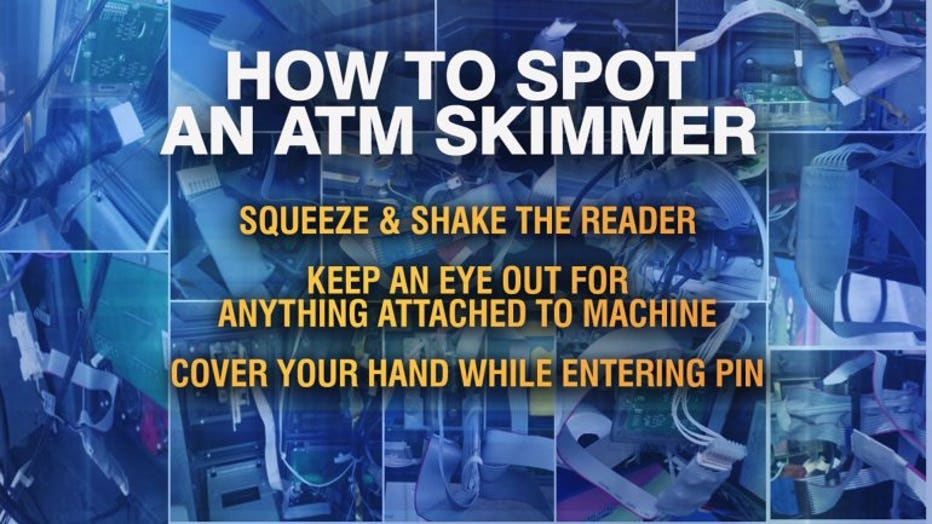 Back in February, Greenfield police released a photo of a new and more discreet skimmer discovered on several ATMs in Chicago. McQuown said often, these thieves will move from Illinois to Wisconsin.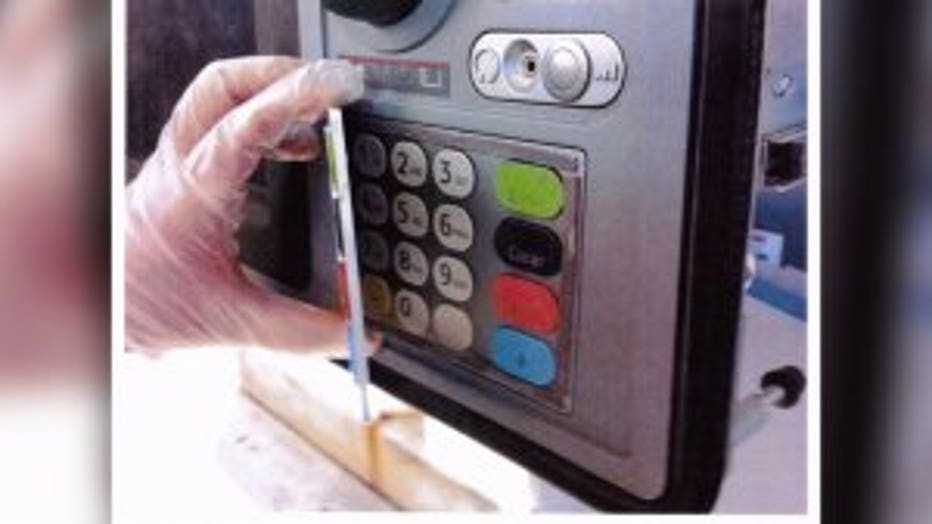 Photo released by Greenfield police of new and more discreet ATM skimmer.


"A thousand dollars here, a thousand dollars there and you move onto the next city," McQuown said.

The skimmer devices aren't just attached to ATMs. From August 2016 to January 2017, Wisconsin saw a sharp increase in gas pump skimmers. The devices were discovered in Mequon, Menomonee Falls, Delafield, Elm Grove, Brookfield, Franklin and Oak Creek.

"Once the arrests were made, they dropped off a little bit and now we're seeing a smattering," said Frank Frassetto with the Wisconsin Department of Consumer Protection.

Josue Garcia Moret and Richard Rivera Garcia of Miami were arrested and charged with identify theft in Waukesha County. According the criminal complaint, one skimmer uncovered had approximately 200 credit card numbers on it.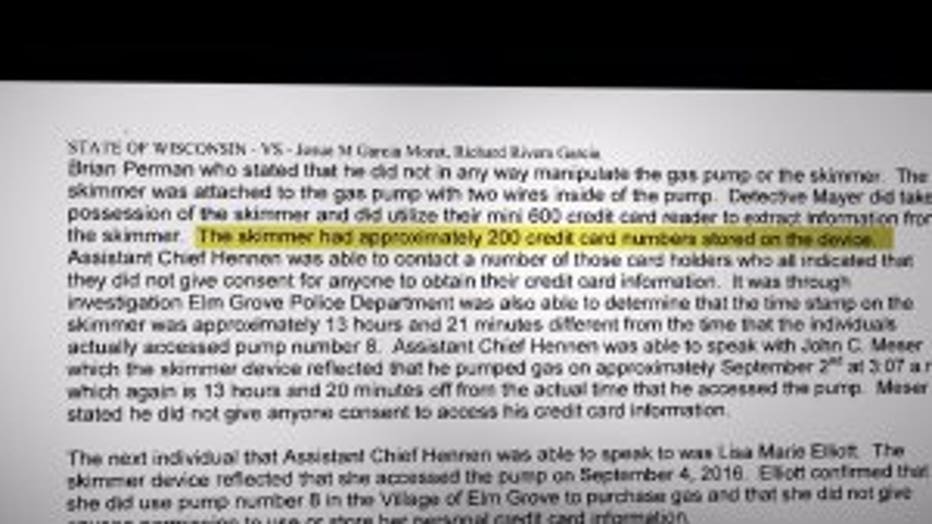 Wisconsin Consumer Protection officials said one thing contributing to the problem is that many pumps can be opened with universal keys.

"You can get these universal keys online for four, five bucks and once you have these universal keys, you can go around looking for a dispenser you can use it in," Frassetto explained.

The co-owner of Jetz Convenience Centers, Tim Klein, opened a gas pump to show FOX6's Contact 6 how a skimmer could be installed.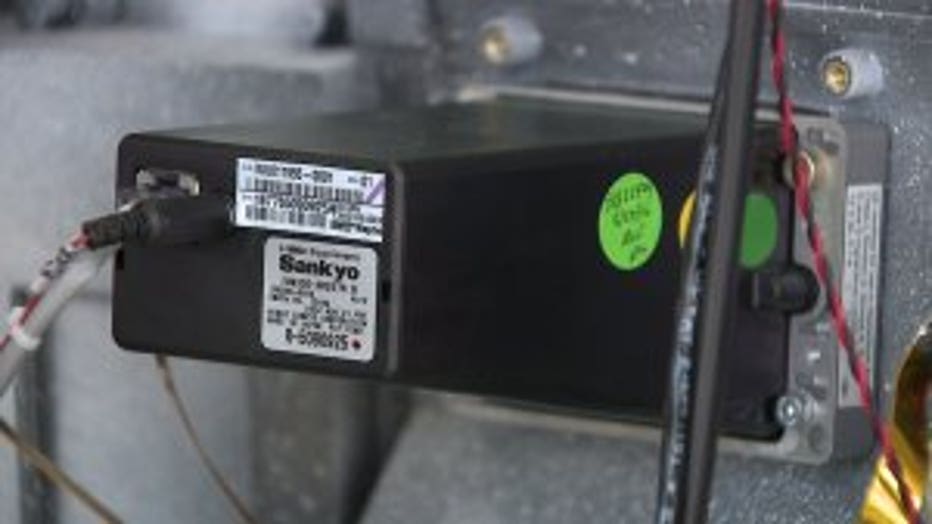 "You have two universal locks on most gas dispensers. We have a third lock that we installed and this is a site-specific lock," Klein said.

Most gas pump skimmers are internal. You can't detect them from the outside. In fact, several skimmers are now Bluetooth enabled, which means the criminal can sit nearby and collect a person's information live.

If you want to make sure a pump is secure, look for a piece of tape over the access panels. If the tape is broken, don't use the pump.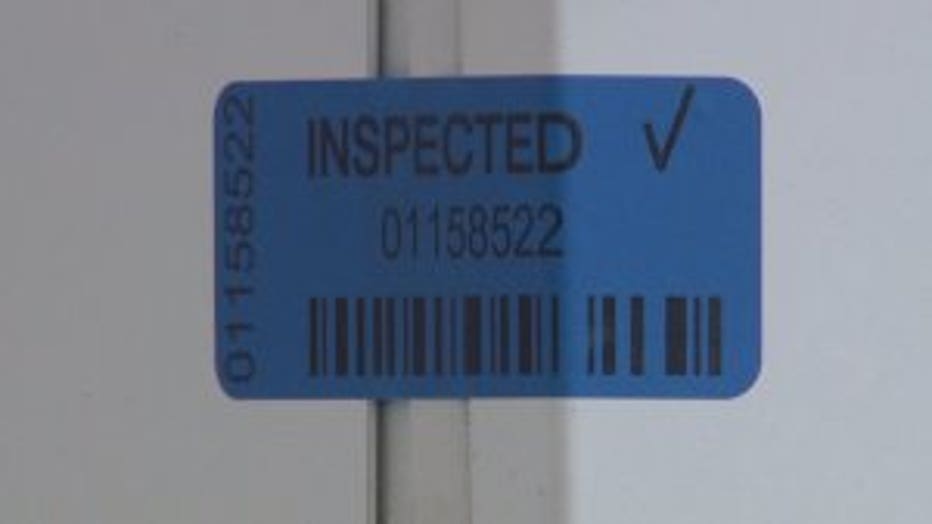 If tape on the side of the gas pump is broken it may be compromised by a card skimmer.


"So it might be a piece of electrical tape just something that will let them know if they're checking their dispensers," Klein said.

There are other things you can do to help protect yourself for being the target of a skimmer.

First, try to use a pump closest to the building in view of the cashier. Skimmers are often placed on pumps farthest from the storefront.

Second, be cautious at travel center stations. Criminals often target these because it's easy to sneak in undetected in a crowd.

Finally, pay with cash if can. If not, pay inside. If you do use a card, credit cards offer more protection when it comes to fraud.

A bill under consideration in Wisconsin would criminalize the possession of a skimmer with the intent of using it for identity theft and make it illegal to use a skimmer.