Budget debate: Gov. Walker urges lawmakers not to scrap increased funding for public schools


WAUKESHA -- In an unusual alliance, Gov. Scott Walker and public school teachers both asked lawmakers on Monday, April 3rd not to scrap a proposed increase to education funding.

During a visit to Waukesha South High School, Walker said the Legislature's budget-writing committee should use his $649 million in additional spending as the starting point for negotiations. Some Republicans argue the increase is too large and that it ignores other priorities, like road construction. They've floated the idea of working off the current budget, which contains lower levels of education spending.

"There has been some talk that there might be at least a few – I don't know if there's many – but some would prefer to start with a zero base in education and build off of that," Walker told reporters Monday. "My argument would be, we need, if anything, to build off of the foundation we put in this budget."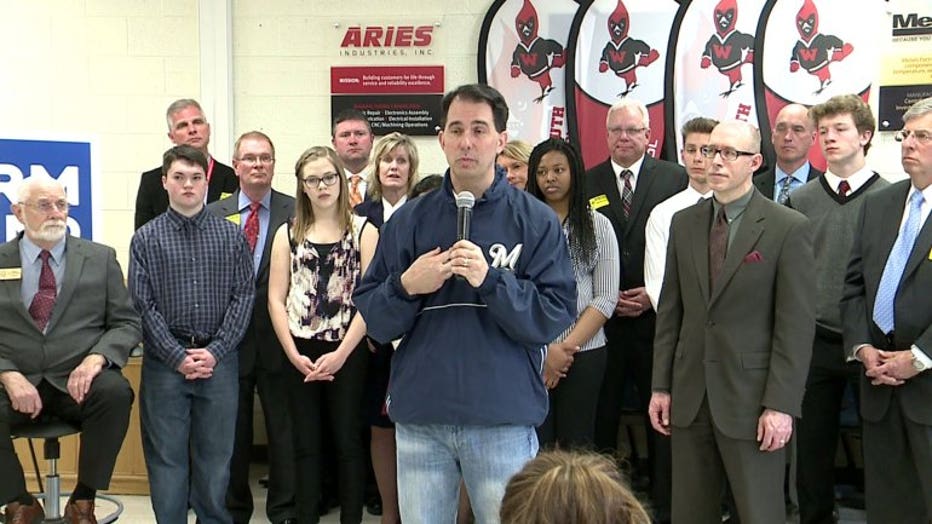 Public school teachers and education advocates showed up to the first of six public budget hearings, held at the University of Wisconsin-Platteville on Monday. Several asked lawmakers to increase per-pupil state funding by $300, or $100 more than Walker has requested.

The governor's spending plan would distribute the per-pupil increase equally among districts, regardless of their wealth. Charter and voucher schools would also receive the extra funding, leading to criticism from public school advocates.

The Legislature's powerful Joint Finance Committee is holding its next public hearing at 10 a.m. Wednesday at State Fair Park in West Allis.

Discussions are ongoing at the state Capitol over which budget to use. There is no timeline for a decision, according to one source.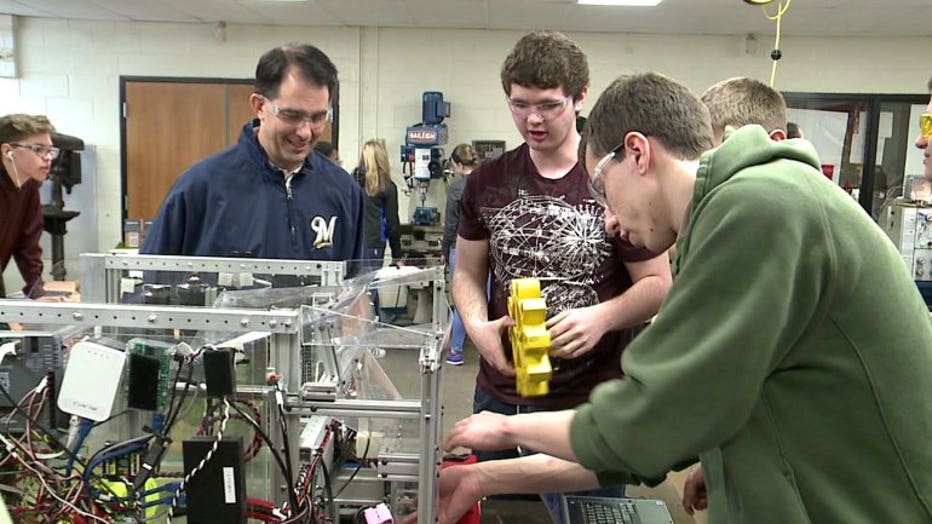 Educators say starting from the current budget would likely mean significantly less money for schools.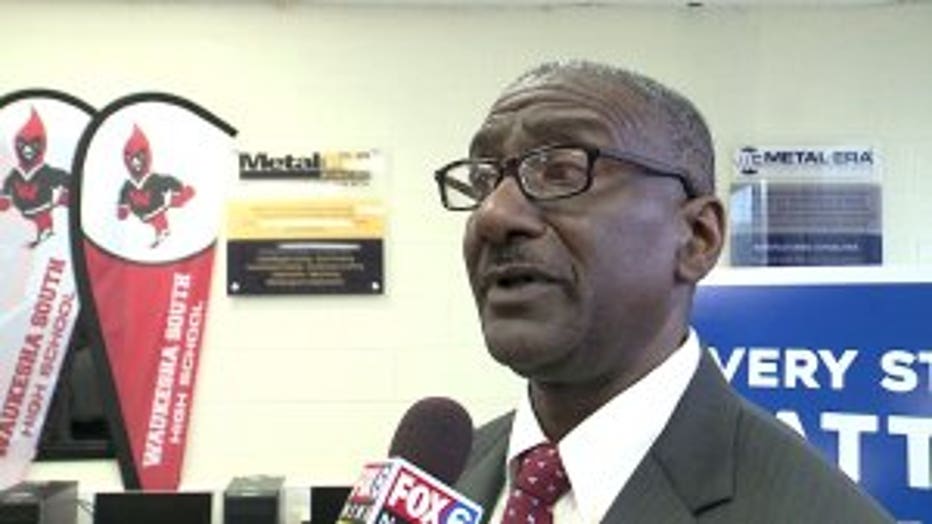 John Ashley, executive director of the Wisconsin Association of School Boards, said school districts would need to hold fewer referendums to ask voters to pay for operating costs if the governor's budget passed.

"It's overdue," Ashley said of increased funding. "It's going to affect schools all around the state of Wisconsin, so it's almost a no-brainer."

Educators point to last month's Marquette University Law School poll (bottom of Page 8) that showed 80 percent of Wisconsin voters support increased funding.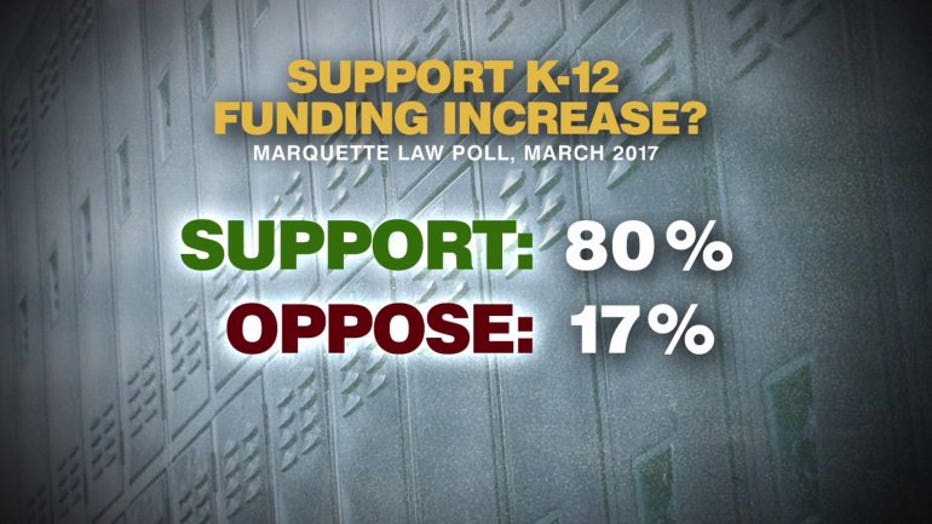 Support for K-12 funding increase


At Waukesha South, Walker said he didn't know if there was a timeline for the Finance committee to decide which budget to use. A reporter asked if he felt he had any influence, having proposed the budget nearly two months ago.

"That's why I'm here," Walker said.

The two top legislative Republicans, Assembly Speaker Robin Vos and Senate Majority Leader Scott Fitzgerald, have said lawmakers may shift money to transportation from other areas of the budget.

Some lawmakers, especially Assembly Republicans like Vos, are concerned that Walker's budget delays major southeast Wisconsin road construction projects and borrows additional money for roadwork.

The governor said Monday that he believed lawmakers could shift money from other areas of the budget into transportation and avoid stripping out the K-12 funding increase.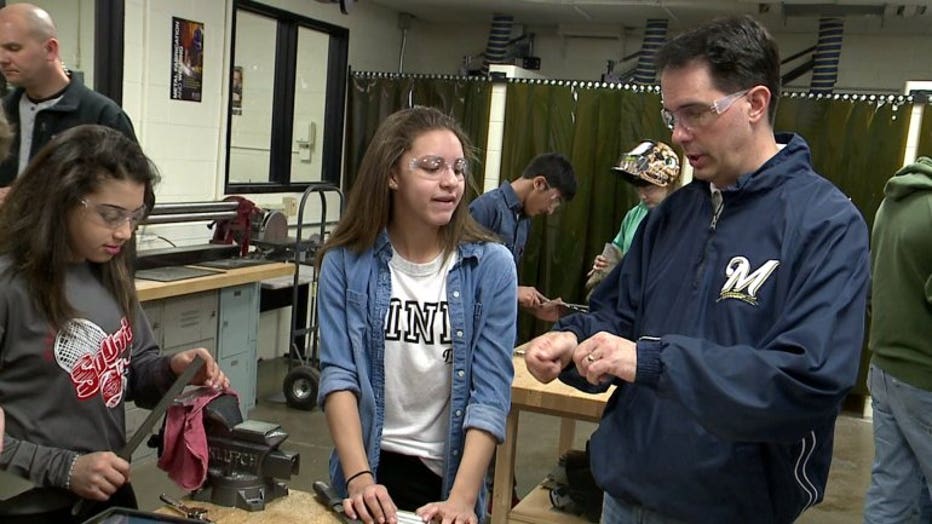 Gov. Scott Walker at Waukesha South High School


Also Monday, Walker said he was willing to change a requirement that, in order to get extra funding, school districts must comply with Act 10. The 2011 law requires public workers to pay a percentage of their health and retirement benefits and ended many collective bargaining rights.

Some lawmakers have said that tying school funding to Act 10 compliance goes too far. Certain districts haven't required their employees to pay the state-mandated percentage of their benefits.

"We just want to make sure if we're giving this much more new money, that it's being spent in ways that ideally put overwhelming amounts of that back into the classroom," Walker said. "If there's better ways to tweak that to make sure that's clear, I think we can do that."