Baaa'd medicine: Abuse of 'emotional support animals' concerns advocates for the disabled


CUDAHY — What if you could take your favorite pet everywhere you go?  Restaurants. Movies. Maybe even the art museum!

FOX6 Investigator Bryan Polcyn did it. And you could too. All you need is a prescription from a mental health provider that says your pet is an emotional support animal.  Getting a letter like that is easy, as long as you have internet access, a credit card...and a total lack of conscience.   After all, there are people who really need these things.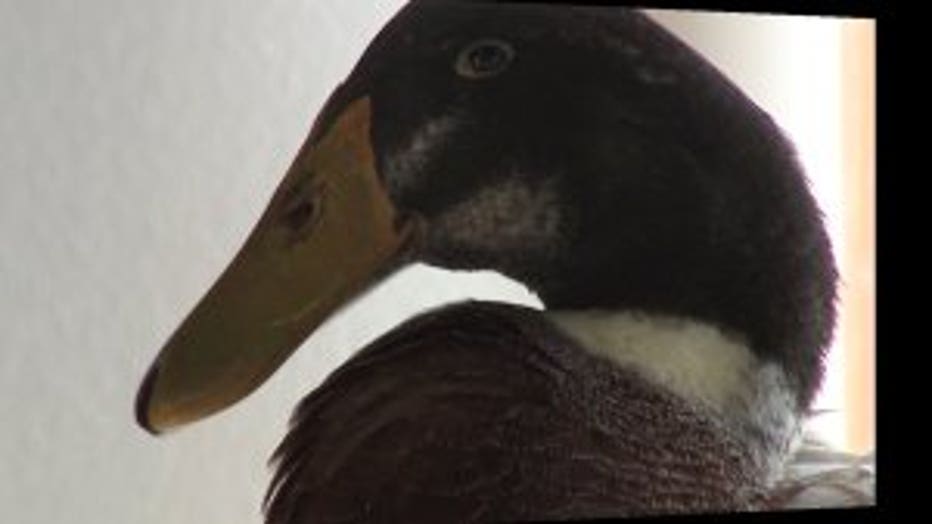 When a grown woman tells you she can't live without her duck, it's only natural to wonder -- how does a duck help?

"They have something that they have access to that humans don't," said Carla Fitzgerald, a South Milwaukee woman with her very own emotional support duck.

Fitzgerald's feathered friend is more toddler than waddler.  He plays with toys, takes showers and he even wears a diaper. Most importantly, she says, he can sense his master having an anxiety attack before she even knows she's having one.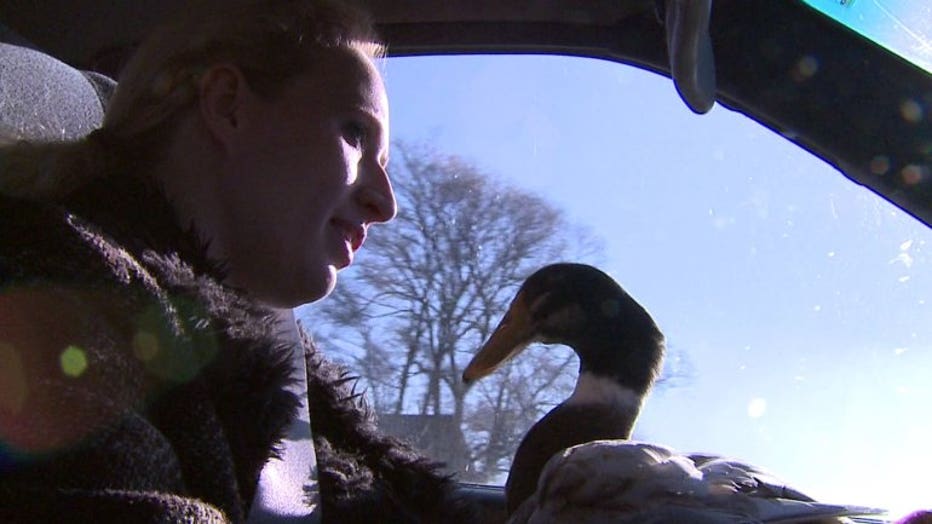 Carla Fitzgerald and Daniel the duck


"It's almost like he's trying to climb my leg and he's yelling as loud as he can, 'Mama mama mama mama mama,'" Fitzgerald said.

Fitzgerald suffers from post traumatic stress disorder, or PTSD. She says it stems from an accident when a car struck the horse and carriage she was operating in Milwaukee's Third Ward.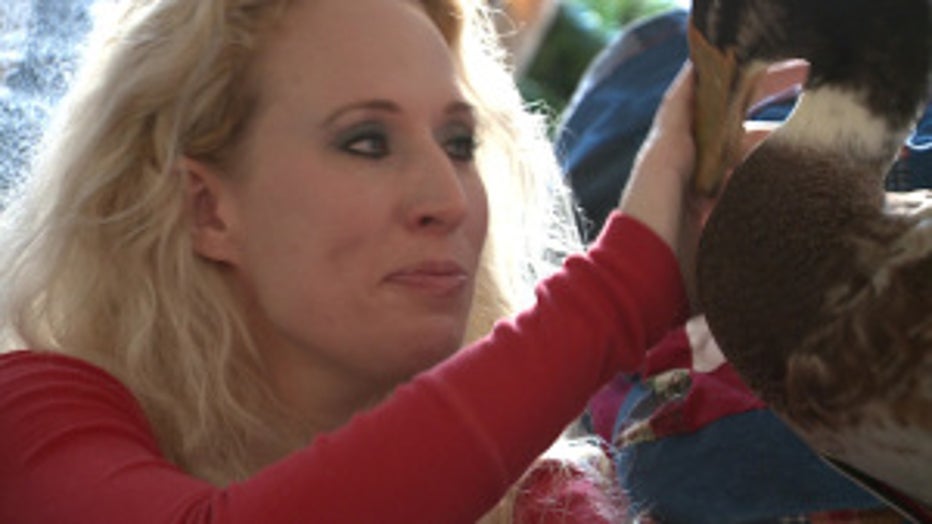 Carla Fitzgerald suffers from PTSD and receives therapeutic assistance from her pet duck, Daniel.


"I got catapulted out and landed on a drawbridge," she said.

Three years later, she's still afraid to leave the house alone.

"So, I started seeing a psychologist," she said.

And for each appointment, she brings along Daniel, her three-year-old Indian Runner. She goes to see Dr. Constanz Hartney at American Behavioral Counseling in Wauwatosa. Dr. Hartney says the duck sits in each session, well-behaved. And he noticed that whenever Fitzgerald's stress level rises, Daniel leans in and calms her down.

"I became convinced that the duck was sensitive to her emotional changes," Dr. Hartney said.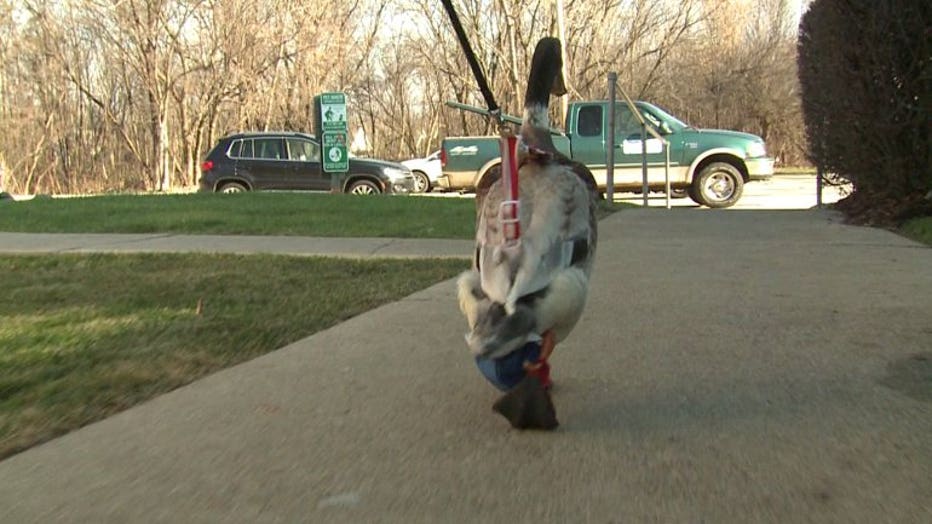 So Dr. Hartney wrote Fitzgerald a letter saying the duck is "therapeutic," so she should be allowed to live with him. Now she takes Daniel almost everywhere she goes; in the car, to the movies, to church and even out for quick bite of lunch.

"When he's in public, he behaves," Fitzgerald said.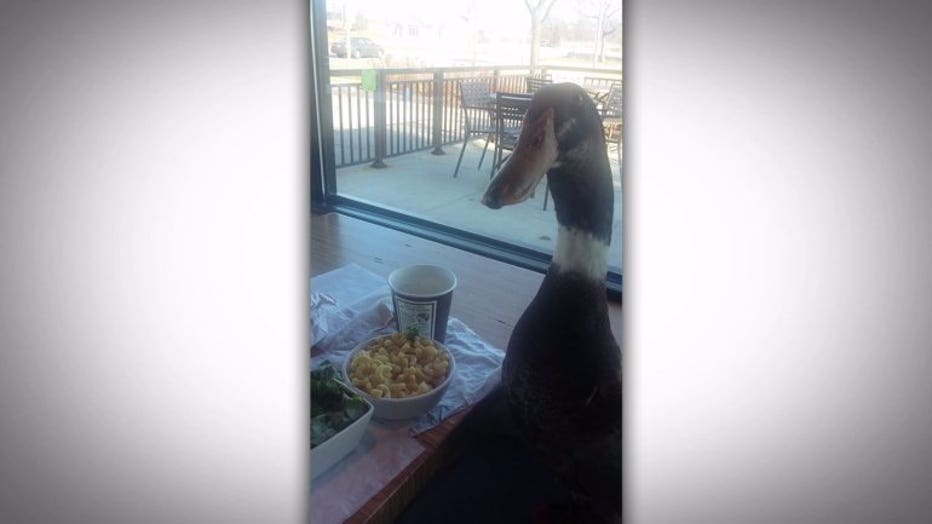 Daniel the duck in public


The trouble started when she decided to get an apartment in Cudahy.   Mayor John Hohenfeldt says when they first got wind of a duck moving to town it ruffled a few feathers.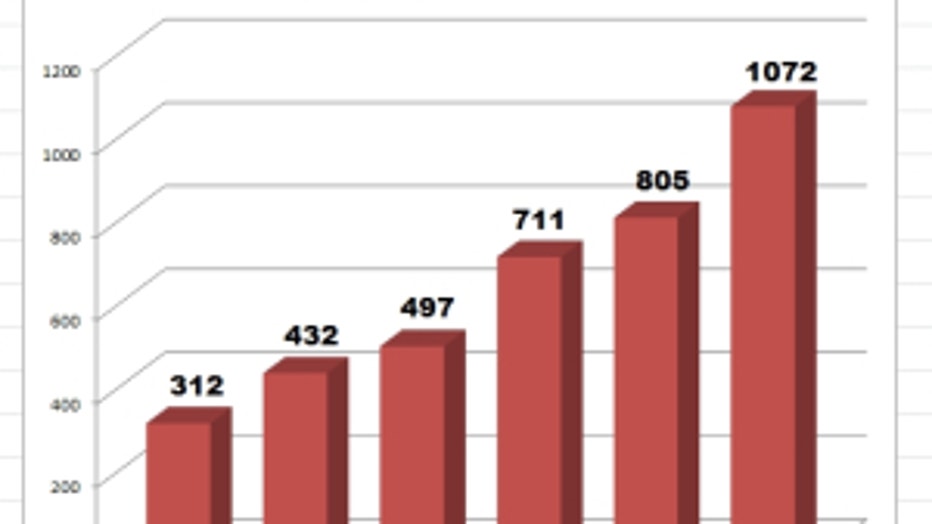 "When you think of a suburban community, are ducks the cleanliest animal?" Hohenfeldt asked.

The concern prompted city officials to draft a proposed new ordinance, banning the ownership of ducks within city limits, but then decided to hold off while the city attorney did more research.

"This is nothing more than bullying," Fitzgerald said at the time. "That's all that it is."

Federal law not only protects your right to live with an emotional support animal, it allows you to take them on airplanes.  But therapy animals have become increasingly controversial as more exotic creatures show up where standard pets are not even allowed. Like the unruly pig kicked off a US Airways flight two years ago. Or the couple that tried to bring a kangaroo into a Beaver Dam McDonald's last year. Or the turkey spotted flying Delta just last month.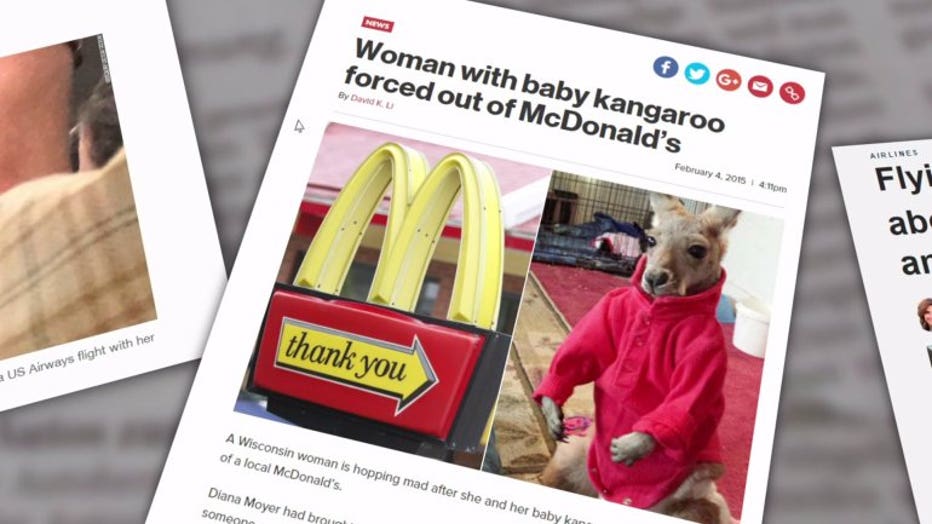 In fact, complaints about support animals on airplanes have tripled in the last six years, raising questions about whether some pet owners are abusing the system in order to fly without paying, or live where pets are not allowed. And FOX6's investigation has found getting a doctor to designate your pet a therapy animal is easy.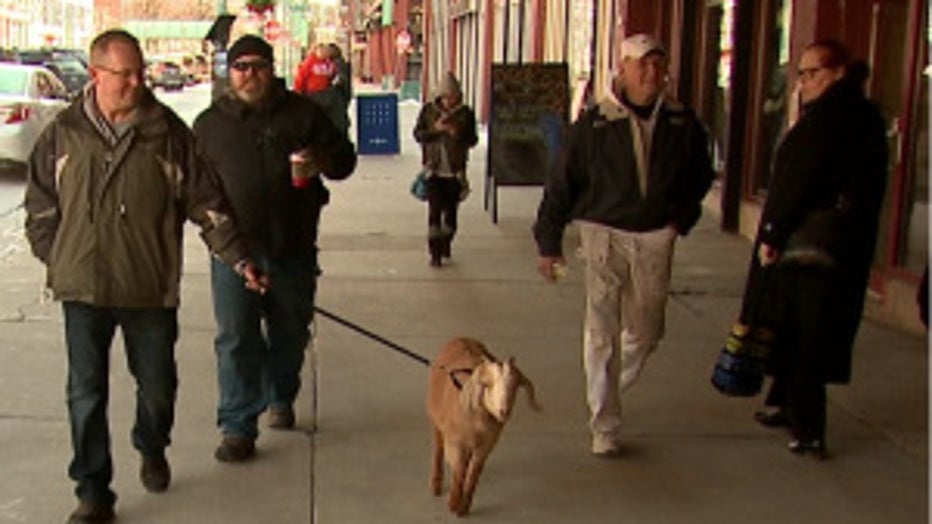 FOX6 Investigator Bryan Polcyn takes a goat out in Milwaukee to test the power of an emotional support animal letter he paid for online.


Just Google 'emotional support animals' and click on the myriad of links for a doctor's letter, and then fill out an online medical exam.

It took FOX6 Investigator Bryan Polcyn about 30 minutes -- and a $159 charge on his credit card.  Two days later, he received a letter from a licensed psychotherapist he'd never met. A therapist he'd never even talked to on the phone.  The letter states that Polcyn has been "diagnosed" with an unspecified "mental health condition" and is therefore prescribed "one goat for emotional support."

With the help of a local goat farmer, the FOX6 investigators borrowed a 70-pound Nubian-Boer mix named —of all things —"Duckie" and then hit the big city.

First stop? The Milwaukee Art Museum.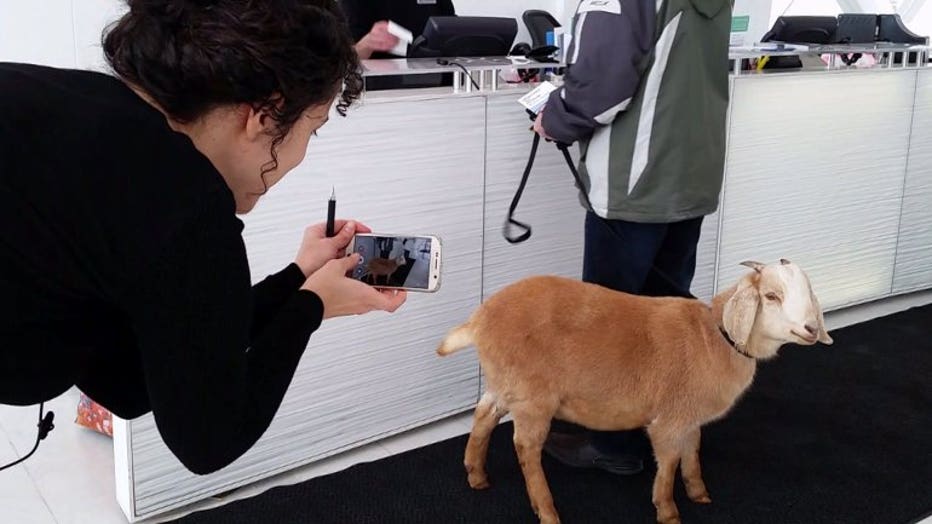 Duckie the goat at the Milwaukee Art Museum


Needless to say, Duckie drew a crowd.  A security guard asked why we had an animal in the building, but when we explained it was an emotional support animal, he let us pass. We got into the museum without any trouble.  In fact, Duckie instantly became the museum's most popular exhibit. Within minutes, the goat at the museum was a social media sensation.

We didn't stop there.


Duckie the goat at the Milwaukee Art Museum


We took Duckie to Starbucks, Lulu Lemon clothing store, the Marcus South Shore Cinema and the Milwaukee Public Market.

After a few minutes of perusing the Public Market, a female employee approached, asking: "Is there any way that one of you could take the goat outside?  We don't allow animals in here."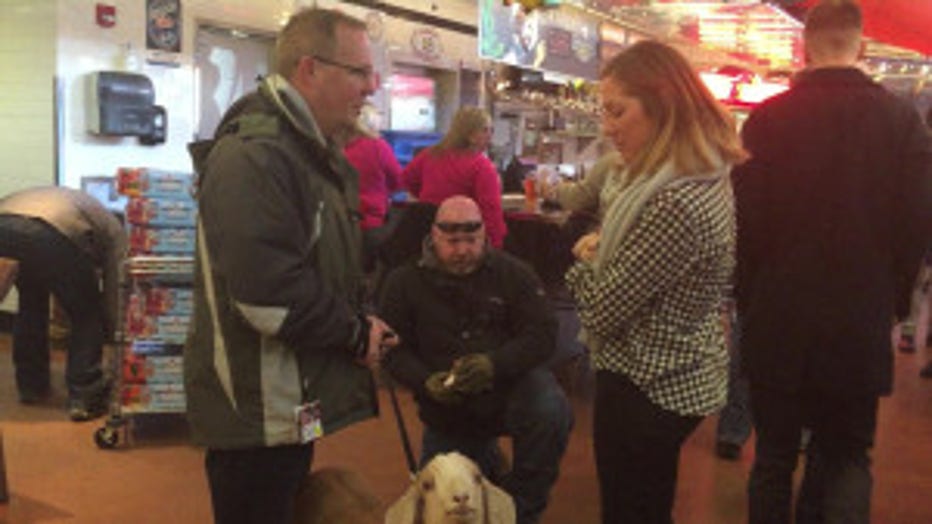 An employee of Milwaukee Public Market asks FOX6 to take the goat outside, then relents after being told about the therapist's letter.


We explained that it was an emotional support animal and offered to show her the therapist's letter. She eyed the letter, but never read it, and then replied, "Okay."

Duckie got to stay.

Same thing at the movies. We got in just fine, bought tickets and even found seats in the theater, before an usher came and asked us to step outside. There, a theater manager asked why there was a goat in the building.

"This is my emotional support animal," Polcyn explained.

"Okay, you said that you have papers?" the manager asked.

A quick scan of the letter and Duckie had a front row seat for Tina Fey's latest flick.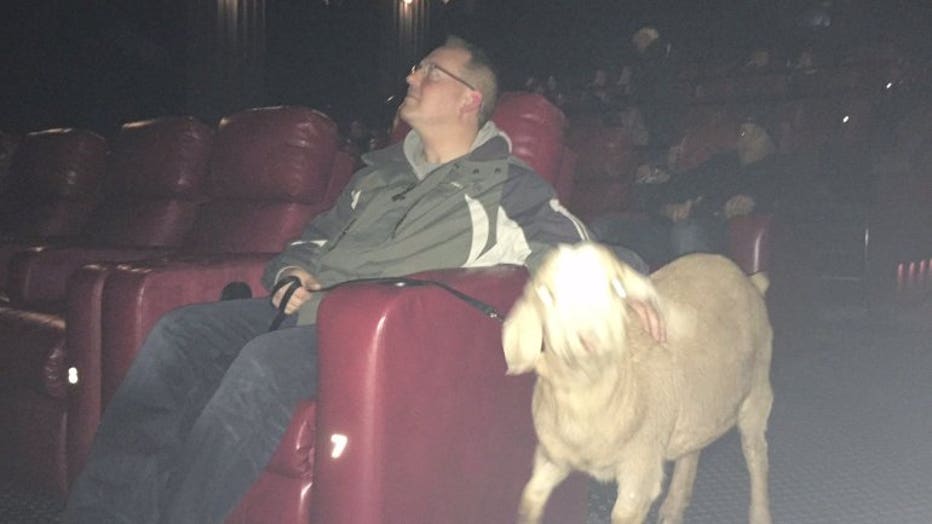 Duckie the goat at the movies


"It speaks well for our city's open mindedness," Dr. Hartney said.

According to Kit Kerschensteiner, managing attorney for Disability Rights Wisconsin, it also speaks to something else.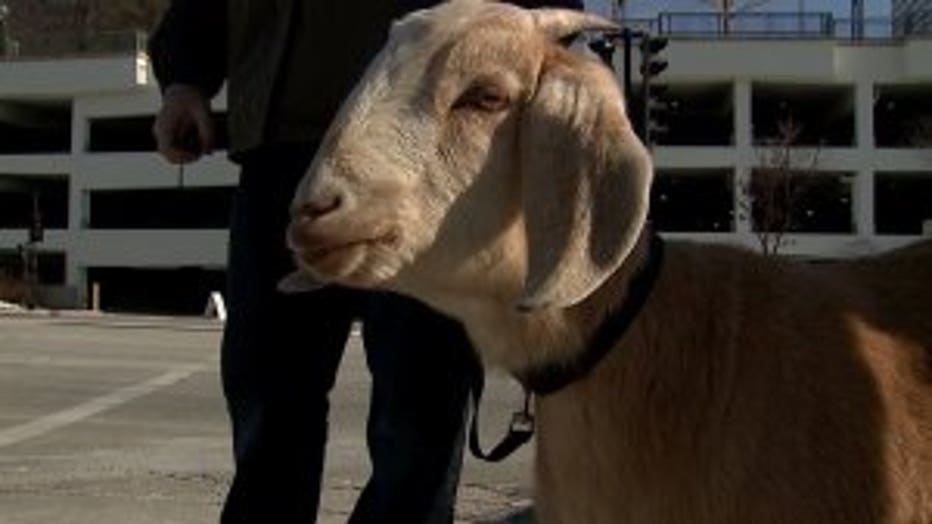 "That there are people out there playing this card when they really don`t deserve to play it," Kerschensteiner said.

While full-fledged service animals, like guide dogs, can go anywhere their owners go, federal protection of emotional support animals only applies to housing and air travel.

"A lot of people think 'I have an emotional support animal. I can take him on the bus, take him into Walgreens or a restaurant,'" Kershensteiner said. "That's not the point of the animal."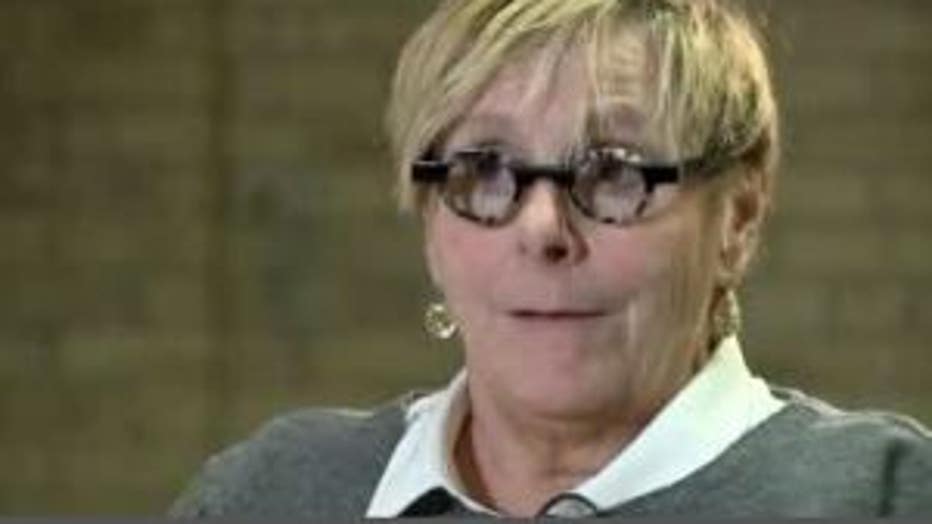 Kit Kerschensteiner, managing attorney for Disability Rights Wisconsin, says if people are abusing the system, it could have a negative impact on people like Carla Fitzgerald, who legitimately need animal therapy.


Fitzgerald knows businesses are not required to let Daniel, the duck, come inside with her.

"You ask permission. You have to ask permission," she said.

But most people don't know that. So schemers can easily take advantage.

"That's making it harder for people with disabilities," Kerschensteiner said.

She's worried they will ruin it for people like Carla Fitzgerald.

"This is my emotional support animal. I need him," Fitzgerald said.

After further review, the city of Cudahy informed Fitzgerald she can live there with Daniel, after all. Mayor Hohenfeldt said they just needed to check the law first.

"I said, 'Carla, I never said I don't want you living in our community,'" Hohenfeldt said. "'I just want to make sure we are doing it right.'"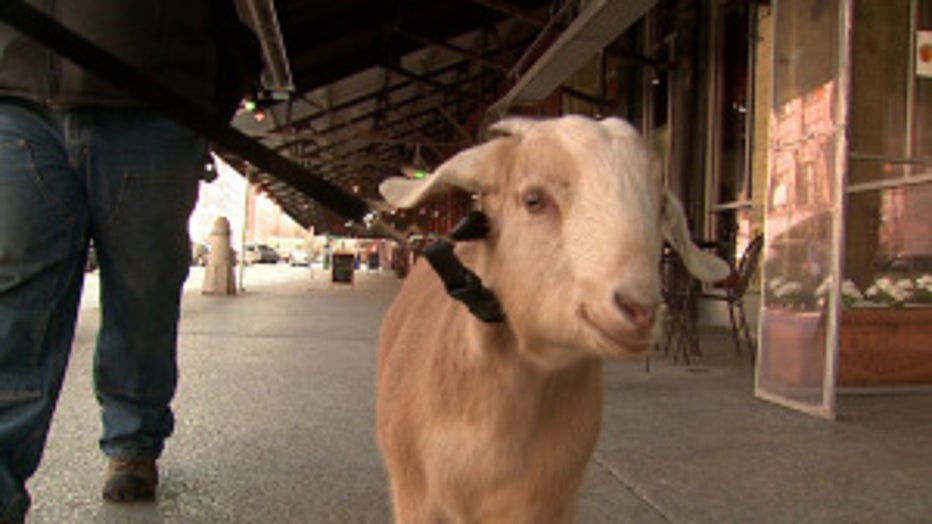 You might say it's a feather in the cap for disability rights. And a win for Carla Fitzgerald.

"All I'm asking is to live peacefully and quietly... with my duck," Fitzgerald said.

Fitzgerald has a real anxiety disorder and she sees a therapist, regularly, who believes her duck is helpful in her recovery.

Of course, FOX6 Investigator Bryan Polcyn has no real need for a therapy goat, but he had no trouble at all getting the letter saying that he does.

That demonstrates how easily the therapy animal designation could be abused people who want to live where pets are not allowed or want to fly with a pet without paying for it.  And that could undermine an otherwise promising therapy.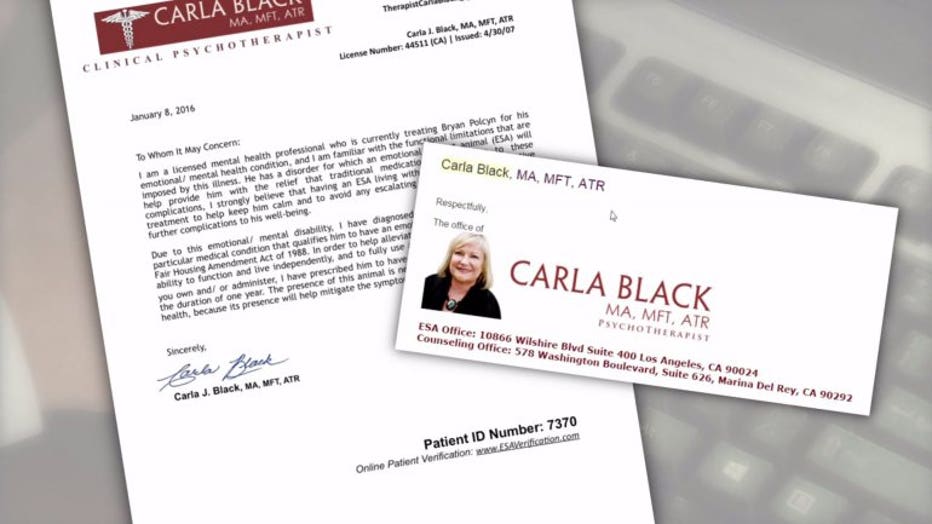 The psychotherapist who wrote the letter, Carla Black of Los Angeles, California, said she usually Skype conversations or emails with a person before diagnosing them. She did neither of those things with Bryan Polcyn. Black said that's because Polcyn's questionnaire was complete and informative. Black defended what she calls "online therapy," saying that it is just as easy to lie in person -- and just as hard to detect. She writes that "any industry can be abused."