"At odds:" Gov. Walker, Assembly GOP in stalemate over property taxes in state budget


MADISON -- Assembly Republicans unveiled their school funding plan on Tuesday, June 6th and had it immediately dismissed by their counterparts in the Senate and Governor Scott Walker, leaving lawmakers in a stalemate over the state budget.

In a sign of how far apart they are, Assembly Republicans went through reporters at a Capitol news conference to tell their Senate colleagues they wished to meet. But Senate Republicans were in a closed-door meeting Tuesday afternoon.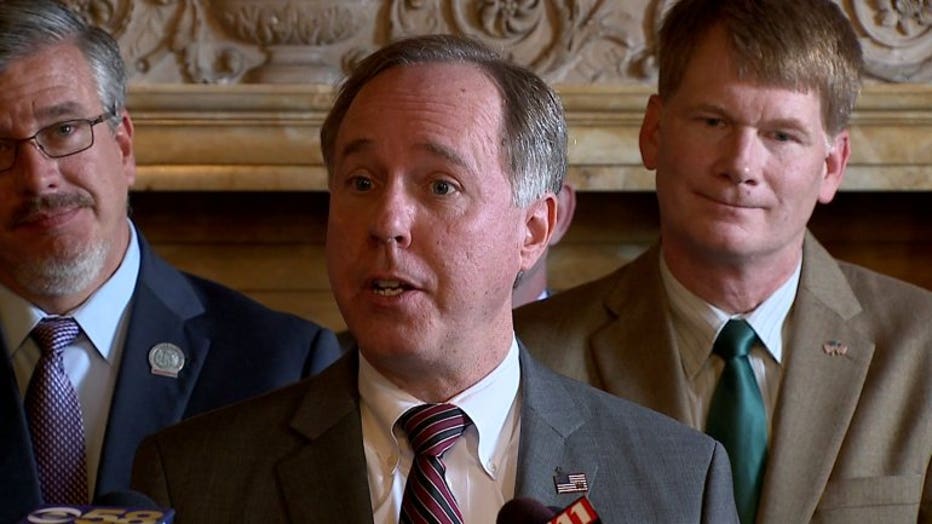 Assembly Speaker Robin Vos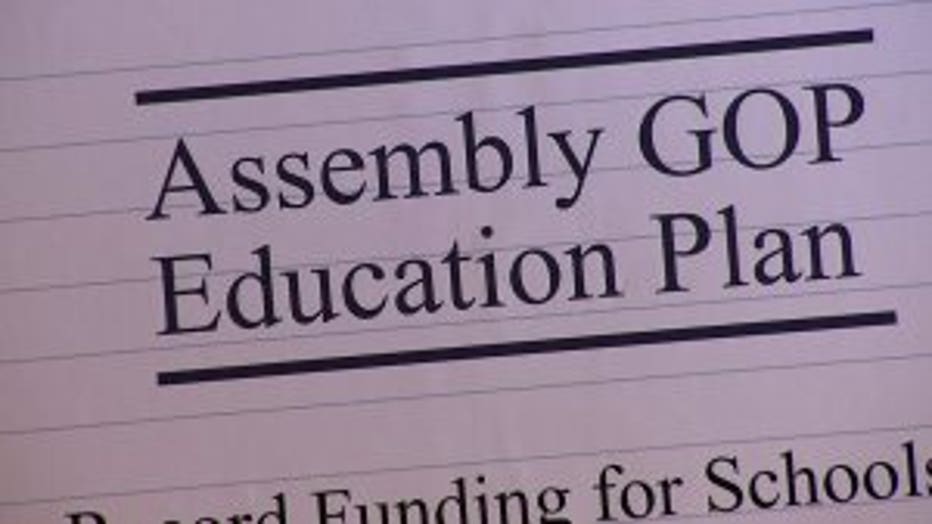 Assembly GOP education plan


"I'm willing to negotiate. Any time, any place, anywhere," said Assembly Speaker Robin Vos, R-Rochester.

There were no plans for the Legislature's Joint Finance Committee to meet this week on the budget, after a Tuesday session was scrapped.

Four minutes before the Assembly GOP was to start a news conference to unveil its education budget, Senate Majority Leader Scott Fitzgerald rejected the plan and vowed to stick with Walker's version.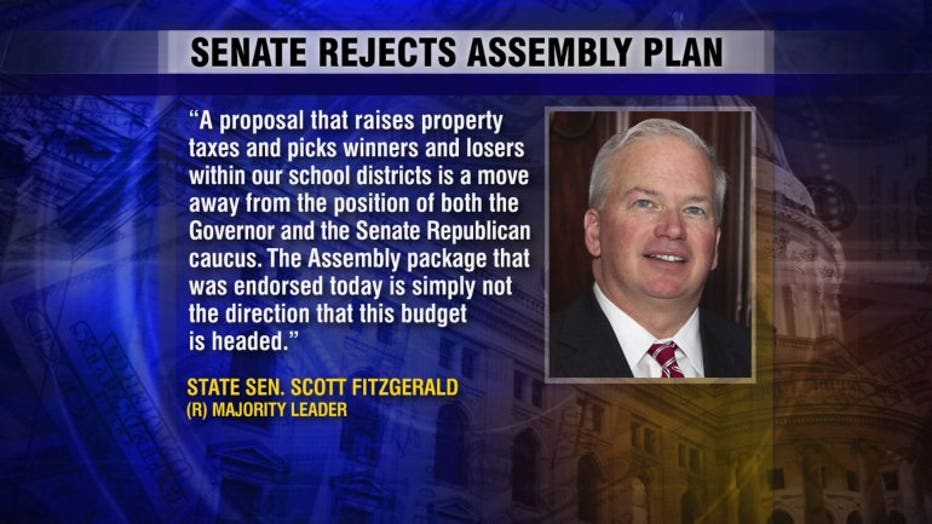 Senate Majority Leader Scott Fitzgerald rejects Assembly GOP education plan


The Assembly proposal "is simply not the direction that this budget is headed," Fitzgerald said in an emailed statement.

Vos' response was telling of the division within the GOP, which has full control of state government.

"Sen. Fitzgerald put out a statement even before he heard what our plan was or the comments about it. He said immediately he's going to be a rubber stamp for Walker," Vos told reporters.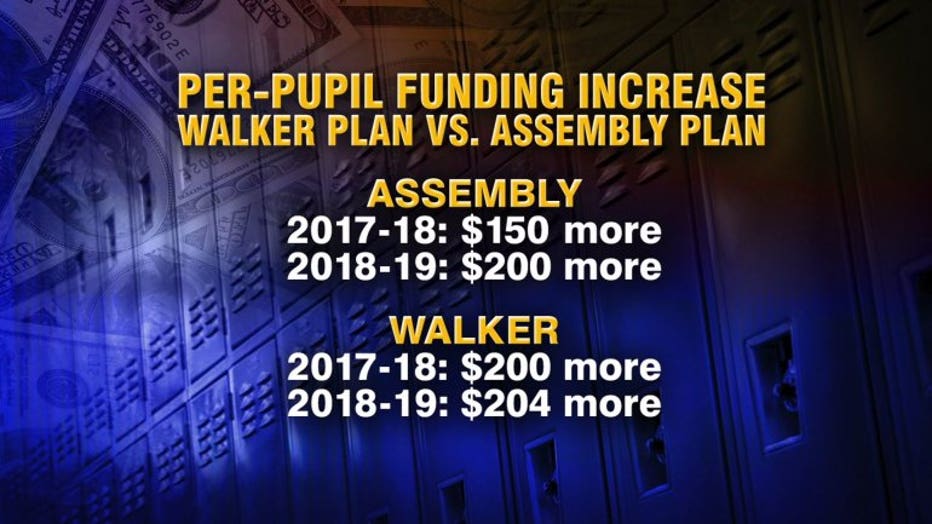 Assembly GOP education plan vs. Gov. Walker's plan


The Assembly's education budget cuts property taxes on the average Wisconsin home by $10, from $2,852 to $2,842. But Walker has threatened to veto any budget that doesn't cut property taxes below the 2014 level, which was $2,831.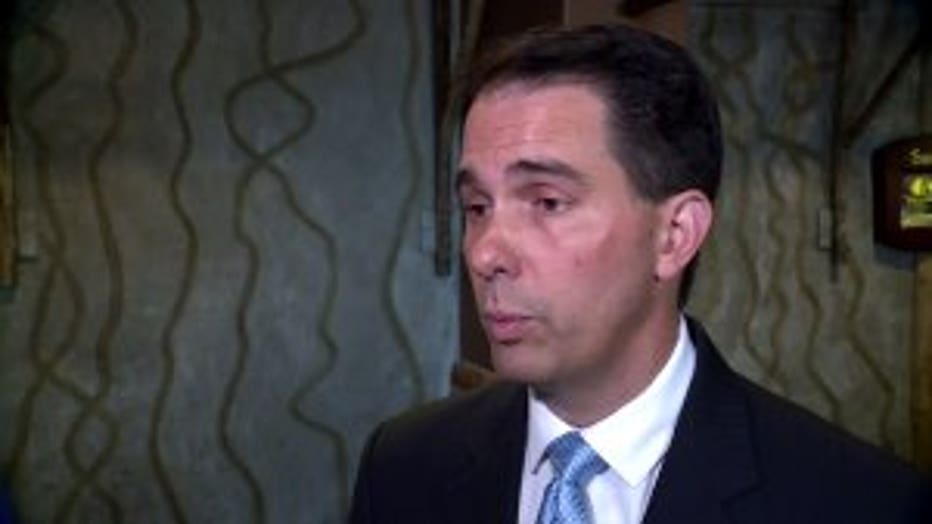 The Assembly plan boosts per-pupil funding across the board by $150 in the 2017-18 school year and by $200 the year after, less than Walker's proposal. The governor's budget provides $200 more in the upcoming school year and $204 the year after.

"That goes at odds with what our top two priorities are, so my hope is, in the end, we'll get a budget that's closer to where we're at," Walker told reporters on Tuesday in Wisconsin Dells.

The Assembly GOP proposal gives more state aid to the most frugal school districts, ensuring that all districts receive at least $9,800 per student in funding. Chilton-New Holstein currently receives $9,172 per student, said state Rep. John Nygren, the Assembly co-chairman of the Joint Finance Committee.

The stalemate makes it unlikely that a budget will pass by July 1st, when the new fiscal year starts. If there's a delay, state spending would continue at current levels.

Top Senate Republicans have said they might move forward with their own budget that's separate from the Assembly plan, but Vos said that would be unprecedented and wasn't necessary.

"There is absolutely no reason to make threats. I'm not going to make threats," Vos said. He called July 1st an "artifical deadline" and said he wasn't going to "check my brain at the door" to meet it.

Democrats said they've never seen Republicans this divided.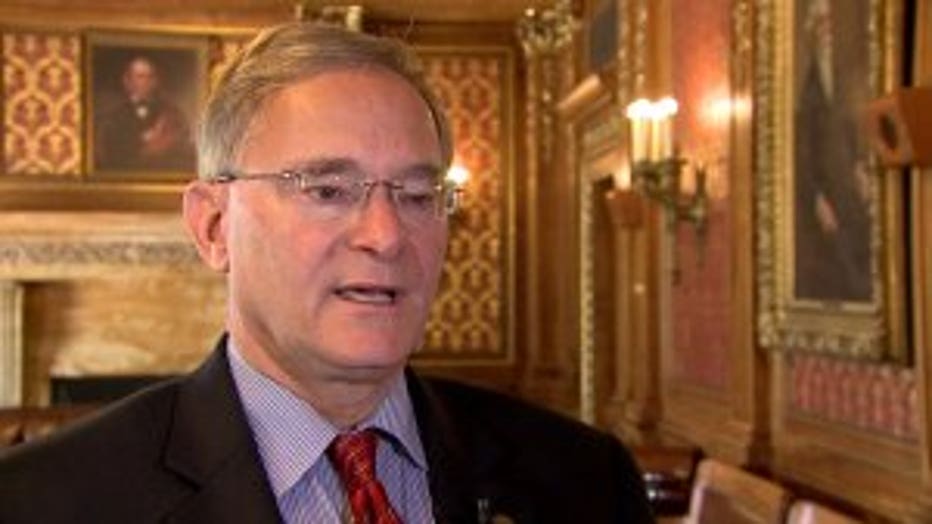 Assembly Minority Leader Peter Barca


"This is certainly about as bad as I've ever seen it," said Assembly Minority Leader Peter Barca, D-Kenosha.

Nygren said he didn't see a point of moving forward on other parts of the budget -- including the equally sticky transportation debate -- until the property tax issue gets worked out.

The Assembly remains far apart from both Walker and the Senate on how to fund the state's roads.