Arrests made during rallies over Tony Robinson's death, protesters say "we aren't going anywhere"


MADISON (WITI/AP) -- Protesters were back out in the streets of Madison Wednesday, May 13th -- one day after Dane County District Attorney Ismael Ozanne announced no charges would be filed against Madison Police Officer Matt Kenny in the death of 19-year-old Tony Robinson. On Wednesday afternoon, some of those demonstrating were arrested.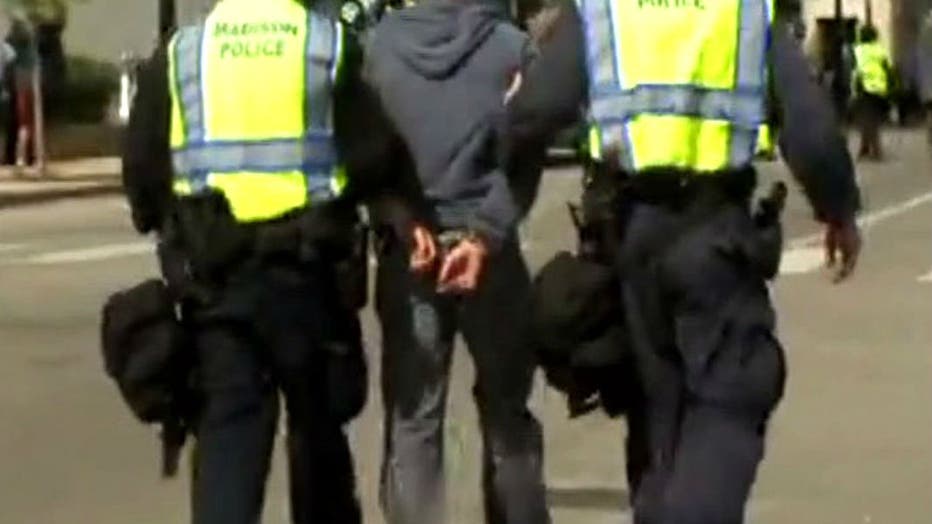 Protesters arrested in Madison


Robinson was shot and killed on Friday night, March 6th at an apartment home on Williamson Street in Madison.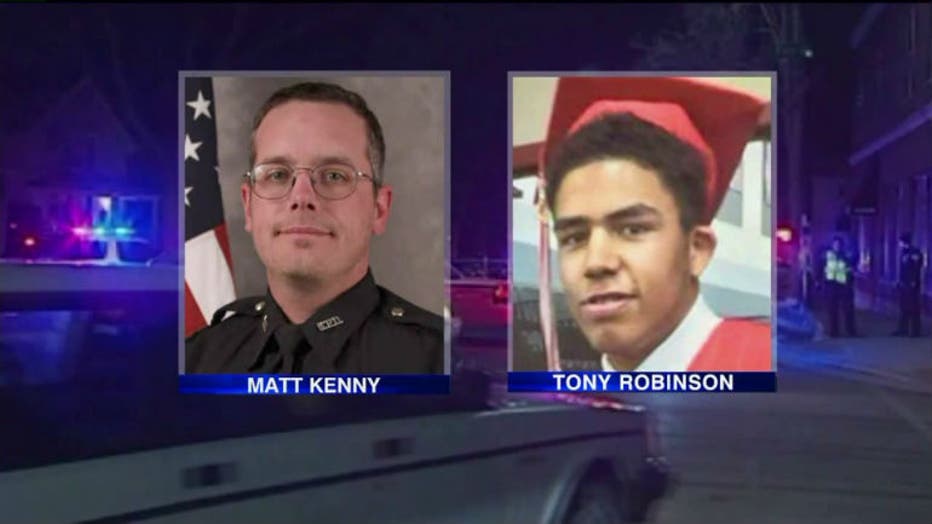 Madison Police Officer Matt Kenny and Tony Robinson


In his decision not to file charges against Kenny, Ozanne ruled this officer-involved shooting was justified -- but some say this was not justice, and they're not giving up.

"We aren't going anywhere. Justice for Tony doesn't end with the DA's decision," a demonstrator said.

Around 3:00 p.m. Wednesday, police made an announcement that streets needed to be cleared ahead of rush hour. Some protesters said they wouldn't move from the street, saying they were willing to be arrested -- and police did make some arrests.

Officers converged on about 20 protesters who refused to leave an intersection near the Capitol. The protesters linked arms as they were detained, and some cried. Some onlookers shouted insults, including racial epithets at the officers.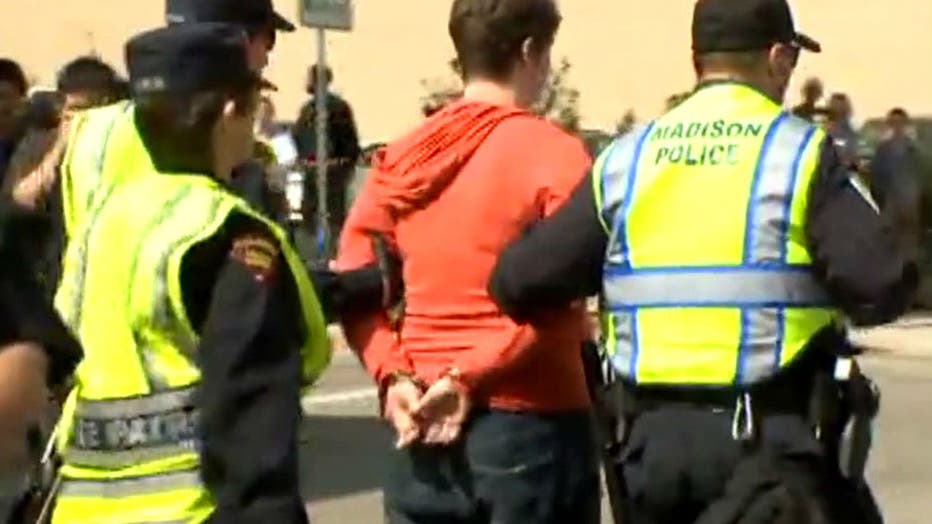 The Young, Gifted and Black Coalition has been keeping track of the arrests, and they said roughly 30 people were "willingly arrested" in the name of justice. A Madison Police Department spokesman said at least 25 people were arrested for obstructing an intersection near the Capitol. Almost all were released with a $124 misdemeanor fine.

Earlier Wednesday, people angry about Ozanne's decision not to charge Kenny for Robinson's death conducted a mock trial of the officer in protest.

About 150 to 200 protesters gathered outside the Williamson Street home where Robinson died before marching through the streets of Madison on Wednesday. They then gathered outside the Dane County Courthouse to stage the fake trial.

The crowd cheered when actors said they would charge Officer Kenny.

Members of the Young, Gifted and Black Coalition, which has led protests since the officer-involved shooting, said the demonstration was intended to represent the processes they wished Ozanne had used.

Protesters said Wednesday Robinson's death demonstrates unequal policing, and they're calling for a shift in authority.

"We want the same type of policing that the white community has. We`re not anti-police, but we`re about being able to have a voice in how we police and what that looks like," Rev. Everett Mitchell with Christ the Solid Rock Church said.

"We are calling for community control over policing, which is not community review boards. We want power to hire and fire, set priorities, policies and procedures," Brandi Grayson with the Young, Gifted and Black Coalition said.

Records released by the Department of Justice show Robinson was high on psychedelic mushrooms, along with THC (marijuana) and xanax, and he had attacked multiple people on the evening of March 6th.

When he arrived at the apartment home on Williamson Street, Officer Kenny said he, too was attacked by Robinson -- after he entered the home and climbed the stairs.

Officer Kenny's statement indicated he heard "yelling and screaming" coming from apartment #2, and items being thrown or breaking. He heard someone say "what are you going to do (expletive), and believed Robinson may have been upstairs assaulting someone. He radioed dispatch that he was entering the home, and as he went in, he drew his firearm. As he climbed the stairs, Kenny said he yelled "Madison police," and heard someone say "well, the police are here."

That's when Kenny said Robinson turned the corner and struck Kenny with a closed fist on the left side of his head — knocking him back and into the wall on his right. Kenny's report is consistent with damage to the drywall on the right side of the staircase near the eighth step. Kenny said Robinson continued to come toward him — swinging at him. Kenny was rocked back and was losing his balance on the stairs. He worried that he would be struck again and lose consciousness or hit his head falling backwards. He worried his firearm would be taken and used to shoot him and anyone else who may have been in the home. He said there were two streams of fire — one involving three shots, and the second involving two to three shots. He said he did not see anything in Robinson's hands or in his waistband. Kenny then radioed "shots fired," and requested an ambulance. He began rendering aid to Robinson before paramedics arrived and took over.

Photos released Tuesday show an indent where Kenny's body hit the drywall near the staircase. Those photos also show Kenny's injuries suffered that night -- a close-up of Kenny's face shows blood on his chin, and scrapes to his forehead, head and arm.



District Attorney Ozanne said an audio recording from a responding officer captured seven shots fired in three seconds. All seven hit Robinson at "close range," from front to back. Seven casings were recovered at the scene. Ozanne said all shots had to have been fired at the bottom of the stairs.

In all, Kenny was inside the home for about 20 seconds, Ozanne said.

Video shows Kenny exiting the home in a backwards motion -- appearing to nearly lose his balance. He was seen firing one shot (the seventh shot) while outside the home. Robinson's feet appear in the doorway after Kenny was seen exiting the home.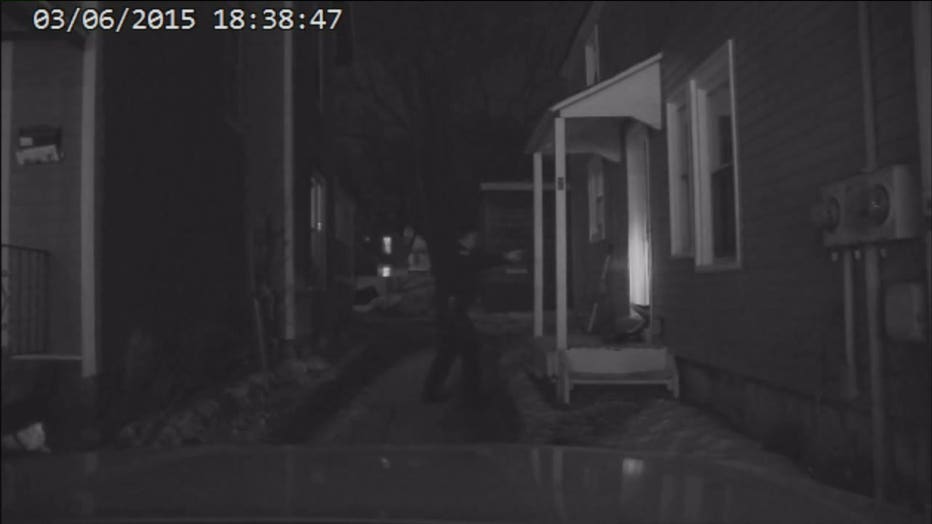 Officer Matt Kenny outside apartment on Williamson Street


Protesters, including some from Milwaukee, say Kenny's fear was more perception than reality.

"Black men are seen as more aggressive. Black men are seen as stronger. In the case of Christopher Manney, in Dontre Hamilton, we are seen as superhuman. That`s the way we are seen by white officers in America," Curtis Sails with the Coalition for Justice said.

The Coalition for Justice has organized demonstrations in Milwaukee following the officer-involved shooting of 31-year-old Dontre Hamilton in Red Arrow Park last April.

After holding the mock trial outside the Dane County Courthouse and ruling to convict Kenny, the protesters marched to the jail -- blocking the entrance.

Then, there was a celebration of "the people's prosecution" -- a party that lasted longer than police would allow. One-by-one, officers arrested protesters who refused to leave the area.

This, as those demonstrating said this is only just the beginning, the first day of "Black Spring." They say there will be months of protest continuing through the summer -- until police no longer kill unarmed African-Americans.

A rally was set for downtown Milwaukee's Red Arrow Park on Wednesday evening, organized by the Coalition for Justice.