April Fools? Yahoo reports Trader Joe's closing all stores by 2017


An apparent April Fools' Day joke hit the Yahoo website a day early, and now Trader Joe's is responding. (Getty)

Is this just a case of April Fools' arriving early, or is Trader Joe's actually closing?

Yahoo! Style reported Thursday, March 31st that Trader Joe's will be closing all of its 457 stores by January 2017. Additionally, the grocer would also discontinue all products.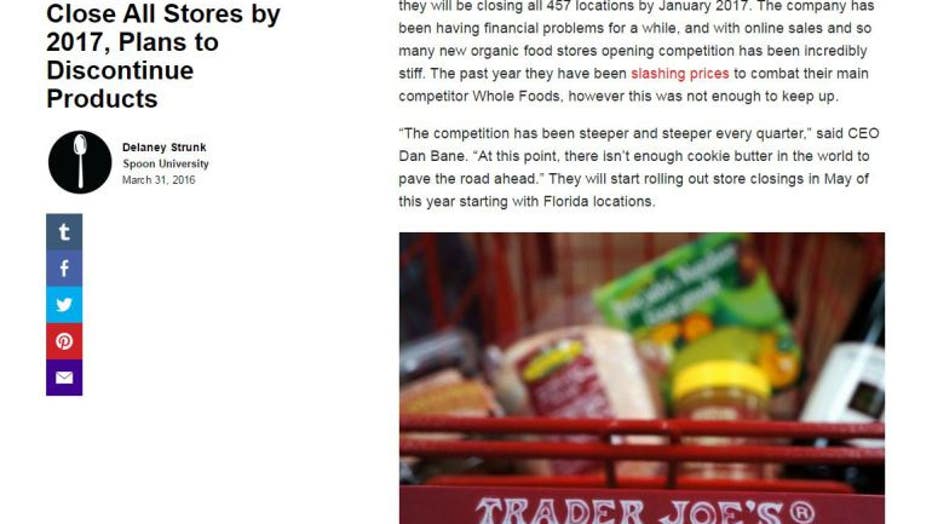 Screenshot of Yahoo Trader Joe's story


The Yahoo article reported that Trader Joe's released a press release Thursday morning, however, there is no announcement posted to the site.

In a statement to WHO-TV, Trader Joe's public relations director Alison Mochizuki said:

"Although we don't take ourselves too seriously, we don't want anyone to mislead our customers. Trader Joe's is open for business and has no plans to close.  We had no involvement whatsoever in the April Fool's hoax article."

Heavy.com wondered if Yahoo messed up its publication schedule and published the story a day early.

"Some stories that appear on Yahoo are through various partnerships and sources around the web. This particular story was published to Yahoo from a partner, Spoon University, and was immediately removed once the team was made aware of the ruse," said Becky Auslander, Yahoo's director of PR.

Even though the story is not true, the Twitterverse made it clear how much they would miss Trader Joe's.