Accused of stealing then burning Beatrice the dog, Hanson sentenced to 18 months


MILWAUKEE COUNTY -- He stole a dog named Beatrice and set her on fire to watch her burn. Now, 22-year-old Christopher Hanson will spend 18 months behind bars for the horrible abuse. A judge also sentenced him to another two years of extended supervision.

Hanson had already pleaded guilty to mistreating the dog in a plea deal. Wednesday, July 29th he stood before a judge for his sentence.

Authorities say 22-year-old Hanson stole Beatrice back in March of 2014, after a night of drinking. After changing his mind about selling Beatrice on Craigslist, he set her on fire.

"He poured a circle of fluid around the tub and on the dog's body. That again was the break cleaner fluid and that he lit Beatrice on fire with a lighter. He stated that Beatrice went up in flames. She cried and whined and whimpered and jumped out of the bathtub," said Kristin Schrank, prosecutor.

Beatrice had second degree burns over 70% of her body. He owner, Karen Smith Burns, didn't know if she'd live.

"Most of the time she spent at my house where I was doing dressings and medicines and whatever else she needed 24 hours a day. I had even taken some time off of work to do that," said Burns.

Hanson apologized for his actions.

"I'd just like to apologize to the victim and anybody this may have affected. I know it doesn't change anything. I wish it could, but it can't," said Hanson.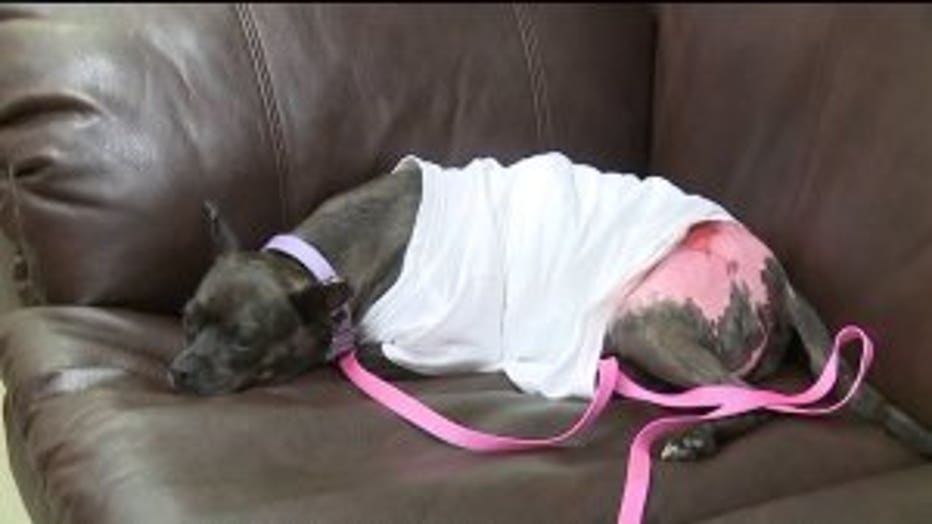 Beatrice had multiple surgeries.

Dr. Marla Lichtenberger, a veterinarian with the Milwaukee Emergency Center for Animals gained world-wide attention when she, along with Dr. John Weigelt with Froedtert and the Medical College of Wisconsin performed groundbreaking surgery on Beatrice. Heterograft (pigskin) was applied to Beatrice's burns, which helped her to heal.

Burns said the Beatrice's treatments have totaled $9,000 in veterinary bills.

"I'm gonna impose 3 1/2 years in the state prison system," said the judge.

That's maximum 18 months of confinement and 2 years of extended supervision.

"It feels good. It feels very good that it's over," said Burns.

Hanson is already serving time for a case out of Waukesha County and has 15 months more to serve. He'll serve Wednesday's penalty after completing that.