628 positive cases of COVID-19 in Wisconsin, over 10K tested negative
MADISON — The total positive cases of coronavirus in Wisconsin rose on Wednesday, March 25, officials with the Wisconsin Department of Health Services reported. The state reported 10,089 tested negative. DHS officials reported six deaths in the state.

Those state numbers do not include the seventh death in the state (fourth in Milwaukee County) reported Wednesday afternoon by the Milwaukee County medical examiner.

Additionally, the state total of positive cases for Milwaukee County was listed as 290, while Milwaukee County's coronavirus dashboard showed 325 positive cases. That number was later updated to 333 on a web conference call.

When adding in the updated Milwaukee County numbers, that makes for 628 positive cases statewide.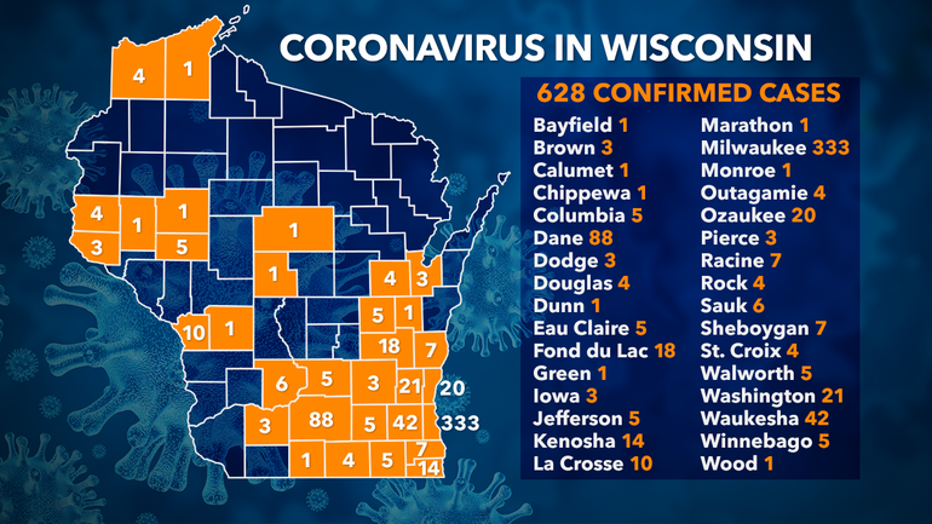 Number of Positive Results by County
| Wisconsin County | Total Cases as of 3/25/2020 | Total Deaths as of 3/25/2020 |
| --- | --- | --- |
| Bayfield | 1 | 0 |
| Brown | 3 | 0 |
| Calumet | 1 | 0 |
| Chippewa | 1 | 0 |
| Columbia | 5 | 0 |
| Dane | 88 | 1 |
| Dodge | 3 | 0 |
| Douglas | 4 | 0 |
| Dunn | 1 | 0 |
| Eau Claire | 5 | 0 |
| Fond du Lac | 18 | 1 |
| Grant | 1 | 0 |
| Green | 1 | 0 |
| Iowa | 3 | 0 |
| Jefferson | 5 | 0 |
| Kenosha | 14 | 0 |
| La Crosse | 10 | 0 |
| Marathon | 1 | 0 |
| Milwaukee | 290 | 3 |
| Monroe | 1 | 0 |
| Outagamie | 4 | 0 |
| Ozaukee | 20 | 1 |
| Pierce | 3 | 0 |
| Racine | 7 | 0 |
| Rock | 4 | 0 |
| Sauk | 6 | 0 |
| Sheboygan | 7 | 0 |
| St. Croix | 4 | 0 |
| Walworth | 5 | 0 |
| Washington | 21 | 0 |
| Waukesha | 42 | 0 |
| Winnebago | 5 | 0 |
| Wood | 1 | 0 |
| Total | 585 | 6 |


DHS officials shared the following message regarding the pandemic on their website: