Amazon's Oak Creek fulfillment center is now open for business
OAK CREEK, Wis. - Amazon's new fulfillment center in Oak Creek is officially open for business.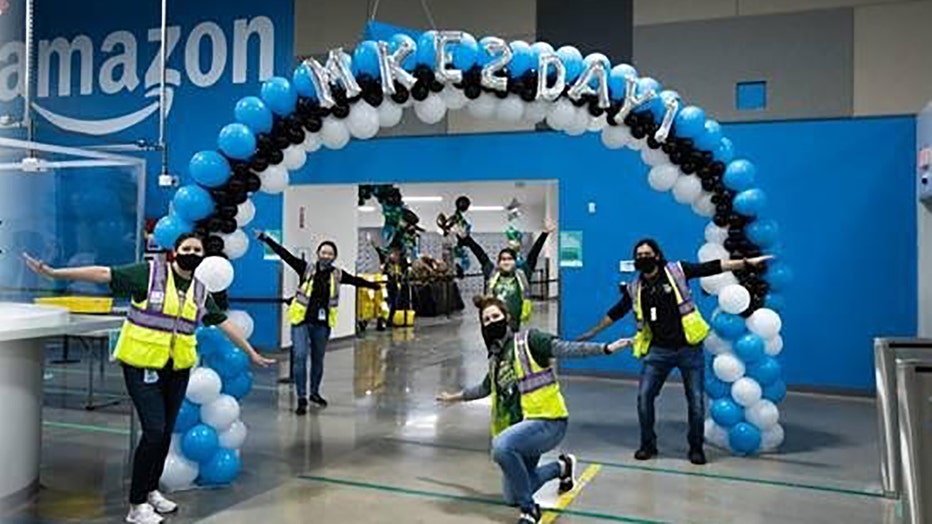 Amazon welcomed new employees inside of the 640,000 square-foot building for the first time on Sunday, Oct. 18 to celebrate its Day One of operation.
Cody Voegerl, Amazon Oak Creek Director of Operations, issued the following statement in a news release:
"We're thrilled to officially open our doors and join the Oak Creek community. Amazon is a great place to work with highly competitive pay, benefits from day-one, and training programs for in-demand jobs. We're proud of the great jobs we're providing and the incredible staff we have on board."
FREE DOWNLOAD: Get breaking news alerts in the FOX6 News app for iOS or Android
Key Facts
The fulfillment center employs more than 1,500 full-time associates who work alongside Amazon robotics to pick, pack and ship small items to customers such as books, electronics and toys.

Positions are still available at the Oak Creek fulfillment center. Interested candidates can visit amazon.com/oakcreekjobs to learn more and apply online. 

On top of Amazon's industry-leading minimum starting wage of $15 an hour, the company offers full-time employees comprehensive benefits including full medical, vision, and dental insurance as well as a 401(k) with 50 percent match starting on day one. The company offers up to 20 weeks of maternal and parental paid leave and innovative benefits such as Leave Share and Ramp Back, which give new parents flexibility with their growing families. 

Amazon also offers employees access to innovative programs like Career Choice, where it will pay up to 95 percent of tuition for courses related to in-demand fields, regardless of whether the skills are relevant to a career at Amazon. Since the program's launch, more than 25,000 employees across the globe have pursued degrees in game design and visual communications, nursing, IT programming and radiology, to name a few. New MCTS bus route to Amazon fulfillment center in Oak Creek Route 81 (Amazon-Oak Creek) will begin service Sunday night, Oct. 11 and will connect to 16 existing MCTS bus routes around the county.