Braun scores on wild pitch in 11th, Brewers beat Cubs 2-1
MILWAUKEE -- Ryan Braun scored from third base on a wild pitch in the 11th inning to give the Milwaukee Brewers a 2-1 win over the Chicago Cubs on Friday night.

Reliever Mike Montgomery (0-2) worked an 0-2 count on Manny Pina with one out before throwing a changeup that bounced past catcher Wilson Contreras to the backstop. Contreras' throw home to Montgomery was late, and the Brewers celebrated by mobbing Braun at the plate.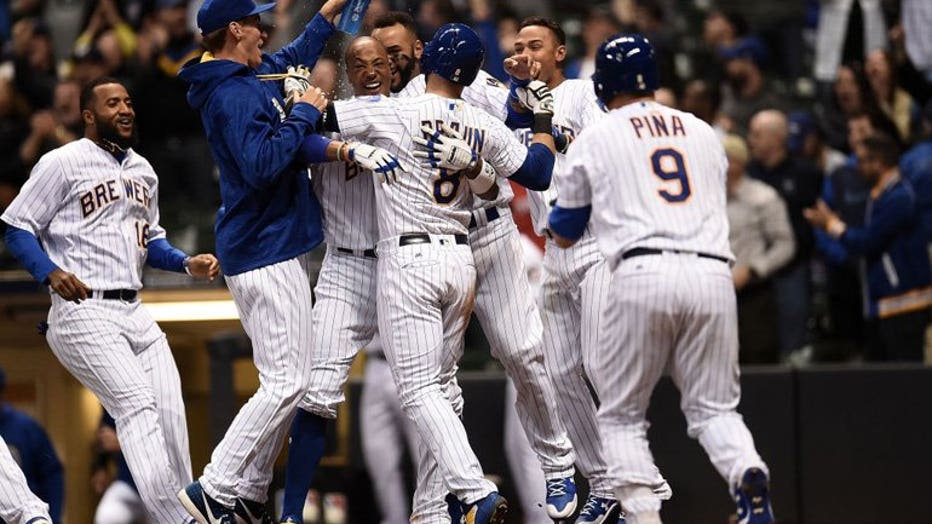 Braun led off the inning with a single before moving to third after Jesus Aguilar walked and Jett Bandy was hit by pitch.

Jared Hughes (1-0) pitched 1 2/3 innings of scoreless relief. The right-hander got a 4-6-3 double play to end a threat in the 10th after the Cubs put runners at first and second with one out.

Brewers fans cheered loudly, drowning out the sea of blue-clad Cubs fans who made up about two-thirds of the crowd of 28,000-plus at Miller Park. Another double play induced by Hughes' fastball foiled Chicago in the 11th.

Milwaukee finally got to the Cubs bullpen in the bottom of the inning after four-plus innings of scoreless work.

NL MVP Kris Bryant ended a season-opening 0-for-14 slump by just beating out an infield single that bounced off third base in the fifth.

Ben Zobrist's solo shot in the second gave the Cubs a 1-0 lead that stood until the sixth, when Aguilar had an RBI single.

TRAINER'S ROOM

Cubs: 2B Javier Baez left the game in the sixth with a left eye contusion after colliding with outfielder Jason Heyward for a shallow fly that fell for a hit. Baez stayed still on the ground for a few seconds face down before raising his head and giving a thumb-up sign. Zobrist moved from right to second to replace Baez, though Baez appeared to be OK as he walked back to the dugout with manager Joe Maddon after the play. The play happened on the anniversary of Kyle Schwarber's major knee injury last year, when he collided with Dexter Fowler chasing a fly ball in Arizona.

Brewers: OF Keon Broxton was eager to return to the batter's box a day after getting hit in the helmet by a 92 mph fastball. Broxton wasn't in the starting lineup but entered the game as a defensive replacement. He struck out in his only at-bat.

"I'm not scared to go back in there. I don't care. It was just an accident. I'm ready, man," he said.

UP NEXT

Cubs: RHP Kyle Hendricks, who led the majors with a 2.13 ERA in 2016, makes his season debut. Hendricks is 5-1 with a 1.82 ERA in five career starts at Miller Park.

Brewers: LHP Tommy Milone (0-0) joins the rotation in place of opening day starter Junior Guerra, who will be out about six weeks with a strained right calf. Milone made his Brewers debut on Monday when he replaced Guerra on the mound.